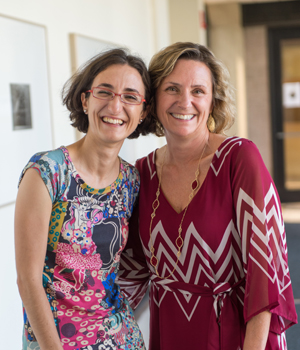 Leslie Kolodziejski
(she/her)
Electrical Engineering and Computer Science
Investing in students
Professor Leslie Kolodziejski has talked about supervising and supporting graduate students as the highlight of her professional career. Her nominator relates Leslie's "honest interest and support" in such situations as a student's loss of her father, and the Qualifying Exam of another student gone "crazily rogue." When the nominator was having issues with an advisor, Kolodziejski "immediately stopped what she was doing to talk" and help brainstorm solutions. And, she followed up to ensure the issue was resolved.
Grateful for having "a human being on the other side of the line," Kolodziejski's nominator reflected, "It is possible to be a professor in a big, competitive institution, and keep your morals straight."
As the Graduate Officer of Electrical Engineering and Computer Science (EECS), Kolodziejski stays informed of all student academic issues in one of MIT's largest departments. More importantly, in the words of her nominator, "She makes it her mission to have the back of every one of them." It isn't unusual for graduate students to feel overwhelmed and stressed, so Leslie invests her time in anyone who comes to her, and ensures that each student succeeds by his/her own standards.
Leslie began teaching at her alma mater, Purdue University, in 1986 in the EECS Department. When she moved to the MIT EECS faculty in 1988, she took on a leading role in career development. Since then, she has been recognized as a world leader in the epitaxial growth of compound semiconductors for optoelectronics and is principal investigator in the Research Laboratory of Electronics. She is principal investigator of the Integrated Photonics Devices and Materials Research Group and the NanoPrecision Deposition Laboratory—where she supervises the use of molecular beam and ion beam deposition techniques to layer materials atom-by-atom. With that kind of attention and patience, it is perhaps no wonder she has been a dedicated and effective teacher of undergraduate and graduate students.
Professor Kolodziejski's newest project involves the design and fabrication of semiconductor optical amplifiers integrated within an ultrafast nonlinear interferometer for time-division multiplexing applications.
In addition to numerous research awards, Kolodziejski was awarded the 2009 Capers and Marion McDonald Award for Excellence in Mentoring and Advising. This award is made to a faculty member who "through tireless efforts to engage minds, elevate spirits, and stimulate high quality work, has advanced the professional and personal development of students and colleagues."
Through her care and follow-through in supporting graduate students—as both researchers and human beings, Leslie Kolodziejski sustains and enriches our community.