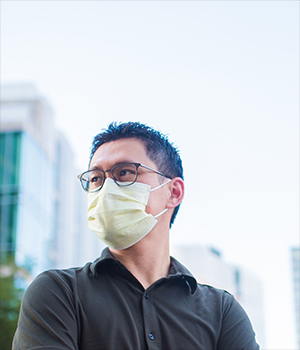 Gene-Wei Li
(he/him)
Biology
Amplifying diverse voices
"Metaphorically an endlessly deep vessel," according to a student nominator, Gene-Wei Li "nurture[s] everyone around him both in scien[ce] and, more importantly, personal development."
Gene-Wei Li is an Associate Professor of Biology. He joined the MIT faculty in 2015, after completing a Ph.D. at Harvard and a postdoc at University of California San Francisco. A biophysicist, Li studies how bacteria optimize the amount of proteins they produce. His laboratory focuses on design principles of transcription, translation, and RNA maturation in the face of competing cellular processes.
Carefully calibrated
Intrinsically attuned to students' needs, Li often notices when students could use academic or personal support without prompting. When one student was feeling burnt out, Li listened closely to understand their individual experience of burnout and what could help them recuperate. The student returned refreshed, "engaged and motivated to work on a day-to-day basis."
Li prioritizes mental health and makes clear that he values students. When a student is struggling, he tries to explore their perspective, "which can be vastly different from student to student and from time to time." He offers advice and options though emphasizes that "students should be able to find the approach that works best for them, instead of taking direct orders from the advisor."
Setbacks are inevitable in experimental work. Li works with students to build resilience to research impediments as well as to collaboratively problem solve. This emphasis on learning, development, and practice over achievement is a Committed to Caring (C2C) Mentoring Guidepost.
In thinking about guidance during the COVID-19 pandemic, Li offers a thoughtful framework. Being "proactive" amid uncertainty is central. Li's lab started preparing to work from home in February. He writes, "Acting early is important to both ensure research continuity and reduce emotional impact when an avalanche of restrictions are implemented." Li has developed individualized plans with students based on two key principles: "safety cannot be sacrificed" and "their career must advance." A lingering challenge that many faculty including Li face is how to find ways to interact regularly and informally with lab members while simultaneously homeschooling their own kids.
Building an inclusive community
Li works to intentionally craft a caring laboratory environment. According to Li, he purposefully seeks out "a team with diverse viewpoints and [an] eagerness to help each other." Students are grateful for this effort, feeling supported by their colleagues. Writes one student nominator, "I've always come out of chats with my labmates feeling like my thoughts were heard and that people were genuinely invested in giving me good feedback."
Being adaptable and requesting feedback in ways that enable students to comfortably share their candid views is a strong skill of Li's. Referencing how Li solicits feedback and his genuine interest in students' lives, students describe it as "refreshing to have an advisor who treats us as equals."
Li also knows how to gracefully guide others in crafting inclusive environments. One student writes that Li "always corrects my implicit biases… Thanks to his awareness, I have been able to start correcting these biases." This is vital, challenging, and delicate work. Having courageous conversations and fostering inclusivity are Mentoring Guideposts identified by the C2C program.
Nurturing and perceptive, Li is dedicated to the personal and scientific growth of all those around him.