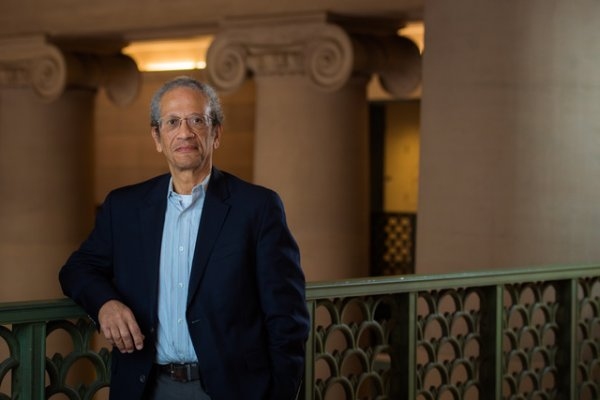 National Space Council's Users Advisory Group will guide the Biden-Harris administration on space preservation and industry.
Department of Aeronautics and Astronautics
United States Vice President Kamala Harris, the chair of the National Space Council (NSpC), has named MIT Professor Daniel Hastings to serve on the NSpC Users Advisory Group (UAG). Hastings, who is the associate dean of engineering for diversity, equity, and inclusion; head of the Department of Aeronautics and Astronautics; and the Cecil and Ida Green Education Professor of Aeronautics and Astronautics at MIT, will join a panel of experts spanning academia, industry, government, and the nonprofit sector to provide advice and guidance to the White House on matters related to the space enterprise.
"I am deeply interested in all the exciting things going on in the space enterprise because it is a rapidly evolving field with a tangible impact on the U.S. security and the economy. The space enterprise is being disrupted by new technology, new architectures, new business models, and new horizons. It will be important to consider all of these as we move forward," says Hastings. "I am thrilled and honored to be asked to have a seat at the table with this incredible group of experts and stakeholders to lend my perspective on these important topics."
The purpose of the NSpC is to assist the White House with strategy and policy development related to space activity. According to a White House news release, the UAG "will provide the National Space Council advice and recommendations on matters related to space policy and strategy, including but not limited to, government policies, laws, regulations, treaties, international instruments, programs, and practices across the civil, commercial, international, and national security space sectors."
Hastings received his bachelor's degree from Oxford University, joining the MIT community as a graduate student in 1976. He received his MS (1978) and PhD (1980) degrees in aeronautics and astronautics from MIT and joined the MIT faculty in 1985. His research interests have included laser-material interactions, fusion plasma physics, spacecraft plasma environment interactions, space plasma thrusters, and space systems analysis and design.
Hastings has a dedicated career in service both within and outside MIT. He served as MIT's dean of undergraduate education from 2006 to 2013. In 2014, he was appointed to a five-year term as the director of SMART, the Singapore-MIT Alliance for Research and Technology. He was appointed head of the Department of Aeronautics and Astronautics in 2019. In 2021, Hastings was appointed co-chair of MIT's Values Statement Committee.
Outside of MIT, Hastings served as chief scientist of the U.S. Air Force from 1997 to 1999. In this role, he was the chief scientific adviser to the chief of staff and the secretary and provided assessments on a wide range of scientific and technical issues affecting the Air Force mission. He is a fellow of the International Astronautical Federation and the International Council in System Engineering and an honorary fellow of the AIAA. He is also a member of the National Academy of Engineering.
General (USAF, Ret.) Lester Lyles will serve as UAG chair overseeing the 30 members of the UAG. Hastings joins fellow MIT affiliates Charles Bolden (member of the MIT AeroAstro Visiting Committee), Karina Drees MBA '07, Gwynne Shotwell (former member of the AeroAstro Visiting Committee), Robert Smith MBA '98, and Mandy Vaughn '00, SM '02.
« Back to News