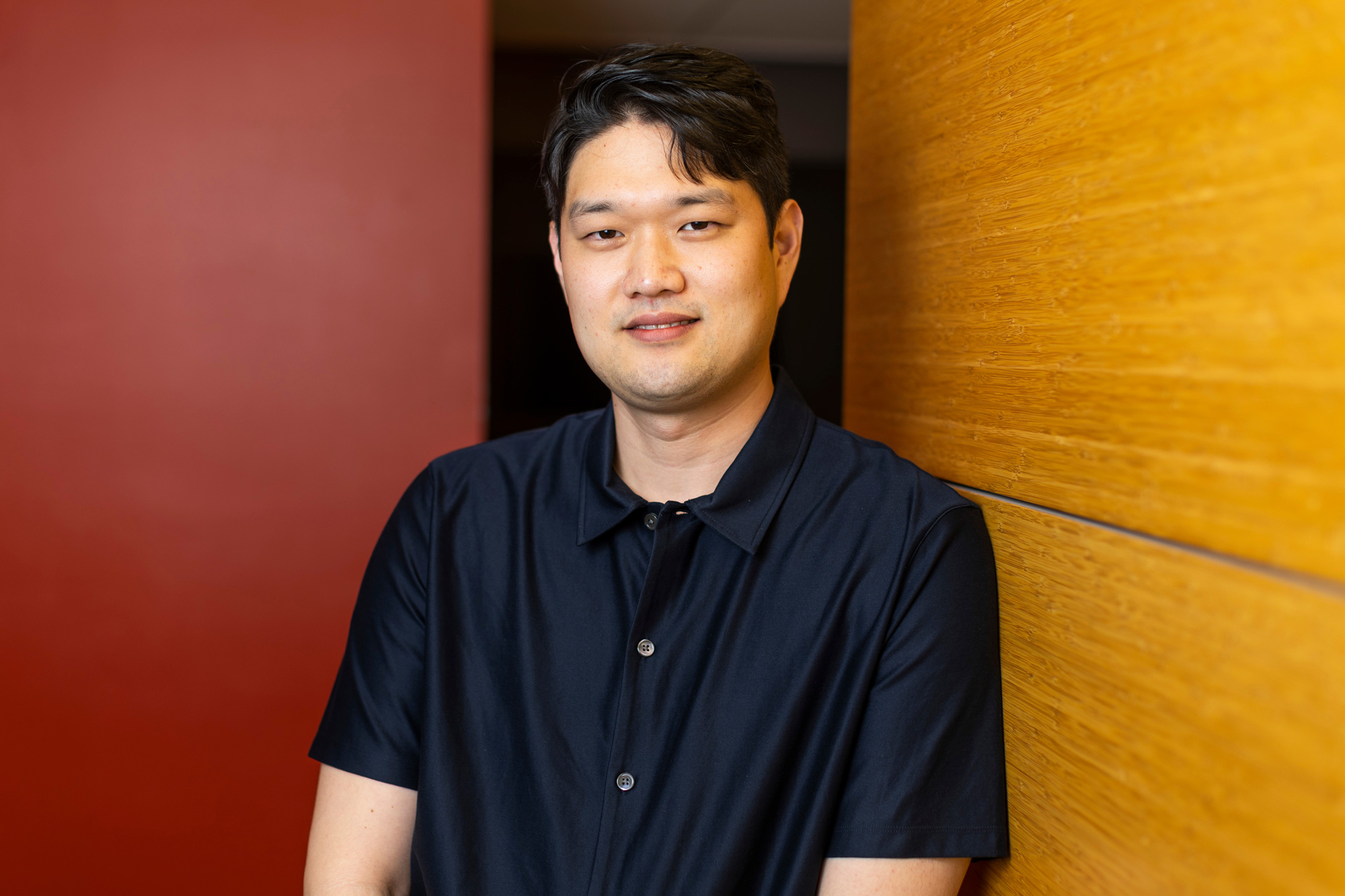 PhD student Jungwoo Chun works toward a more sustainable future through research, teaching, and public service.
Jungwoo Chun makes surprising discoveries about sustainability initiatives by zooming in on local communities.
His discoveries lie in understanding how renewable energy infrastructure develops at a local level. With so many stakeholders in a community — citizens, government officials, businesses, and other organizations — the development process gets complicated very quickly. Chun works to unpack stakeholder relationships to help local renewable energy projects move forward.
While his interests today are in local communities around the U.S., Chun comes from a global background. Growing up, his family moved frequently due to his dad's work. He lived in Seoul, South Korea until elementary school and then hopped from city to city around Asia, spending time in China, Hong Kong, and Singapore. When it was time for college, he returned to South Korea, majoring in international studies at Korea University and later completing his master's there in the same field.
After graduating, Chun wanted to leverage his international expertise to tackle climate change. So, he pursued a second master's in international environmental policy with William Moomaw at Tufts University.
During that time, Chun came across an article on climate change by David Victor, a professor in public policy at the University of California at San Diego. Victor argued that while international efforts to fight climate change are necessary, more tangible progress can be made through local efforts catered to each country. That prompted Chun to think a step further: "What can we do in the local community to make a little bit of a difference, which could add up to something big in the long term?"
With a renewed direction for his goals, Chun arrived at the MIT Department of Urban Studies and Planning, specializing in environmental policy and planning. But he was still missing that final inspirational spark to proactively pursue his goals — until he began working with his primary advisor, Lawrence Susskind, the Ford Professor of Urban and Environmental Planning and director of the Science Impact Collaborative.
For previous research projects, "I would just do what I was told," Chun says, but his new advisor "really opened [his] eyes" to being an active member of the community. From the start, Susskind has encouraged Chun to share his research ideas and has shown him how to leverage his research skills for public service. Over the past few years, Chun has also taught several classes with Susskind, learning to approach education thoughtfully for an engaging and equitable classroom. Because of their relationship, Chun now always searches for ways to make a difference through research, teaching, and public service.
Understanding renewable energy projects at a local level
For his main dissertation project with Susskind, Chun is studying community-owned solar energy projects, working to understand what makes them successful.
Often, communities don't have the required expertise to carry out these projects on their own and instead look to advisory organizations for help. But little research has been done on these organizations and the roles that they play in developing solar energy infrastructure.
Through over 200 surveys and counting, Chun has discovered that these organizations act as life-long collaborators to communities and are critical in getting community-owned solar projects up and running. At the start of these projects, they walk communities through a mountain of logistics for setting up solar energy infrastructure, including permit applications, budgeting, and contractor employment. After the infrastructure is in place, the organizations stay involved, serving as consultants when needed and sometimes even becoming partners.
Because of these roles, Chun calls these organizations "intermediaries," drawing a parallel with roles in in conflict resolution. "But it's much more than that," he adds. Intermediaries help local communities "build a movement [for community-owned solar energy projects] … and empower them to be independent and self-sustaining."
Chun is also working on another project with Susskind, looking at situations where communities are opposed to renewable energy infrastructure. For this project, Chun is supervising and mentoring a group of five undergraduates. Together, they are trying to pinpoint the reasons behind local opposition to renewable energy projects.
The idea for this project emerged two years ago, when Chun heard in the news that many solar and wind projects were being delayed or cancelled due to local opposition. But the reasons for this opposition weren't thoroughly researched.
"When we started to dig a little deeper, [we found that] communities oppose these projects even though they aren't opposed to renewable energy," Chun says. The primary reasons for opposition lie in land use concerns, including financial challenges, health and safety concerns, and ironically, environmental consequences. By better understanding these concerns, Chun hopes to help more renewable energy projects succeed and bring society closer to a sustainable future.
Bringing research to the classroom and community
Right now, Chun is looking to bring his research insights on renewable energy infrastructure into the classroom. He's developing a course on renewable energy that will act as a "clinic" where students will work with communities to understand their concerns for potential renewable energy projects. The students' findings will then be passed onto project leaders to help them address these concerns.
This new course is modeled after 11.074/11.274 (Cybersecurity Clinic), which Chun has helped develop over the past few years. In this clinic, students work with local governments in New England to assess potential cybersecurity vulnerabilities in their digital systems. At first, "a lot of city governments were very skeptical, like 'students doing service for us…?'" Chun says. "But in the end, they were all very satisfied with the outcome" and found the assessments "impactful."
Since the Cybersecurity Clinic has kicked off, other universities have approached Chun and his co-instructors about developing their own regional clinics. Now, there are cybersecurity clinics operating around the world. "That's been a huge success," Chun says. Going forward, "we'd like to expand the benefit of this clinic [to address] communities opposing renewable energy [projects]." The new course will be a philosophical trifecta for Chun, combining his commitments to research, teaching, and public service.
Chun plans to wrap up his PhD at the end of this summer and is currently writing his dissertation on community-owned solar energy projects. "I'm done with all the background work — working the soil and throwing the seeds in the right place," he says, "It's now time to gather all the crops and present the work."
« Back to News