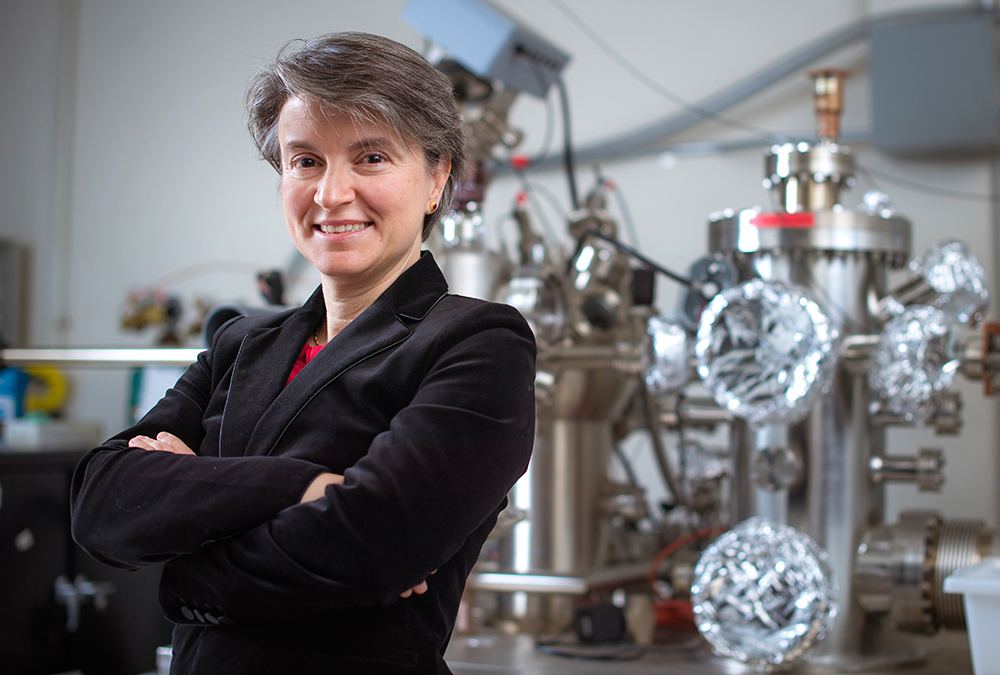 Award recognizes scientists of Turkish origin younger than 50 who have made outstanding contributions to their fields.
Jason Sparapani | Department of Materials Science and Engineering
Before being awarded the Koç University Rahmi M. Koç Medal of Science in her native Turkey, Bilge Yildiz was nervous. But it wasn't standing in front of an audience of hundreds that stressed the Breene M. Kerr Professor in the departments of Nuclear Science and Engineering and of Materials Science and Engineering (DMSE). It wasn't having to do interviews with journalists. Rather, it was discussing her research in Turkish.
"Two weeks before the award ceremony, I was learning Turkish again," says Yildiz. Her language of scholarship is English; she came to the United States more than two decades ago, first to do her PhD in nuclear science at MIT, then postdoctoral work in electrochemistry and research at Argonne National Laboratory in Illinois. Even her bachelor's studies in nuclear science at Hacettepe University in Turkey, where many courses are taught in English, were not in her mother tongue. "I did not learn these materials in Turkish. I never talked about them in Turkish. And all the technical terms especially — I had no idea."
But Yildiz isn't known for shying away from new things.
Trained as a nuclear scientist, using artificial intelligence algorithms to safely operate nuclear power plants, she ventured into electrochemistry, studying the chemical reactions that use or make electricity. Her lab today works on a huge array of projects, all centered on the movement of charged atoms in materials. They include human-intelligence-inspired computer processors; fuel cells, which convert hydrogen and oxygen into electricity; and electrolysis, which uses electricity to cause chemical reactions — for example, to produce hydrogen and other useful industrial chemicals. She recently contributed to a NASA project to turn the carbon dioxide in the Martian atmosphere into oxygen, charting one course toward human habitation on Mars.
Named an American Physical Society Fellow in 2021 and a Royal Society of Chemistry Fellow in 2022, Yildiz has been recognized the world over, but never in the country of her birth — until December, when Koç University made her the seventh recipient of the annual award. The Rahmi M. Koç Medal of Science recognizes scientists of Turkish origin younger than 50 who have made outstanding contributions to their fields. It's given to people from various disciplines, from biological and physical sciences and engineering to social sciences.
Yildiz is the second MIT scholar awarded the medal. Institute Professor Daron Acemoglu, in the Department of Economics, was recognized in 2017 for contributions to labor and political economics and macroeconomics.
"A great honor"
In introducing Yildiz at the award ceremony at the Rahmi M. Koç Museum in Istanbul, Koç University professor Umran Inan spoke of the need for visionaries who are comfortable working across disciplines.
"She is a very young and extraordinarily successful researcher and scientist who can combine different disciplines and outputs to obtain novel and impactful results," Inan said.
For Yildiz, being acknowledged in her home country was a "great honor." And in Turkey, whose economy has been devastated by runaway inflation and a collapsing currency, recognition of the importance of scientific research is a good sign.
"It's an opportunity for people in Turkey to get to know about my work and my story," she said. "I'm also hoping that this motivates young students, that it shows them what's possible no matter where you come from."
Yildiz is from Tire, a rural district about 60 miles southeast of Izmir. The region is known for its agriculture and dairy, especially milk and yogurt. After the award ceremony, which was covered by scores of journalists asking for interviews and snapping photos, Yildiz joked that she'd become "as famous as Tire dairy products."
As happy as Yildiz is for the recognition her work has gotten, she stressed that it's the science that's important.
"I don't want to leave the message that for young people to feel they're successful they have to win awards," she said. "Scientists don't do their science to win awards. We do it to satisfy our curiosity. It gives us energy, and we contribute to society this way. That should be the priority. I feel lucky and grateful every day for the opportunities that enabled me to become a scientist and work with brilliant and motivated students, young scientists, and colleagues at MIT."
A devoted scientist, mentor
Yildiz's colleagues and students described a hardworking researcher and teacher committed to relaying her passion for science to others.
"I certainly recognized that she had something rather special in her ability to really take and master both the experimental techniques needed and the theoretical aspects," said John Kilner, a former professor and now senior research investigator at Imperial College London, who worked with Yildiz on surfaces of oxides in fuel cells, in her early days in academia. "She attracted a lot of very bright young people, and that makes a big difference to your research group to get these people and to foster them as well."
Kilner spoke in a video about Yildiz jointly produced by Koç University and MIT Video Productions.
Yang Shao-Horn, the JR East Professor of Engineering in the Department of Mechanical Engineering and DMSE, says Yildiz is an accomplished advisor who looks out for the interests of her students.
"She's a deeply caring mentor who looks at individuals and supports them, asking tough questions and seeking opportunities to make them grow professionally and scientifically," says Shao-Horn, who advised Yildiz on her postdoctoral work. "This is really an important part of being a professor. We do research and we conduct research projects and we write papers — and these are all tools, mechanisms to train people and empower people and bring the best out of people. And I think Bilge is an excellent role model in doing so."
Miranda Schwacke, a graduate student in Yildiz's research group, pointed to her advisor's commitment to using science to build a better, cleaner society.
"One of the main ways she inspires me is that she really cares about not just making batteries or fuel cells or whatever we work on better," Schwacke says, "but also really understanding what's going on and exactly how we're making things better, which I think is a better approach, long term."
Shao-Horn noted that Yildiz, a mother of two, is also an inspiration for women in academia seeking a balance between work and home life.
"Bilge is an incredible role model for many female and other scientists who want to be able to do both — to have an amazing career but also have a happy family," Shao-Horn says. "And that requires really hard work and discipline."
« Back to News