Economics
Celebrating potential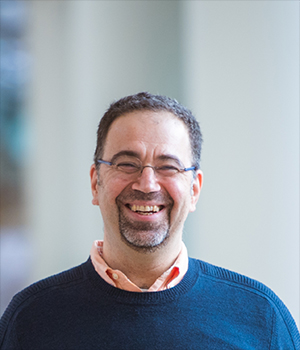 A simple uplifting greeting can transform someone's day. And Professor Acemoglu's "friendliness overflows the [Economics Department] hallways," according to student nominators.
Daron Acemoglu is an MIT Institute Professor of Economics. Acemoglu's research delves into political economy, economic development and growth, human capital theory, growth theory, innovation, search theory, network economics and learning. His recent research focuses on the political, economic and social causes of differences in economic development across societies; and the factors affecting the institutional and political evolution of nations; as well as how technology impacts growth and distribution of resources and is itself determined by economic and social incentives. Acemoglu is the recipient of a wealth of awards, including the 2005 John Bates Clark Medal, which is awarded biannually to the best economist under age 40 in the United States. He holds a doctorate from the London School of Economics as well as three honorary doctorates from the University of Utrecht, Bosporus University, and the University of Athens.
Balanced judgment
All students can thrive and excel, in Acemoglu's view. According to student nominators, Acemoglu is "stunningly nonjudgmental," and his appraisal of students is "dynamic." That is, he demonstrates confidence that "any student can do the best research" and all can "contribute meaningfully to the field." This emphasis on learning, development, and practice is a Mentoring Guidepost identified by the C2C program.
Cultivating healthy judgment of one's own work can prove difficult. Acemoglu helps students learn to evaluate both the strengths and weaknesses of their research. Typically, he finds this plays out as "emphasizing to the students that they are achieving much more than they are giving themselves credit for." To Acemoglu, accurate appraisal and learning to strengthen arguments are the key skills in being a researcher.
Acemoglu's presence in the department is warm and thoughtful. One nominator comments that Acemoglu "sits at the edge of his seat in every graduate student lunch, no matter the presenter or the stage of work, and devotes his mind to think[ing] about constructive advice that will improve it."
Accessing connection
Students touch on the alienation graduate school can engender in celebrating Acemoglu's support. One nominator writes that Acemoglu's caring subsumes the department and greatly improves the day-to-day experience.
Acemoglu's compassion is vital to students amidst trying circumstances. Another student commented, "Daron's unwavering support was probably the only thing that helped me to maintain focus on my work, perspective in my life, and dignity."
Developing a strong social support network, both professional and personal, is essential, according to Acemoglu. He encourages students and supports them in building connections with their classmates, describing these ties as "invaluable" both during and after graduate school.
Foregrounding his values in interactions with students, Acemoglu makes clear to his students that integrity, public service, and balance matter more than narrow definitions of professional success. In turn, Acemoglu's students feel empowered and embed kindness in the research group culture.