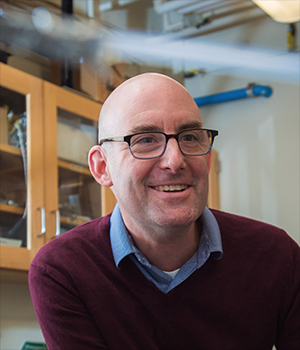 Jesse Kroll
(he/him)
Chemical Engineering and Civil and Environmental Engineering
Congenial community
The Kroll lab has a gleeful, creative dynamic. While students give credit to Jesse Kroll for building camaraderie and a supportive setting, Kroll instead credits and praises his advisees.
Jesse Kroll is an associate professor in MIT's Departments of Chemical Engineering and Civil and Environmental Engineering. He joined the MIT faculty in 2009 after completing a Ph.D. at Harvard, serving as a post doc at Caltech, and then working as a senior scientist at Aerodyne Research. Through field sampling and testing as well as reactor-based experiments on oxidation, the Kroll lab studies particulate pollution, characterizing the sources and transformations of organic compounds in the atmosphere. The group aims to better understand which policies could help alleviate the health and climate effects of pollution.
Regular check-ins
Core to Kroll's advising are weekly one-on-one meetings with each advisee. Both Kroll and his advisees eagerly await these meetings. Writes one advisee, Kroll's "amazing ability to listen and empathize during these frequent meetings has allowed me and multiple labmates to discuss mistakes we have made in research and life." Kroll creates a comfortable setting to parse and resolve challenges.
Another student writes that they leave individual meetings with "a renewed purpose and zeal for [their] projects." Kroll's enthusiasm about chemical engineering is contagious. During these meetings, Kroll is deeply focused and respectful. Students emphasize that he interacts with them and administrative staff on an equal plane, as colleagues.
Recurring reflection is critical in research. Kroll finds the weekly meetings an excellent opportunity to learn from his students as well as take a step back and collaboratively problem solve. To Kroll, mentoring is "completely woven into the research process, and you can't succeed in one without succeeding in the other as well."
Kroll elevates students' roles in the advising relationship. Individual needs vary greatly, and a successful mentoring dynamic requires flexibility and clear communication on both sides.
Celebrating multifaceted students
Pointing to the rarity of recognizing students as multifaceted people, Kroll's advisees express gratitude for his interest and openness about life beyond research. Labmates "openly discuss their other interests in front of Jesse," according to a nomination letter. Advisees frequently mention how thoroughly Kroll demonstrates that he cares for them as whole people.
Yet, according to Kroll, credit for the lab's supportive and congenial culture goes to the students. He feels lucky to have "always had a terrific group of people, who were all committed to these things, so I haven't had to do much!" Kroll's advisees counter, reflecting on the innumerable and subtle ways Kroll helps build this culture. Advisees describe Kroll as "selfless… immensely thoughtful, intelligent, compassionate, and encouraging."
Students are comfortable raising difficult topics with Kroll. One of his advisees experienced harassment from another professor based on their religion and sexual orientation. When they raised the issue, the student was grateful for Kroll's response as well as his support through the process of reporting it.
Considerate advocacy
Disruptions are customary during the Ph.D. process. When a professor announced that they were leaving MIT, Kroll emailed their advisees to offer support through the transition. Kroll checked in regularly, offered use of the Kroll lab, and helped ensure the advisees remaining could finish their degrees.
In another instance, a student needed support with accommodations due to a health issue. Kroll advocated for the student and protected their privacy from the rest of the laboratory. Advocating for advisees is a Mentoring Guidepost identified by the C2C program.
Remarking on moving forward amid the hassles and uncertainty of the pandemic, Kroll emphasizes flexibility. "Everyone's productivity level has been affected differently," so he meets people where they are. The weekly individual meetings continue, as a chance to check in and connect.