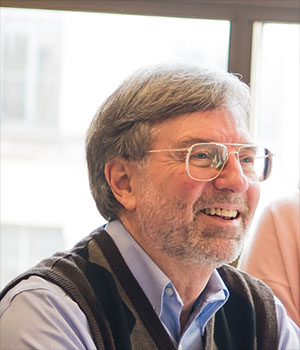 Warren Seering
(he/him)
Mechanical Engineering
Nurturing autonomy
Exuding integrity and decency, Warren Seering empowers advisees to become fully realized scholars. Seering "makes it clear that his commitment to anyone working with him is equal," according to a student nominator.
Warren Seering is the Weber/Shaughness Professor of Mechanical Engineering and Engineering Systems at the Massachusetts Institute of Technology. His work at MIT has focused on dynamic systems and robotics as well as on product design and development. Currently, his research addresses methods for evaluating and improving corporate product development capabilities. Since joining the MIT faculty in 1978, Seering helped establish the MIT Machine Dynamics Laboratory in 1980; was a member of the Artificial Intelligence Laboratory from 1982 to 1994; directed the Center for Innovation in Product Development from 1996 to 2000; and since 2010 has served as Engineering Co-Director of the MIT System Design and Management professional degree program.
Steadfast support
Seering underlines the need to build a caring relationship with students, before difficulties arise in their lives or studies. He writes, "Communication is key. Establishing a relationship that enables communication has to happen before the [hardship] so that students know they can look to an advisor for support." He underlines the need for communication and trust in the midst of the pandemic, in particular.
Seering speaks to the dilemmas of an advisor during the pandemic: "It's tempting to say that the urgent [is] constantly displacing the important, but for the last six weeks, so many things have been both urgent and important." He normalizes the fluctuations students are having in mood and productivity. Seering notes, "We need to be on call for our students, and conversations need to include wellness check-ins to give students the chance to ask for help or guidance."
Throughout, Seering expresses enduring support and regard for his students. Grateful for how students are processing the situation, Seering writes, "Even on the bad days… they respect that unforeseen circumstances are the causes that got us to where we are. And mostly they appreciate MIT's efforts on their behalf. They are truly wonderful young people."
An uplifting voice even when others are silent or intimidating, Seering is a champion of students at the Institute. One student recalls being discouraged by others at the Institute from pursuing the Ph.D. Some said the student's research was too interdisciplinary, or that being older would be an impediment. When the student turned to Seering, the response was different. Seering was encouraging about the student's interests and abilities: "Seering is a big reason why I chose to follow through with completing my Ph.D." Validating students by demonstrating interest in their research and belief in their capabilities is a Mentoring Guidepost identified by the Committed to Caring (C2C) program.
Collaboratively empowering
Dynamism and individualization are core aspects of Seering's advising. He notes that the "style of engagement emerges as the student and I get to know one another," though "collaborative goal setting" has tended to work well for many students.
In Seering's ideal, the advisor smoothly moves to being an "enabler" for the student. He writes that "it is important for the student…to move into the role of setting the short-term research agenda." He encourages students to make detailed plans at the end of each day for the experiments and tasks to be done the following day, finding this helps with clarity and effective use of time.
"Given the freedom and lack of structure associated with independent study, keeping to a schedule is a challenge; it takes practice," writes Seering. He encourages students to closely track work hours and achievements, then bound professional work to 40-50 hours per week to preserve work/life balance, a Mentoring Guidepost.
Students affirm that these methods are invaluable. Writes one student nominator, "Seering keeps me from veering off track, while allowing me to push the limits… [providing] the ultimate balance of high commitment, availability, and guidance."
Seering also attends to the small things. One nominator recalls Seering regularly checking in when there is inclement weather while they are traveling for research. Continually and continuously, Seering supports students at the Institute.