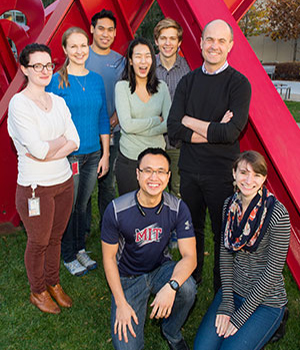 Tim Jamison
(he/him)
Chemistry
Focused on student well-being
In an extremely focused research environment like MIT, it is easy to prioritize output over people. Professor Tim Jamison manages to elevate both. While he ensures his graduate students possess the skills they need to be well-rounded chemists, he also gives them the chance to give practice talks, critique each other's work, and compete in groups to propose novel methods for solving chemical problems. His research group members speak openly about their personal lives and struggles. Even after graduation, he continues to support his students in their professional endeavors.
.His grad students laud his collaborative leadership approach. He always solicits group input before making big decisions and ensures his graduate students don't neglect their personal lives by having open discussions about stress management, and personally checking in. "Tim consistently demonstrates concern and caring to all group members, well beyond the scientific results of their individual research projects," applaud his graduate students.
Professor Jamison moved to Cambridge to complete his Ph.D at Harvard, and then joined MIT as a professor in 1999. Research in the Jamison Group is focused on the discovery and application of new reactions and technologies for organic synthesis. Many of the targeted transformations are based on common structural motifs or functional group patterns present in molecules provided to us by nature. Besides coincidentally sharing a name with a certain NFL defensive end, Professor Tim Jamison was named Chemistry Department Head in July 2015, recently co-founded Snapdragon Chemistry, Inc, and still finds time to prioritize the development and heath of his graduate students. Snapdragon, Inc is committed to bringing the opportunity of continuous flow technology to the private sector through partnerships and preeminent scientific expertise. Continuous flow chemistry has the advantages of streamlining multistep processes, increasing reaction efficiency, increase safety, and realize otherwise improbable chemical transformations, and has great implications for pharmaceutical's supply chains.
Jamison continues to demonstrate his commitment to caring for his graduate students while maximizing his impact on the MIT community and the world. His focus on his students' experience, stress levels, and health, above research, serves as a great reminder to all to prioritize our humanity over our work. We are more than the results of our research. Thank you, Professor Jamison, for the timely reminder as we head into finals season.