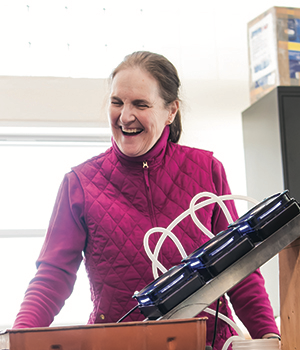 Susan Murcott
(she/her)
D-Lab
Inspiring learning and practice
Susan Murcott's "passion, love, and dedication to teaching" and learning encourages her students not only to explore problems, but in their words, "carve our own path toward a solution." A lecturer in MIT's D-Lab, Murcott has been honored by MIT graduate students as Committed to Caring.
Murcott's work contributes to the D-lab's mission of designing and developing collaborative approaches and practical solutions to global poverty challenges. Following her undergraduate and graduate studies in the MIT Civil and Environmental Engineering (CEE) Department, Murcott worked first as a Lecturer, then Senior Lecturer, supervising Masters of Engineering student research focused on water, sanitation and hygiene (WASH) in low-income countries.
Mucott has mentored 26 winning teams of the MIT IDEAS Global Challenge, 81% of which were led by women students. She has also led the water filter evaluation of the Comprehensive Initiative on Technology Evaluation (CITE), a USAID-funded project, to evaluate technologies in developing countries. Today, Murcott leads the "Safe Water for 2 Billion People" project which works to manufacture and market E.coli test kits in Nepal.
Building a diverse and intimate lab
In D-Lab, Murcott not only wishes to attract students and collaborators from across disciplines, but also from outside of academia. She aims to build a diverse group of team members who offer a breadth of perspectives in other dimensions as well. "I am happiest when the composition of my team is multi-cultural, multi-generational, and of different ethnicities, genders, and disciplines," she says.
Having brought these collaborators together, Murcott says she tries to "cultivate a feeling in the classroom that we are a small community." Students are encouraged to get to know one another personally so that they develop a sense of interest and belonging. Murcott prefers smaller classes so that she can get to know students individually and work with them on the "project-based, hands-on, action learning" that D-Lab is known for.
This community feeling creates a judgement-free space for students to express their ideas. Murcott models understanding and listening skills, and in the words of one nominator "always takes people's ideas and input seriously, and with grace." This welcoming classroom environment (a Mentoring Guidepost identified by the C2C Program) nurtures confidence in students and provides them with the power to learn and grow.
Murcott also welcomes guest speakers and experts in the field to her classroom, and by doing so cultivates an egalitarian environment where everyone is there to learn. One student remarks of Murcott, "Her humility and curiosity when sharing her class with guest experts was a welcome and refreshing way to experience a lesson."
Balancing life
In addition to unflagging support for students in the classroom, Murcott also demonstrates care for their academic careers and even their personal lives. If a student is having a hard time, Murcott initiates contact to offer support (a Mentoring Guidepost identified by the Committed to Caring program). One student nominator wrote that Murcott reaches out "just to check in about school, aspirations, career opportunities, or life more generally."
Murcott's dedication to her students' comprehensive learning is also evident from her pedagogy. Students remark that in addition to organizing field trips for their class, Murcott runs a weekly film series of water-related documentaries, and organizes field trips to local observatories, field stations, environmental nonprofits, and even a local carbon-zero home. Last year, Murcott marched with students in support of science.
Although battling the world's water issues can easily become an all-consuming task, Murcott supports her students' work/life balance with sensitivity to their other obligations and by monitoring how much time a given class should require. "I try not to overload students with work," she says. "I want students to have a balanced life."
Of her own graduate school mentor, MIT Professor Donald Harleman (1922-2005), Murcott says, "he believed in me when I didn't believe in myself." This bedrock faith, Murcott notes, is what drove her to complete her studies at MIT and eventually led to her to teach here. "I ended up working with Professor Harleman for a total of 15 years," she remembers, "which was a great opportunity and privilege."
Murcott recommends that students seek out mentors on campus who are caring, and whose work is of particular interest. "Don't waste time," she says, pick mentors who are mentally present, and get to know them well.