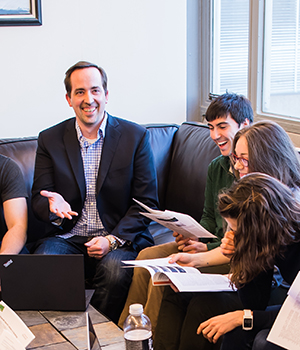 Matthew Shoulders
(he/him)
Chemistry
Thriving together
Upon hearing that Matthew Shoulders had been honored with the Committed to Caring (C2C) Award, his entire lab turned up to congratulate him. Each student, one by one walked into Shoulders' office, shook his hand, and enthusiastically offered their praise.
The Whitehead Career Development Associate Professor in Chemistry, Shoulders has earned the warm regard of his students by cultivating an ethos of mentorship in his lab. One of his graduate students says, "Matt makes every effort to help each lab member thrive, blocking out time to teach new members experiments or meet weekly to go over results, and encouraging us to do the same for each other."
Shoulders earned his B.S. in Chemistry from the Virginia Polytechnic Institute and State University and his PhD. in Organic Chemistry from the University of Wisconsin-Madison. After a post-doctoral fellowship with the American Cancer Society at the Scripps Research Institute, Shoulders joined the MIT professoriate in 2012.
During his 6 years at MIT, Shoulders has worked on "integrating the tools of chemistry and biology to elucidate the complex pathways responsible for maintaining cellular protein homeostasis." The research that Shoulders conducts with his students and post-doctoral fellows—whom he calls "co-workers"—has real implications for the journey to finding cures for diseases like Alzheimer's, diabetes, cystic fibrosis, viral infections, and even many types of cancer.
Planning for Good Mentorship
In the Shoulders lab, good mentorship is on the agenda. Shoulders says, "I aim to cultivate open communication about what is working and what is not working with each of my co-workers, including in semi-annual meetings where I ask for their input on what I can do better as a mentor." The idea, he says, is to adjust his mentoring style to "what works best for each person in the lab."
Recognizing that a community is built through more than just one person, Shoulders encourages peer mentoring in his lab, emphasizing that "a key part of being a scientist is learning to mentor others effectively." In order to implement this system of peer-support, Shoulders says, "I ask each student to develop their own mentoring skills and track record, and then I work with them to guide these efforts."
The impact of Shoulders' system of peer mentorship cannot be understated. In nominations letters submitted to C2C, students note that Shoulders "reminds us that being a good scientist involves not only stewarding the time and resources we have, but also caring for and supporting those we work with."
Among the good mentoring practices that Shoulders promotes in his lab is speaking openly and honestly about a healthy work/life balance (a Mentoring Guidepost identified by the C2C program). Shoulders says, "I encourage my co-workers to engage in 'conscious prioritization,' a process in which they should intentionally assess their priorities and time commitments to different aspects of their life, as well as the associated costs and benefits, several times a year."
Shoulders says that work/life balance is a "moving target," and that priorities naturally change over time. By consciously evaluating the costs and benefits of each choice and making a decision consistent with your priorities, Shoulders believes, that "we all can find a happy work/life balance consistent with success in a demanding field."
Thriving Together
Shoulders provides his students with an open line of communication (another C2C Mentoring Guidepost). "Early on, I learned that I could count on Matt to make himself available to chat about data, my latest crazy idea, or my existential crises about graduate school," wrote one nominator. Often telling students to 'just swing by' his office, Shoulders' open invitation remains, even as his schedule becomes busier.
The growing list of publications, student fellowships, and grants in the Shoulders lab might suggest that success was inevitable for these young chemists. These accomplishments, however, would not have been possible, according to one nominator, without Shoulders' "scientific intuition and inspiring leadership." More significant, however, the same nominator writes, "are the milestones that wouldn't have happened if not for Matt's dedication to his students," such as doctoral students passing qualifying exams they once failed, or projects that faced major setbacks coming to fruition.
When asked for the best piece advice he could give to an MIT student, Shoulders offered, "Don't waste time questioning yourself and whether you belong here – you do! Instead, find colleagues that support you and be courageous in pursuing your goals, whatever they may be. MIT is an awesome place, so spend your time here taking advantage of it and not worrying about success or failure."