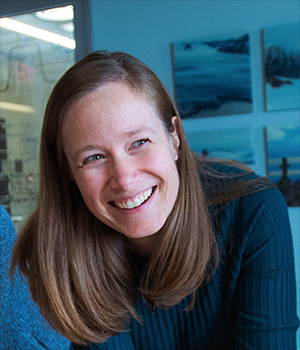 Kristin Bergmann
(she/her)
Earth, Atmospheric, and Planetary Sciences
Cultural evolution
"Cool, collected, and compassionate," according to a student nominator, Professor Kristin Bergmann uplifts the students in her lab and beyond.
Professor Bergmann holds the D. Reid (1941) and Barbara J. Weedon Career Development chair in the Department of Earth, Atmospheric, and Planetary Sciences. A graduate of Carleton College, Bergmann later taught middle school earth and life sciences before pursuing her Ph.D. at Caltech. After graduate school, Bergmann joined the Harvard Society of Fellows as a junior fellow.
The Bergmann lab reconstructs environmental change through studying primarily marine carbonate sedimentary rocks from Oman, Svalbard, and the United States. They analyze these rocks to better understand how the climate and chemistry of the oceans and atmosphere affected the evolution of complex life, when Earth transitioned from a planet dominated by unicellular microbial communities to one of multicellular animal communities.
Culturing equity
Closely attuned to disparities and a "trustworthy confidant," Bergmann is a strong advocate for students within her department, according to her nominators. Bergmann emphasizes, "Equity in experiences, inclusion of each and every member of the MIT community, a diversity of approaches and questions — [these] should be prioritized by everyone, not just by those who are underrepresented."
Bergmann is an active participant in multiple committees focused on identifying and overcoming barriers to inclusion, including Women in Course 12, the Diversity Council, and the 2023 Task Force for the department. Writes one student nominator, Bergmann's efforts have "both improved the department's culture and empowered students to work to change department culture."
Attentive to student concerns, Bergmann offers concrete and thoughtful adaptations. She has galvanized the department by offering a fieldwork etiquette course and collaborating on a new course for incoming first years. This course helps build cohort cohesion and provides a forum to advise students on writing about research, the peer review process, attending conferences, and maintaining work-life balance, among other topics.
Discussing "aspects of science that are often unshared… [and thereby] demystifying STEM" is where Bergmann finds she is most helpful to her students. Her aim for the department is to serve all students well, being mindful of diverse life experiences, levels of confidence, and research group dynamics. Informal advising, or teaching students about the system of academia, is a Mentoring Guidepost identified by the Committed to Caring (C2C) program.
Vulnerability is key to fostering inclusivity, according to Bergmann. She writes that together "we have to nurture our strengths and share our weaknesses." Seeking an equitable and inclusive campus requires us to elevate mentorship, "to think it is as important to mentor, advise, and coach as it is to teach and do research."
Empowering scientists
Dedicated to best serving her students and ensuring they have all the resources they need to thrive, Bergmann has instituted multiple avenues for providing feedback. The Bergmann lab has semi-weekly lab meetings for students to discuss research progress and raise questions. She offers an anonymous feedback system and numerous opportunities to meet both individually and as a group, according to student nominators. Offering varied channels for students to give feedback is a Mentoring Guidepost. Nominators also express gratitude that Bergmann held sessions for the lab group with the Violence Prevention and Response team and the Title IX office.
Writes Bergmann, "Sometimes I feel that all anyone needs are others who believe in them. I want students to feel seen for who they are and what they bring to the table. I want students to feel heard in all of their ideas."
In this vein, Bergmann tries to get to know her students as scientists and people, gleaning "what makes them tick and what they hope to achieve," then collaboratively strategizing to ensure graduate school best serves them. Bergmann seeks to help her students "develop a passion for discovery… [and] feel like anything is possible."
Her efforts are profoundly successful. According to a student nominator, "Even when students were inexperienced, [Bergmann] trusted them and gave them the space to succeed on their own in the field."
Bergmann works to "aid in creating a generation of scientists who chart their own path[s] and aren't afraid that no one has walked it before them."