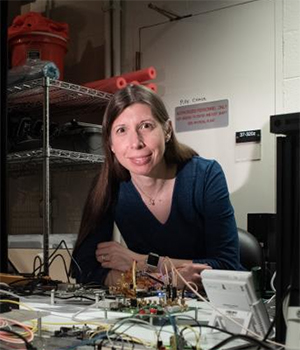 Kerri Cahoy
(she/her)
Aeronautics and Astronautics
Launching kindness
Kerri Cahoy offers compassion and fierce support for her graduate advisees.
Cahoy is an associate professor of Aeronautics and Astronautics, with a joint appointment in the Earth, Atmospheric, and Planetary Sciences Department. She leads the Space Telecommunications, Astronomy, and Radiation (STAR) Laboratory. The STAR lab develops satellite instruments and technologies for applications such as observing weather systems on Earth, imaging exoplanets, optical communication, and understanding the effects of space radiation. The lab's research often involves technology demonstrations on 'shoebox-sized' satellites called CubeSats.
Profound warmth
In the words of one of her nominators, Cahoy "launches more space missions than any other AeroAstro professor, yet remembers the needs of all her graduate students," which have included such challenges as mental blocks around research, deviated septum surgeries, engagements, housing issues, miscarriages, infertility struggles, and many more. Nominators emphasize the manifold ways Cahoy uplifts her students.
Cahoy demonstrates remarkable compassion when students are struggling. On occasion, Cahoy has encouraged international students to visit home in particularly wearing times. In one case, Cahoy even funded a student's trip home after their father suffered a serious car accident.
Another student remarks on support at a particularly vulnerable moment. The student had been "hiding her pregnancy because of potential negative reactions" from male colleagues. Cahoy guided the student through her parental leave options, "what the first few months [would] be like… and even threw… a surprise baby shower."
Achieving balance
Transparency matters to Cahoy. She emphasizes, "I don't try to hide that I'm a real person with conflicting priorities." In doing so, Cahoy models for her students how to balance work and life priorities, a C2C Mentoring Guidepost. When students are overwhelmed, she works with them to redistribute and lower their workload, according to nominators.
In the midst of Covid-19, Cahoy works with students to build resilience and is empathetic around the stress students are experiencing. Cahoy emphasizes "celebrating what we can get done and not dwelling on what has to go on the backburner" as well trying to focus on smaller, more manageable tasks.
Nominators describe Cahoy as a "staunch advocate." She devotes considerable time and attention to helping students network to advance their research and careers, recommending them for awards and opportunities, and encouraging students interested in industry to take summer internships. Cahoy also speaks of her appreciation for neurodiversity, recognizing people's varying needs and talents. She writes, "truly there are an infinite number of possible combinations of skills that individuals have and different ways that we communicate and process." With the wealth of talent and pace of research efforts at MIT we sometimes "get saturated and [do] not have or maintain the buffers we need to appreciate different people's capabilities and perspectives." To that end, Cahoy advises that we cherish our interactions across neurodiverse boundaries.