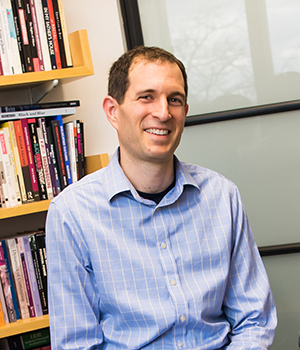 Justin Steil
(he/him)
Urban Studies and Planning
Building inclusivity
"Advising, mentoring, and generally talking with students is my favorite part of a job that I love," says Justin Steil, Assistant Professor of Law and Urban Planning in the Department of Urban Studies and Planning (DUSP). "I feel lucky to learn constantly from students and am eager to support their growth as researchers and as individuals."
Steil has devoted his professional life to solving problems of inequity in the built environment. His work extends far beyond the walls of MIT, including the organizing of numerous advocacy groups and the writing of amicus briefs for the United States Supreme Court (Bank of America et al. v. City of Miami and Wells Fargo et al. v. City of Miami). One of his students notes that despite Steil's expansive work, he remains a beacon of care and hope in DUSP and across the Institute. For his inspiring devotion to students, Steil has been honored with a Committed to Caring Award.
He earned his JD from Columbia University School of Law in 2010 and his PhD in Urban Planning from Columbia University's Graduate School of Architecture, Planning and Preservation in 2015. Before coming to MIT, Steil also served as a Legal Research Fellow at New York University Law School's Furman Center for Real Estate and Urban Policy and a clerk for two federal judges. His recently co-edited volume, titled The Dream Revisited: Contemporary Debates about Housing, Segregation, and Opportunity (Columbia University Press, 2019), investigates causes and consequences of, as well as policy responses to, separate and unequal living patterns in the United States.
Diversity and Inclusivity
Creating an inclusive and supportive work environment for his students and colleagues (a Mentoring Guidepost identified by the C2C program) is fundamental to Steil's practice as a professor and researcher. "I research urban inequality, racial equity, and inclusive policymaking more broadly," he remarks. "I strive to create a collaborative learning context in which we recognize that varying perspectives and experiences are essential to effective social science research." This inclusive and collaborative approach, he says, helps to make research fun and exciting.
His efforts to create an equitable community within DUSP do not go unnoticed by his students. In a nomination letter for the C2C Award, one student wrote, "Steil made our class into a community. This was essential for the hard work ahead, and [it] empowered us to truly work well together."
Steil's concern for the wellbeing of his students goes beyond the classroom. Praising Steil, one student writes, "while others might be worried about getting tenure, Justin spends his time strategizing about how to protect our international students in a time of significant threat, about how to create safer environments for all students…and providing endless feedback and support."
Balancing and Succeeding
Aware that life at MIT can be hard, Steil openly talks with his students about managing all of the moving parts. "We are all constantly juggling our many roles and responsibilities," Steil says. "I have a two year old daughter, so work/life balance is at the forefront of my mind all the time. I value my students' time just as I hope they value mine."
Steil is known for making time to meet with students even when office hours inevitably fill up. Spontaneous meetings fill in some of the gaps, such as when Steil met with a student after a field trip to answer a few questions and offer advice. "From this conversation, he connected me to an external colleague, which led to a very meaningful internship experience the following semester."
In addition to making time to connect, students perceive that Steil's caring is genuine. "I take classes with Justin and do research with Justin, and no matter what meeting I'm in with him he starts by asking me how I am with real curiosity," one student remarks.
Steil promotes balance and perspective broadly. When asked what advice he would give to incoming graduate students at MIT, Steil offered, "Nurture the love of learning that brought you here. At the same time, keep the inevitable disappointments of research in perspective with the joys of discovery and the richness of life outside of research."
The sum of Steil's advising efforts have led his students to success. In one nominator's words, "He expects a lot of us (so many readings!), and of himself. The bar is high, and we [rise] to it, becoming better versions of ourselves."