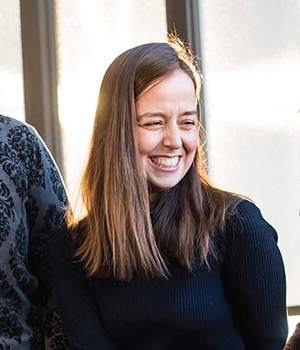 Gabriella Carolini
(she/her)
Urban Studies and Planning
Making extraordinary the norm
One student extols Gabriella Carolini as "the single most defining influence in my MIT experience to date." This sentiment is far from an outlier.
Associate Professor in the Department of Urban Studies and Planning (DUSP), Carolini's research focuses on the planning, implementation, and administration of infrastructure systems in vulnerable urban and peri-urban communities. Her work, largely based in Sub-Saharan Africa and Latin America, examines how financing, project partnering practices and project evaluations impact distributive justice in urban development, particularly with regard to water and sanitation services as well as community health.
Longevity is a defining feature of Carolini's mentorship. According to nomination letters submitted to the Committed to Caring program, Carolini continues to guide graduate students, whether or not they are her assigned advisees, in academic and personal matters long after they complete her course, or even graduate from the program. One student remarks that "she extends her compassion, time, and care to all students on an everyday basis—making extraordinary the norm."
Community through candor
Carolini builds community in the DUSP International Development Group by sharing her own experiences with her students and in doing so "fosters a friendly and inclusive work environment" (a Mentoring Guidepost identified by the C2C program). One female student remarks that Carolini's "candor in sharing her experiences as a tenure-track female academic" has helped inform her own career decisions. Another student describes Carolini as honest about the ups and downs of academia, including the tenure process, the management of research projects and publications, and family-work life balances.
Carolini's warmth and candor create a familial space in which students feel comfortable addressing their challenges. One nominator shares that having Carolini as a source of strength and support while they navigate academia has been incredibly helpful, "My relationship with Gabriella has been the strongest factor that makes me feel connected to the DUSP and larger MIT community."
When an international graduate student and his wife were expecting a baby, Carolini—although pregnant herself at the time—went out of her way to demonstrate her concern and provide support for them. Her actions made them feel like they "had a community to rely on at MIT." This was especially appreciated in light of the current political climate in which many international students feel destabilized and socially isolated.
Attention to students and scholarship
Many student nominators noted that even while they were abroad, conducting independent field research, Carolini made the time to check in about research progress via Skype. "I felt fully supported by Gabriella, who was available at short notice to check in on how interviews were going and providing feedback on interviewing strategies."
One student notes that during fieldwork in São Paulo, Brazil, Gabriella met with them over Skype multiple times to discuss fieldwork, offer suggestions for interview questionnaires, and to discuss next steps. "Her support during that time was fundamental to the success of my research," the student remembers.
"Choice" is perhaps the toughest obstacle for her students, Carolini explains. "Making a decision about what specific questions or issues to commit to is a perennially difficult challenge our students face. They are talented and able—so we understand why. But we all still have to choose to move forward."
Faculty members, Carolini says, need to help students find and commit to their research and professional practice aspirations. It helps when faculty members demonstrate excitement about students' work and help them to develop a plan towards achievement. To Carolini, this means recognizing both the strengths and weaknesses of a project, and addressing the latter "without losing sight of the value of their work."
Carolini desires to lead by example, and to show her students the importance of "thinking about the big picture" in their own work trajectories.