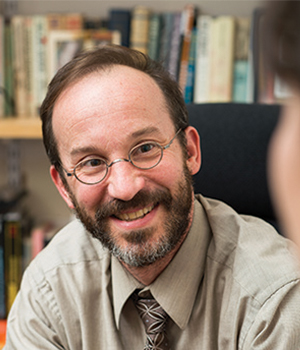 Ezra Glenn
(he/him)
Urban Studies and Planning
Building community through curiosity
Ezra Haber Glenn demonstrates an "outstanding example of commitment to student learning and growth through care and attention." As a nominator testified, "He asks me genuinely how I am doing, and that can make all the difference." Ezra is "incredibly supportive," making his commitment to caring for students a priority by creating time to give students walking tours of Somerville for various projects, sending current and former students individualized emails about upcoming opportunities, and meeting with them regularly. His stories and personal anecdotes have been invaluable to their research pursuits.
As a lecturer in the Department of Urban Studies and Planning, Ezra Haber Glenn teaches students about quantitative reasoning and community development. His work focuses on zoning, community planning, affordable housing, and environmental protection. He also teaches a course on "The City in Film" exploring the transformation of urbanization, industrialization, immigration, and globalization over 100 years of motion pictures. Prior to coming to DUSP, Ezra was Director of Community Development for the City of Lawrence, MA. Past positions include Director of Planning & Development for the City of Somerville, MA, and Land Use and Environmental Planner at the consulting firm of McGregor & Associates. He is the founder and executive director of Public Planning, Research, and Implementation, Inc., a non-profit planning group established in 2002 to assist community-based organizations with land use and development planning projects. In addition, he serves on the Board of Directors of the Somerville Community Corporation. Ezra has an extensive publication record in his field, has developed an open-source software toolkit to help planners and researchers use Census data, and has received awards for his commitment to excellence and service including the Jeffrey Graham Award for Excellence in Community Development and the Rolf R. Engler Award for Outstanding Service.
Ezra's work to create a sense of community has earned him the honor of the Outstanding Contribution to Student Life Award in DUSP three times and has even inspired a song. His "seemingly boundless energy, good cheer, nerdy sense of humor, and admirable competence" make him a favorite among students, where he is able to spark "curiosity and humor" in his interactions. He has spent hours talking with students about the issues they care about and helping students to work through them. So it comes as no surprise that students say, "Ezra is the silent engine of our department, going out of his way to follow up on a conversation or question, and generally being the kindest and most accessible member of the DUSP faculty."
We thank Ezra Haber Glenn for his commitment to student life and success at MIT.