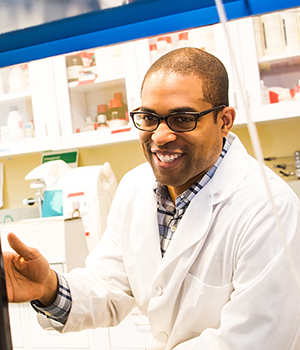 Cullen Buie
(he/him)
Mechanical Engineering
Planning together
"I heard a quote once that 'the best ability is availability'," says Professor Cullen Buie, "and I'm constantly trying to figure out how to be more available for the people I mentor." For this outlook and many other reasons, Buie has been awarded the Committed to Caring (C2C) Award.
Although mentoring seems to come naturally to Buie, he says that he is still trying to figure out how to tailor his advising practices to the needs of each students. "Since everyone is different, treating them all the same is unfair. Different people have diverse challenges and opportunities."
Buie joined MIT's Department of Mechanical Engineering (MECHE) in 2009 and is now Associate Professor and the Esther & Harold E. Edgerton Career Development Chair and Associate Head of House of Maseeh Hall. His advancements in Mechanical Engineering include a new microfluidic device that allows scientists to quickly extract DNA for use in genetic engineering and to sort strains of bacteria based on their electric potential. In addition to his important contributions to the mechanical engineering and science more broadly, Buie has made an especially memorable impression on his students who laud him as a caring, supportive, and attentive advisor, who "deserves to be held up as a role model."
Planning Together
Perhaps what stands out most about Buie's advising style is his rigorous attention to planning: planning for the next step, planning for changes, and planning together. One student nominator for the C2C award wrote, "The first thing [Buie] did after hiring me was ask me what I wanted to do with my degree, what were my end goals, what I wanted to do with my life." This frank yet detailed conversation, the nominator writes, "set the tone for all of our future interactions… his feedback on my all of my work was tailored to my end goal."
Buie explains that a major focus is to help advisees "think about their future long before those big life decisions have to be made." This initial sit-down though is not the end of the planning process. After asking students very early in their training about career goals, Buie checks in twice per year to see if anything has changed.
When students are unsure of their goals, Buie encourages them to try new things and sample different career paths. Serving as a Teaching Assistant for a class or take a summer internship at a national laboratory may provide important exposure to different potential careers, he says.
Part of Buie's planning program is the informal advising of his students (a Mentoring Guidepost identified by the C2C program). Being a well-rounded individual is vital, says Buie, for professional and personal reasons. "There is a tendency at a place like MIT to believe that the most important things are your tangible skills and your productivity," Buie comments, but asserts that productivity may never been seen if one doesn't communicate the work in a compelling manner. Most importantly, he adds, "years or even a lifetime of hard work can be derailed by ethical or moral failures."
Whether it is helping his students plan for their futures, or planning for himself, Buie stresses the benefit of soliciting advice from many people, "I tend to ask 3-4 people for their opinion so I can hear a range of opinions." Towards the end of his own time in graduate school, Buie remembers that he was unsure of whether to apply for post-docs or academic positions. Turning to his many mentors for advice, he learned it was possible to apply for both academic positions and post-docs at the same time. He learned that he could defer the start date of the academic positions in order to finish post-doctoral fellowships. It was the perfect solution, Buie comments. "Ultimately this is what I did and it turned out to be an excellent experience, but I never would have figured it out without the guidance of my Ph.D. advisor and several other mentors."
Balancing Life
An important tenet of his lab is a healthy work/life balance (another Mentoring Guidepost). "I encourage all of my advisees to maintain balance between their work and their social life as much as possible," Buie explains. "One way I do this is by trying to model this balance myself but I also show an interest in their social activities to try to normalize it."
His well-honed balancing act has not gone unnoticed by his students. "[Buie] has always been a great example of a healthy work life balance." one nominator wrote that as Head of House, Buie "insists we not talk lab at the dorm or dorm business in lab." Buie's students appreciate that he articulates these lessons. A nominator recalls, "Buie told the entire lab how he did not want to postpone his life until after tenure because 'you will only get good at what you practice'."
For Buie, acknowledging his students' lives outside of MIT is an important part encouraging this balance. "I try my best to be engaged and aware of all the major aspects of my advisees' lives, not just their academic life," Buie comments. "To do this I ask questions about how things are going both in and outside of the classroom/lab."
Buie notes that sometimes MIT community members are reluctant to discuss their hobbies and outside interests. "Everyone wants to look like they work all the time, while simultaneously knowing this isn't healthy (or sustainable)." Buie remarks, "To counteract this I make an effort to show my students that their work is important but there is much more to life." To do this, he encourages his students to organize lab-sponsored outings (most recently they went to Boda Borg). Buie says, "I think it's important to have a little bit of fun with your group, just so that they can see another side of you (the human side!)."