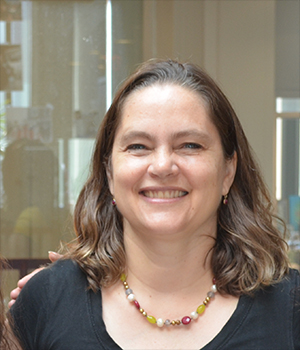 Cathy Drennan
(she/her)
Chemistry and Biology
Compounding caring
Cathy Drennan is a "brilliant scientist, engaging teacher, dedicated mentor, and fierce advocate," according to her advisees. Students eagerly share exciting, early experimental results with Drennan, finding her enthusiasm "infectious."
Drennan has been a professor at MIT since 1999. She started in the Department of Chemistry and has since also joined the Department of Biology. Drennan's laboratory focuses on using X-ray crystallography to study the structure and function of enzymes important in remediating damage to the air and water. They also investigate metalloprotein biochemistry and the dynamics of environmental modulation of metalloprotein reactivity. Through 2025, Drennan is serving as a Margaret MacVicar Faculty Fellow, a program that recognizes faculty who have made "exemplary and sustained contributions" to undergraduate education at MIT. In 2020, Drennan became a member of the American Academy of Arts and Sciences.
Believing in graduate advisees
Having experienced great mentorship in graduate school, Drennan is keen to extend this practice. In particular, she recalls "the sense of being treated more as a colleague than as a student… that feeling like your advisor listens to your scientific ideas and you have a seat at the table where experiments are being designed." Drennan builds this mentality into her interactions with advisees.
One advisee credits Drennan's "valuable mentorship and willingness to believe in [them]" as critical to their being at MIT and progressing on experiments. Validating students by demonstrating interest in their ideas and confidence in their abilities is a C2C Mentoring Guidepost.
Drennan revels in supporting students to discover and achieve their passions. For one student who was immensely excited about mentoring others, the fear of public speaking in large lecture halls made the student worry that becoming a professor was not an option. Drennan recalls working closely with the student on navigating public speaking and the student went on to become a tenured professor at an institution where they have the opportunity to "change lives on a daily basis."
Embracing vulnerability
A fierce support for her advisees, Cathy Drennan creates space for vulnerability. In one instance, a student disclosed to Drennan that they had experienced trauma. Per a nomination letter, Drennan's response was, "'My job is to help you achieve your goal of becoming a professor. Putting your health first and dealing with your past now, instead of later down the road when you are trying to launch your career, is part of me best preparing you for success.'" Swiftly, Drennan cancelled several meetings and events to enroll in a two-day workshop on how to best mentor students who had experienced trauma.
In another instance, a student repeatedly felt validated and supported when raising a family member's illness and their own mental health challenges. In the student's words, Drennan "reminded me that I am capable and deserve to be a graduate student at MIT." Grappling with imposter syndrome and worries about whether they belong is a common predicament for students.
Drennan relishes helping graduate students navigate their paths. As she says, graduate school involves "a huge amount of facing your own inner demons." A graduate student's journey involves "conquering those [and] figuring out who you… want to be as a human being." Drennan is a dependable support during this exacting process.
Drennan is trying to reshape expectations for science, because she finds that narratives about what constitutes success are often inaccurate. Instead, she emphasizes that "when you fail, you're really pushing the envelope and that's what great science is."
Snowballing kindness
Striving to create a lab environment where "one person's success is everyone's success" matters greatly to Drennan. Very intentionally, she crafts expectations for the laboratory to discuss. Together, Drennan and her students build a collaborative laboratory family where, according to one nominator, "we all feel welcomed despite our differences."
As students prepare for their lives after graduate school, Drennan offers advice to ensure they remain in caring communities. Principally, Drennan recommends: "Only work for nice people and only work with nice people" as well as "Be kind to yourself. Make decisions with your heart and not your head." Drennan is committed to helping students become thoughtful, inquisitive, fulfilled scientists who collaborate well with others.
Thoughtful advising compounds. Drennan emphasizes that people emulate the type of advising they have experienced, for both better and worse. Drennan's advisees go on to support their students and extend patterns of inclusive, caring advising to the broader biology and chemistry communities. One advisee mentions their aim to work with underserved communities on education and economic mobility, inspired by Drennan's commitment to community service.
Truly, in the words of Drennan's graduate advisees, "we need more people like her in the world!"