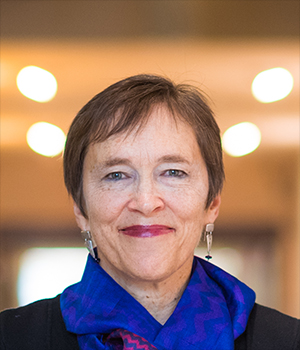 Caroline Jones
(she/her)
Architecture
Adaptive expectations
Tirelessly, Professor Caroline Jones advocates for her students and helps them build thoughtful dissertations.
Caroline Jones is a professor in the History, Theory, Criticism (HTC) section of MIT's Department of Architecture. Jones studies modern and contemporary art, focusing on its technological modes of production, distribution, and reception. Before completing her Ph.D. at Stanford University, Jones curated exhibits and worked in museum administration at New York's Museum of Modern Art and the Harvard University Art Museums.
Dedicating time, optimizing time
Jones is thoughtful with her time and attention. HTC students can write papers that are 50 to 75 pages long. Nevertheless, Jones "responds to every draft with keen remarks throughout." Her "infectious enthusiasm and rigor" inspire graduate students in their commitment to and interest in their studies.
When work and life blur together—amplified for many during the pandemic—both effective working time and true breaks can be elusive. Jones tries to guide students in separating the two by offering her approach: "recognize when you work best and optimize that time, without dithering." This allows students to take clear breaks "to be in nature or with family, which is crucial to your well-being."
Adaptability is essential in the Ph.D. process, for both students and faculty. In considering how dissertations have shifted over the course of the pandemic, Jones encourages students to "keep the deadline, but lower the expectation." Being understanding and realistic about what is achievable is crucial "when your archive just [closed] or you can't leave your apartment." As Jones regularly reminds students: "The only good dissertation is a done dissertation."
Transparency with hurdles
Being a transparent role model is critical, according to Jones. She is open about the resources and people that have supported her throughout her career as well as the challenges she has encountered. Jones works to introduce women and first-generation students to some of the unspoken norms of academia, helping them learn how to navigate uncomfortable and hostile questions, publish articles, and understand what to expect during academic job searches. Teaching the informal rules of academia is a Mentoring Guidepost identified by the Committed to Caring program.
In graduate school, Jones faced two concurrent serious stressors: the novelty and challenge of being a young parent while simultaneously undergoing chemotherapy. For Jones, "dissertation work became a place of quiet solace and joy" and she reflects on the intentionality with which she crafted breaks with family, finding "time to cherish each other in the midst of the chaos."
Many graduate students also face significant personal trials over the course of their studies. One nominator reflects with gratitude on support from Jones after a stunning loss: "Dr. Jones rallied the entire faculty and staff and my family, and I received more flowers and cards from MIT than any other source (even close family!)." For Jones, if students experience "a loss or a blow, simple compassion and listening are crucial."