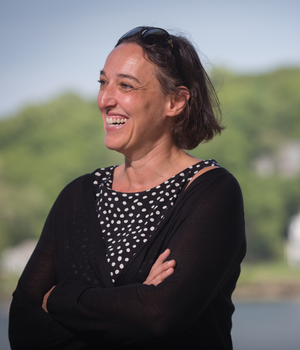 Angelika Amon
(she/her)
Biology
Compassion in the details
The late MIT Professor Angelika Amon, renowned for her groundbreaking contributions to our understanding of how chromosomes are regulated and partitioned during cell division, was also beloved among the MIT community for her kind and supportive mentorship of students.
An engaged and valued member of the MIT community, Amon passed away in late 2020 after a difficult battle with ovarian cancer. She was the Kathleen and Curtis Marble Professor in Cancer Research within the department of biology at MIT, the associate director of the Paul F. Glenn Center for Biology of Aging Research at MIT, the co-director of MIT's Alana Down Syndrome Center, a member of the Ludwig Center for Molecular Oncology at MIT, and a member of the Koch Institute for Integrative Cancer Research. Amon's research focused on understanding the biological impacts of cell aneuploidy, or the presence of too many chromosomes, in both healthy and cancerous cells. Her research also touched upon the relationships between cell size, cell growth, and age. 
Care and consideration
Amon's nominators describe in detail how she placed a large emphasis on her students' lives outside the classroom. She recognized that in order to be a productive scientist, it is important to prioritize self-care; one student wrote that Amon emphasized how important it was "to take care of [your] own mental health first, because as she put it, 'the best data was produced by happy scientists.'"
However, Amon's concern for her students' well-being went far beyond her desire for them to be productive members of academia. Her nomination letters are filled with anecdotes demonstrating how much she truly cared about her students as colleagues and friends.
One nominator summed Amon up thusly: "At her core, Angelika was a tremendously generous human being, and she never displayed it more than in caring for her students." She "opened her home" to celebrate the achievements of her mentees, welcomed students into her home for the holidays, and offered to take care of pets when some of her group members had to leave the country temporarily due to visa issues.
These touching acts demonstrate, without a doubt, that Amon's care and consideration for her students knew no bounds. No matter the circumstances, "as her student, you knew that you were valued and cared for, and that she would be your safety net even when you were struggling."
A dynamic mentorship style
In addition to making sure her students were cared for and healthy, Amon also recognized that her relationship with each student was not static, but instead needed to evolve and adjust depending on the current circumstances.
As one nominator wrote, "one of Angelika's most impressive qualities was her ability to adjust her mentoring to what I needed at the time." When meeting with her students one-on-one, Amon had a keen eye for identifying what they needed most; she could instinctively tell when it was appropriate to push them to complete an experiment, encourage them to change direction, or even to take a step back and take time for themselves.
This intuition was possible because of the unique, personal relationship she developed with each of her students. Amon was meticulous about understanding and keeping track of each student's interests and goals, and made sure to provide each student with useful opportunities tailored to those goals. One nominator described how Amon "used all of her personal and professional connections (and made many new ones!) to ensure that her students ended up where they wanted to be."
Even after she was diagnosed with ovarian cancer, Amon made it a priority to ensure the success and happiness of her students. She wrote out extensive plans for each of her students to use in the event of her passing, and she made sure to routinely check in with her students about their research and personal lives.
A brilliant scientist and a caring mentor, Amon never missed an opportunity to check in with her students and ensure their happiness, wellbeing, and success. MIT Professor Li-Huei Tsai, a collaborator of Amon's, described Amon as being "a champion for her female colleagues, fellow researchers, and students. She was very supportive in so many ways, but what struck me in particular was that she kept an eye out for those who might not be doing so well and would work to provide the help they needed."
Amon's students and the entire MIT community will miss her unrelenting enthusiasm and her kind, caring ways.