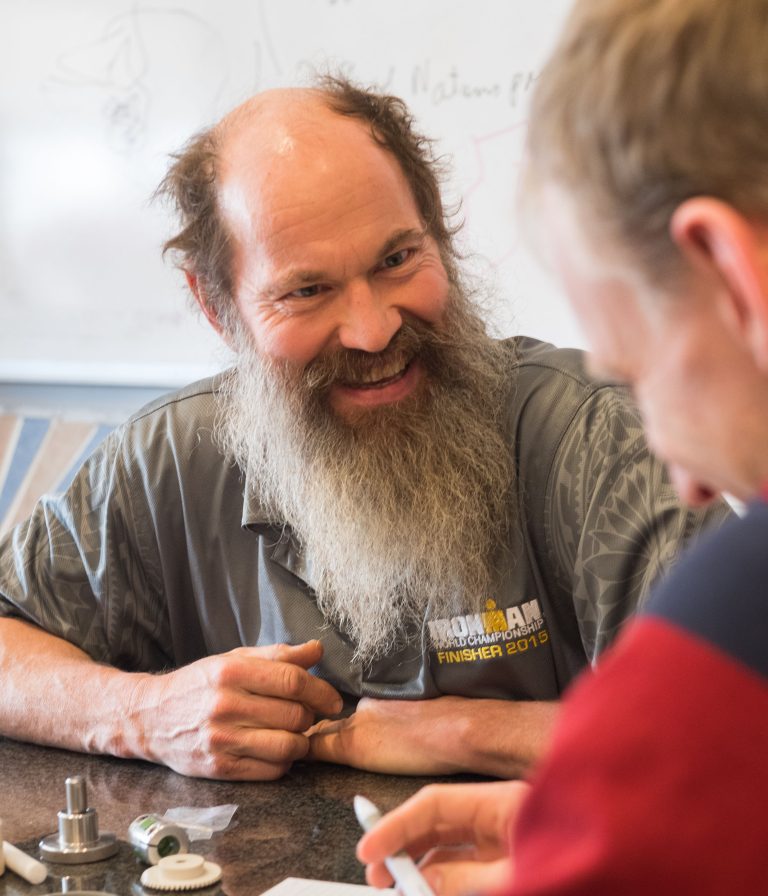 Alex Slocum
(he/him)
Mechanical Engineering
Healthy habits lead to success
Professor Alex Slocum understands that a healthy student makes a more successful student. His graduate student nominators say that even more than working hard to discover "what makes each student 'tick'," and designing research projects that excite them, Alex encourages his students to maintain their physical and mental health. This might take the form of training for a "feat of strength," such as juggling while running a marathon (a sport known as joggling); training for a triathlon; or embarking on a long backpacking tour. His students explain, "Alex believes that a regimented training schedule not only keeps you in shape, but also helps you keep focused throughout graduate school." But Alex Slocum takes his encouragement beyond suggestions to concrete opportunities. Alex often takes his students on "walk and talks" and "trot and talks."
Alex also emphasizes the importance of a healthy mind. He offers his farm in New Hampshire as a retreat to students who need an escape from the lab or city. If students are having family troubles, Alex always supports them being with their families where they are needed most.
Alexander H. Slocum is the Pappalardo Professor of Mechanical Engineering at MIT. His areas of interest broadly include precision machine design as applied to machines and instruments for agriculture, healthcare, energy and water systems. Alex has written two books on machine design: Precision Machine Design and FUNdaMENTALs of Design (free download on http://pergatory.mit.edu), published more than 150 papers, and has more than 116 issued patents. Alex regularly works with companies on the development of new products and has been significantly involved with the invention and development of 11 products that have been awarded R&D 100 awards. Alex is a Fellow of the American Society of Mechanical Engineers (ASME) and the recipient of the Society of Manufacturing Engineer's Frederick W. Taylor Research Medal, the ASME Leonardo daVinci Award, the ASME Machine Design Award, and the Association of Manufacturing Technology Charlie Carter Award. This year he became a member of the National Academy of Engineering.
His students testify that Alex is "committed to the wellbeing of everyone in the MIT community." Alex has served on committees to influence educational curriculum, including the Institute Committee on Design in Undergraduate Education, the Experimental Study Group, and the Institute Committee on Student Life. He currently serves as Chair of the MIT Hobby Shop Committee where he ensures the Hobby Shop has all the resources it needs to serve the community. One student explains, "He believes it's imperative that MIT have spaces where students, faculty, and staff can all build things for research and fun."
Alex Slocum is committed to ensuring that students have room to flex their creativity, be passionate about what they do, and be in their healthiest state to do their best work. As a caring professor, Alex ensures that his students stay healthy in the challenging environment of MIT Mechanical Engineering. We thank Alex for his commitment to his students and to MIT.