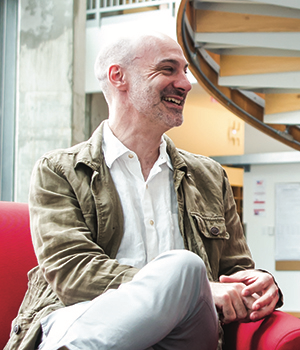 Agustin Rayo
(he/him)
Linguistics and Philosophy
Actively listening
"He'll always take time out of his schedule to help," Agustin Rayo's students say, "whether with diversity and inclusion issues, mental health concerns, or just regular academic needs." They are thankful for his attention and availability despite his wide array of responsibilities on campus. For these efforts, he has been honored as 'Committed to Caring.'
Rayo earned his PhD in Philosophy from MIT in 2001 and returned to campus in 2005 as faculty. Since then, Rayo has earned the title of Professor of Philosophy and currently serves as Associate Dean of the School of Humanities and Social Sciences (SHASS). He has published on a wide array of topics such as epistemology and decision theory, higher-order resources, and the philosophy of math. Rayo has taught a number of courses at MIT including most recently "Paradox and Infinity," (also available online as a MOOC) which explores highlights from the intersection of philosophy and mathematics. Rayo served as Housemaster of Senior House from 2010 to 2015.
Prioritizing mental health
Rayo's concern for the mental health of his students is a direct result of his experience in their shoes. Particularly as an international student, Rayo says, "graduate school was rough, especially the first couple of years." Being away from his home country of Mexico was difficult for Rayo, and he often felt that he was academically behind his peers. "I was so stressed that I developed insomnia, which made everything worse," he remembers.
Finding resources on campus, including MIT Mental Health, made all of the difference for him. "I was in therapy throughout graduate school," Rayo shares. "I'm not sure I would have made it to graduation without that kind of support."
Keeping these experience in mind, Rayo is quick to respond to any sign of poor mental health among his students. One advisee comments of Rayo, "I couldn't ask for a faculty member to take mental health issues in students more seriously."
During his graduate school years, Rayo recalls that his thesis advisor Vann McGee was an "unfailingly kind" mentor and generous enough to let meetings run for as long as necessary. Rayo recalls, "I once realized that I had to rush off to a dentist appointment in the middle of a multi-hour advising meeting. When I got back, Vann was still in his office and we carried on where we had left off!" This kind of attention, Rayo says, is exactly what he aims to provide his own students.
Enriching grad climate and balance
Rayo promotes work/life balance, a key component of mental health (and a Mentoring Guidepost identified by the C2C program). "I don't think I had a very good work/life balance until I got married," Rayo says. "We now have a toddler and he is very good at ensuring that I don't neglect the life part of my life!" Although marriage isn't the only way to achieve balance, Rayo feels that prioritizing relationships and activities outside of MIT is an important step in the right direction.
When considering the department as a whole, Rayo places a high value on climate. Responding to a perceived issue in the department involving gender norms, he immediately scheduled meetings with the involved parties to ensure that all were heard and that every concern was addressed. "He made it clear that he supported us and valued our input," one student said, "and worked with us to resolve the situation." Students observe that Rayo shows clear commitment to making the department as inclusive and comfortable for all as possible.
One student emphasizes how seriously Rayo takes his role as a mentor. "I've never encountered a more caring, compassionate faculty member who was so dedicated to students' personal and academic wellbeing."