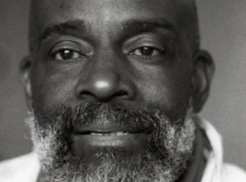 Beloved mentor and colleague, who died at 94 on March 28, leaves behind a profound legacy at MIT, in Boston, and beyond.
Takeo Kuwabara | Department of Urban Studies and Planning
Mel King, an adjunct professor emeritus in MIT's Department of Urban Studies and Planning (DUSP) and renowned activist, community leader, and politician, passed away on March 28 at the age of 94.
Through his teaching, ideas, and the institutions he created at MIT, King profoundly influenced DUSP and its community members, who showcase the love and admiration for his presence at MIT in the remembrances below. These memories encapsulate King's insightfulness, courage, spirit, and brilliance, and attest to his legacy through the individuals he mentored and inspired.
"Mel changed much more than our department and MIT. It's plainly clear that the city of Boston, the state of Massachusetts, and beyond, would not be the same without having had the privilege of Mel King as one of its citizens," said Chris Zegras, professor and department head, at an event addressing the Mel King Community Fellows Program. "Massachusetts is often recognized for its leaders – political, literary, educational, technological – among this historical group, Mel King stands at the pinnacle."
Shared with permission are a selection of the memories and thoughts originally circulated via DUSP community emails:
"As I recall, Mel came to DUSP about 1971 when I was a graduate student. He would be a part of our community for more than 20 years. He taught community economic development and community development. He supervised theses and hosted events. But he was far more than someone who taught a critical part of a curriculum," wrote Phillip Clay, former MIT chancellor and professor emeritus in DUSP. "He was a presence — both gentle and imposing. Affirming and challenging. He could be gentle and tough. His questions cut to the core of the matter under discussion."
Many recalled the breakfast meetings King held, where he invited community leaders, politicians, students, and faculty to meet over a meal and discuss pressing challenges as well as innovative solutions in community development, environmental justice, and urban planning.
The following is an excerpt from a remembrance by Holly Harriel MCP '03, strategic advisor of the MIT Community Innovators Lab (CoLab) as well as a DUSP alumna and member of the faculty.
"On Sunday morning, my partner and I took the T over to Mel's home. We walked through the backyard and back entrance, sat around his huge wooden table, and joined the conversation. It was during this breakfast — one of his legendary Sunday breakfasts — that I met his wife, Joyce, and talked with organizers from all over Boston and Massachusetts.

"I was there for several hours, soaking up all I could. As the people started to slowly trickle out of the gathering, I finally made my way over to Mel. I introduced myself, explaining who I was, my background and that I was coming from Tuskegee, Alabama: a place where community development corporations were novel. I shared that I had been admitted to DUSP and wanted to know if he thought it was a good idea for me to accept my admissions offer to study there.

"Mel replied in his quintessential raspy voice, 'Yes, come to Boston and MIT.' From that point, I made my decision: I would move to Boston to learn from Mel. I would later learn that I was the last admitted student to accept my offer of admission to the program.

"Prior to that weekend, as an HBCU graduate in Alabama, I had learned through newspaper articles and sparse writings (the internet was not what it is now) about Tent City and Mel King. I connected with his prolific energy and vision, his being an HBCU alum (Claflin College, now Claflin University), and his ability to be fearless and seek change at any cost.

"In Mel, I saw myself: equal parts community/grassroots and intellectual who consistently sought to make tangible the question, 'what is the work for me to do?' In him, I saw that studying at MIT was possible, fighting for justice was possible, and being a fearless leader for change was possible."
Remembering King's impact on the Greater Boston area, Phil Thompson — a faculty member at DUSP and former deputy mayor for strategic policy initiatives for New York City — wrote: "I didn't know Mel King as well as some other members of the department, but I learned much from his example. I first came to know Mel during his run for Mayor in 1983. The City was extremely racially divided and tense at the time. Anti-black race riots against forced busing had taken place not long before. Two of my friends worked on the campaign, as campaign manager and field director. I volunteered to help them out. Like most if not all campaign staff, my friends and I were obsessed with winning. Mel was not. He insisted on walking to all of these meetings, and stopped to talk to supporters he met along the way, or to answer questions people opposed to his candidacy asked about him. As a result, he was perennially late for events, which made his staff crazy. Mel also insisted on wearing a dashiki (seen as racially provocative at the time) everywhere, including meetings with business groups. Mel made us wonder about why he was doing these things. It became clear to us that Mel wanted his campaign to help heal racial divisions in the City, without apologizing for his blackness, and to show people that a mayor should care more about the people than winning elections or bowing to ideological conventions. This was a big lesson for us."
In coverage across the Boston area and beyond, King has recently been remembered as a "Nelson Mandela," "a person of visionary emancipatory importance," and a "shaper of a better Boston."
A dedicated civil rights activist, King served in the state legislature for nearly a decade before becoming Boston's first Black general mayoral candidate. His leadership centering affordable housing, community development, access to space, and human rights can be seen across the built environment of Boston and, in the words of Mayor Michelle Wu, in "ideas that have shaped generations of organizers and leaders."
« Back to News