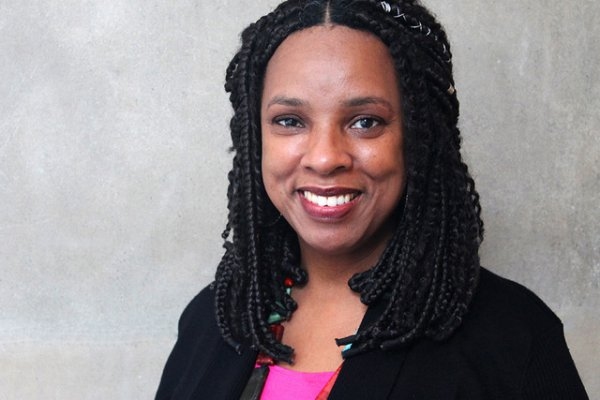 Dominique was one of four honorees recently awarded an MLK Jr. Leadership Award.
MIT Global Languages
Nilma Dominique makes it her mission to build bonds of community — whether it is in a language classroom at MIT, where she teaches Portuguese, more broadly across the Institute, or in the community at large. Dominique was one of four honorees recently awarded an MLK Jr. Leadership Award in recognition of her work embodying the spirit of Dr. Martin Luther King Jr.'s work. Dominique was recognized for community building through her Solta a Língua and Boca Livre initiatives. "Receiving this award is an incredible honor," Dominique explains. "Dr. King continues to be a source of inspiration for anybody who believes in social justice, no matter where in the world they are fighting for it."
In response to receiving the MLK award, Dominique reflected on her life experiences, growing up in Salvador, Bahia, Brazil, a "beautiful, vibrant city" known for its African heritage and culture. Dominique notes that "Growing up in a place where I wasn't part of a minority, it became much more difficult to be aware of racism and to identify racism as a systemic issue. But even if it's sometimes more subtle than in the U.S. and it shows in different ways, racism is always present. That's not surprising when we remember that Brazil was the last country to end slavery in the Americas." She later came to the United States and experienced being regarded as a "minority" as a Black woman, and a Latina immigrant. She encountered attitudes that made her feel she didn't "belong." Dominique points to the need for not only greater diversity and representation, but also, she says "We need more than that. We need representation that has the power and the will to produce change."
Prior to the pandemic interruptions, Dominique convened Solta a Lingua, a Portuguese-language lunch, each month for over a decade to gather students and native speakers of Portuguese for Brazilian food, informal conversation, and occasional guest speakers. Dominique explains the events were open to the community, and friends and family were welcomed. She continues that the sessions were "a pretext to disconnect from academics, share experiences, news, worries, listen to others, show empathy, to take care of each other" and to "nourish our soul." For Dominique, such events allow her to convey to students that they matter "as individuals with feelings, dreams, and needs," and that they are part of a community. With MIT-Brazil, Dominique also organized a weekly Portuguese-language discussion group, Boca Livre, that has been meeting weekly over the past year, since MIT returned to in-person instruction.
Dominique has also brought a host of guest speakers and performers over the years into her classroom, or onto the MIT campus, from authors Dulce Maria Cardoso and Jacinto Lucas Pires, to filmmaker Anna Muylaert, to folk musicians Nós de Chita, among many others from Portugal or Brazil, or from the local Lusophone community. She sponsored a speaking event for Jean Wyllys, a lecturer, journalist, politician, and gay-rights activist from Brazil, and former member of the Brazilian parliament in 2019. In 2016 she arranged for a group of her students to discuss the political situation in East Timor with Institute Professor Noam Chomsky. She has worked frequently in collaboration with other units or organizations, such as MIT-Brazil, MIT-Portugal, MIT-Africa, the MIT Brazilian Students' Association, the Latin American Working Group, and Music and Theater Arts.
Dominique is an outstanding educator who joined MIT in 2010 to help establish the Portuguese curriculum. She has developed and taught all levels of Portuguese language, where she draws upon culturally authentic teaching materials to connect students with the language they're learning — in her words, "language and culture always go hand in hand." In two subjects in particular — class 21G.821 (The Beat of Brazil: Portuguese Language and Brazilian Society Through its Music) and class 21G.820 (Topics in Modern Portuguese Literature and Culture) — Dominique guides her students through explorations of Portuguese and Brazilian artistic cultures as they grow and expand their Portuguese ability. Dominique's students have responded enthusiastically to her teaching, and she was recognized with the James A. and Ruth Levitan Teaching Award from the School of Humanities, Arts and Social Sciences in 2012.
Dominique also presents frequently at conferences and society meetings, and has served on the board of the Massachusetts Foreign Language Association. She is co-editor of Microgeopolítica da língua portuguesa: ações, desafios e perspectivas (Microgeopolitics of the Portuguese language: actions, challenges and perspectives), published in 2021; and author of "La comunicación sin palabras. Estudio comparativo de gestos usados en España y Brasil" (Communication without Words. A Comparative Study of Gestures Used in Spain and Brazil), published in 2012.
« Back to News