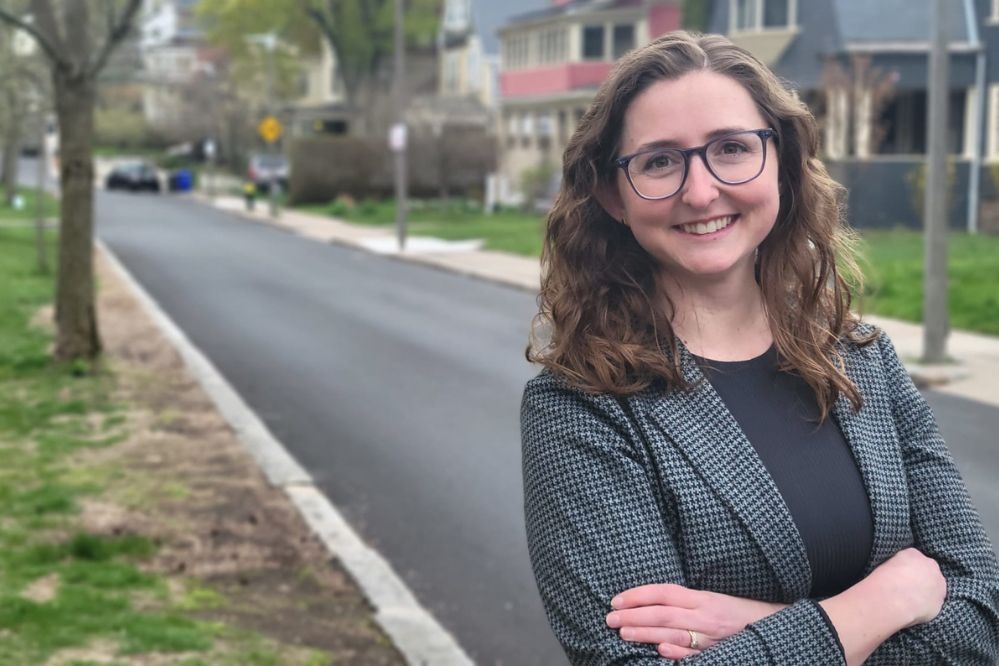 As the middle class in Lagos retreats to private enclaves, political scientist Nicole Wilson ponders the impacts on democratic norms.
Leda Zimmerman | Department of Political Science
Before her time at MIT, Nicole Wilson worked as a research assistant for two graduate students studying informal trade in Lagos, Nigeria. She was quickly captivated by the nation's vibrant commercial center, with its population of nearly 22 million.
"I had never spent more than a week or two out of the country, but I convinced myself and the people hiring me that I was adaptable enough to make it work," says Wilson, a sixth-year doctoral student in political science. "My initial commitment was for three months, but I ended up loving the experience and extending it for about a year."
During this period, Wilson learned of an event that shaped her academic future.
"There was a demolition of a large informal settlement, where people were violently evicted from their homes," she recalls. Private landlords, with the support of Lagos State security forces, were clearing the land for a luxury, residential estate. "I wanted to understand what conditions made these demolitions possible, how the land tenure system worked in Nigeria and Lagos specifically, and what kind of downstream impacts there might be when replacing informal settlements with gated communities," says Wilson.
Today, the latter question forms the core of Wilson's dissertation project. Her research examines the political behavior of an emerging middle class in Nigeria as it increasingly moves inside private enclaves. Wilson's seven years of field visits to Lagos, interviewing government officials, property managers, and residents of different neighborhoods, have yielded a wealth of insights with wide-ranging implications.
"The shifts taking place in Lagos are similar to many other rapidly urbanizing contexts in Asia and Africa," Wilson says. Her research, she hopes, will illuminate the "political role of the middle class in democracies in the Global South."
Pay for service
Wilson's work wades into an ongoing debate among social scientists. Some argue that the swelling middle class "plays an important role in democratization and the formation of a robust social contract between the government and citizens," she says. Other scholars challenge this notion, pointing to evidence of middle-class disengagement. Wilson is personally interested in the migration of the middle class to gated estates that provide a sense of seclusion from surrounding society, and offer services such as power, water, and security that would normally be delivered by the state.
"Given these changes in where and how the middle class lives, I'm asking what the implications are on their engagement with the state, focusing on tax compliance and political participation," says Wilson.
People's willingness to pay taxes is at least somewhat dependent on whether they are satisfied with government services. Wilson's Lagos interviewees told her they were "unhappy with the performance of the government and its ability to provide reliable services, including security," she says. Given these attitudes, she initially expected tax compliance of such residents to be low.
After interviewing property managers, however, Wilson's prediction changed. "I learned that estate managers, rather than just serving as substitutes for the state, sometimes act as intermediaries, communicating to the government information about taxpayers and encouraging and facilitating payments," she says.
Wilson discovered that administrative data are consistent with that story. "The data I collected show that people who live in estates are actually more likely to pay their property taxes, which is surprising if we follow the logic that tax payment is largely based on reciprocity," she says. "If we're seeing the opposite, we have to ask, 'Why is that?'"
In addition to the presence of property managers who could motivate compliance, these neighborhoods are much more legible to the state: residents in gated communities have street addresses, and can be easily located, she notes. Wilson also believes that "social norms may play a role if these neighborhoods are tight-knit." She is currently conducting a survey of property managers to tease out why we see these patterns.
Wilson is also in the midst of investigating the other side of her dissertation question, involving political participation. With recent election data and targeted surveys, she aims to estimate turnout rates for the residents of gated communities as well as their engagement in political protests and public meetings.
Even if residents of private communities have greater tax compliance and continued political participation, Wilson is hesitant to argue that the shift to gated living has little consequence for democratic engagement. "Moving into these enclaves might alter residents' relationship to the broader political community, in terms of their ties to other Lagos citizens." Further, if middle class residents are not withdrawing their tax payments when they opt for private service provision, there may be reduced pressure on the state to improve public service delivery.
Urban politics
As a sociology and criminal justice major at the University of Georgia, Wilson explored a range of career interests. She interned at a child advocacy center but gravitated from front-line work to focus on better understanding the institutions shaping people's lives. After graduation, she moved to Washington, where she held a series of jobs, including for a human rights organization. A yearlong fellowship in in an intentional community gave her the time to think strategically about the next steps in her career.
At American University, she found what she was looking for: a master's program in justice, law, and society. There, she says, "I got in with political scientists." Assisting a professor in the Peace and Violence Research Lab, Wilson gained skills in data collection and statistical analysis. She found herself drawn to the field of international development, but felt she needed field research experience to decide if she should continue on to a PhD. She landed in Lagos, where her work on a survey project settled the question. The MIT political science doctoral program came next.
"I was drawn to the MIT Governance Lab, with its focus on working with practitioners," she says. GOV/LAB, as it's known, partners with civil society organizations and governments to test theories of political behavior and ways to make governments more accountable. Professor Lily L. Tsai, lab founder and director, is co-chair of Wilson's thesis committee, along with Associate Professor Noah Nathan.
While she has focused on Lagos, Wilson says, "I am also interested in other cities, including in the U.S., and like to think of myself more as an urban politics scholar rather than an African politics scholar."
When reflecting on her academic experience, Wilson also cites the enrichment afforded by her teaching opportunities. In addition to assisting in quantitative methodology classes, she has served as a teaching fellow for an experiential ethics class offered to undergraduates and as the department's Teaching Development Fellow through MIT's Teaching and Learning Lab. "I have learned that I really love teaching," she says.
After she earns her PhD, Wilson hopes "to end up in a job at a teaching-focused institution that allows me to continue doing research," she says. "I want to have an impact with my work, and the influence I can have through teaching often feels a lot more direct and tangible."
« Back to News