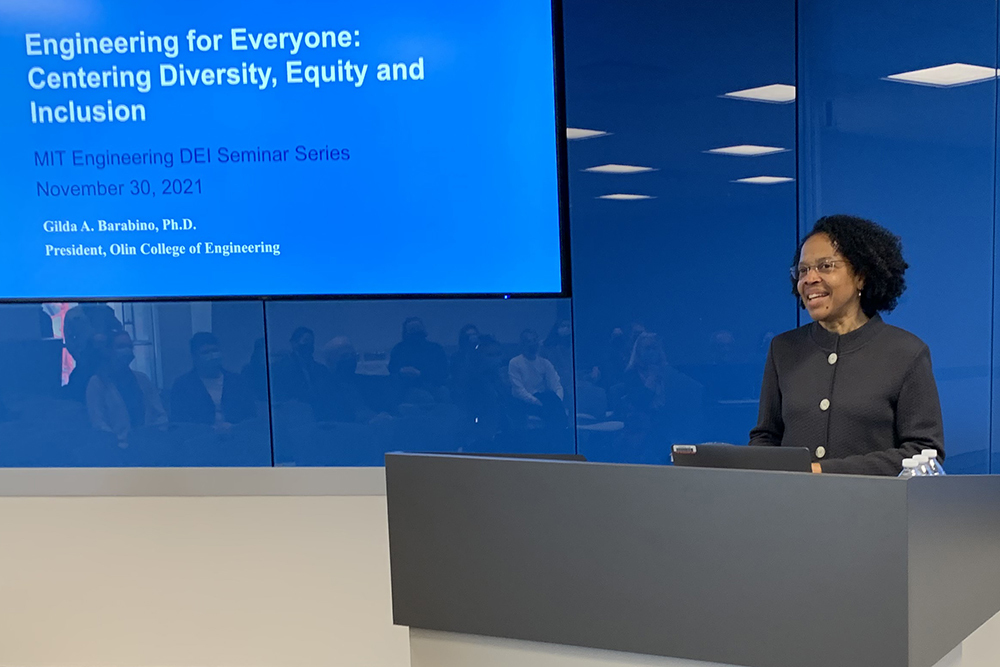 Gilda Barabino, president of Olin College of Engineering and professor of biomedical and chemical engineering, inaugurates the new series.
School of Engineering
On Tuesday, Nov. 30, Gilda A. Barabino, president of Olin College of Engineering and professor of biomedical and chemical engineering, spoke to a hybrid audience of approximately 80 people, sharing thoughts and perspectives she'd gained during her career as a leader in the engineering field. Her presentation, "Engineering for Everyone: Centering Diversity, Equity, and Inclusion," was the inaugural address delivered as part of a new seminar series presented by the MIT School of Engineering.
The series aims to provide opportunities for faculty, staff, and students to hear from current and former engineering leaders on how they've worked to build inclusive, respectful communities in which all people feel welcome, in addition to offering a forum for members of the school community to deepen knowledge and engage in open and thoughtful exchange. The November event was emceed by Daniel Hastings, head of the Department of Aeronautics and Astronautics, and associate dean for diversity, equity, and inclusion for the School of Engineering. Hastings helped develop the speaker series along with colleague Nandi Bynoe, the School of Engineering's assistant dean for diversity, equity, and inclusion.
"In this inaugural talk, President Barabino laid out a well-reasoned, data-intensive analysis of why an emphasis on diversity and inclusion makes a difference. At an organization like MIT, with such a strong focus on technical excellence, we are particularly attuned to the value of data. As we move forward in our own efforts to support diversity, equity, and inclusion, it's helpful to see their impact quantified in this way because it aligns with the importance of our decision to incorporate them directly into our core Institute values," remarked Hastings.
Barabino became the second president of Olin College of Engineering in July 2020. A biomedical engineer trained in chemical engineering with broad interest in global health, systems, and interdisciplinary engineering education, Barabino is a noted investigator in the areas of sickle cell disease and orthopedic tissue engineering. In 2019, she was elected to the National Academy of Engineering, and in 2020 she was elected to the National Academy of Medicine. Barabino has a strong passion for diversity, equity, and inclusion and is a respected speaker and thought leader on the subject.
During her presentation, Barabino repeatedly emphasized the importance of challenging assumptions made about underrepresented minorities and genders, particularly the idea that there is a lack of talent among such communities. She also highlighted the need for creating opportunities for students from underrepresented backgrounds, adding that many are often inspired to innovate because of their experiences. She drew examples from her own life to illustrate.
"I started out studying sickle cell disease, and part of my motivation was that I wanted to use engineering principles to solve a problem in medicine, and I wanted to solve a problem that disproportionately impacted African Americans," said Barabino, reflecting on her time as a graduate student looking to choose a path for her career. "I knew and understood at that time that there was a real intersection between race, health, and politics and that context was a strong driver for me as a graduate student and in what became my life's work. So, I share that to say that there are many like me who have those kinds of motivations, and it is important to provide concordant opportunities."
Barabino also emphasized the importance of building an equity-minded culture, and putting it front and center on strategic priorities, in order to build capacity for it.
The speaker series will continue to run throughout the academic year, featuring current and former engineering leaders.
« Back to News