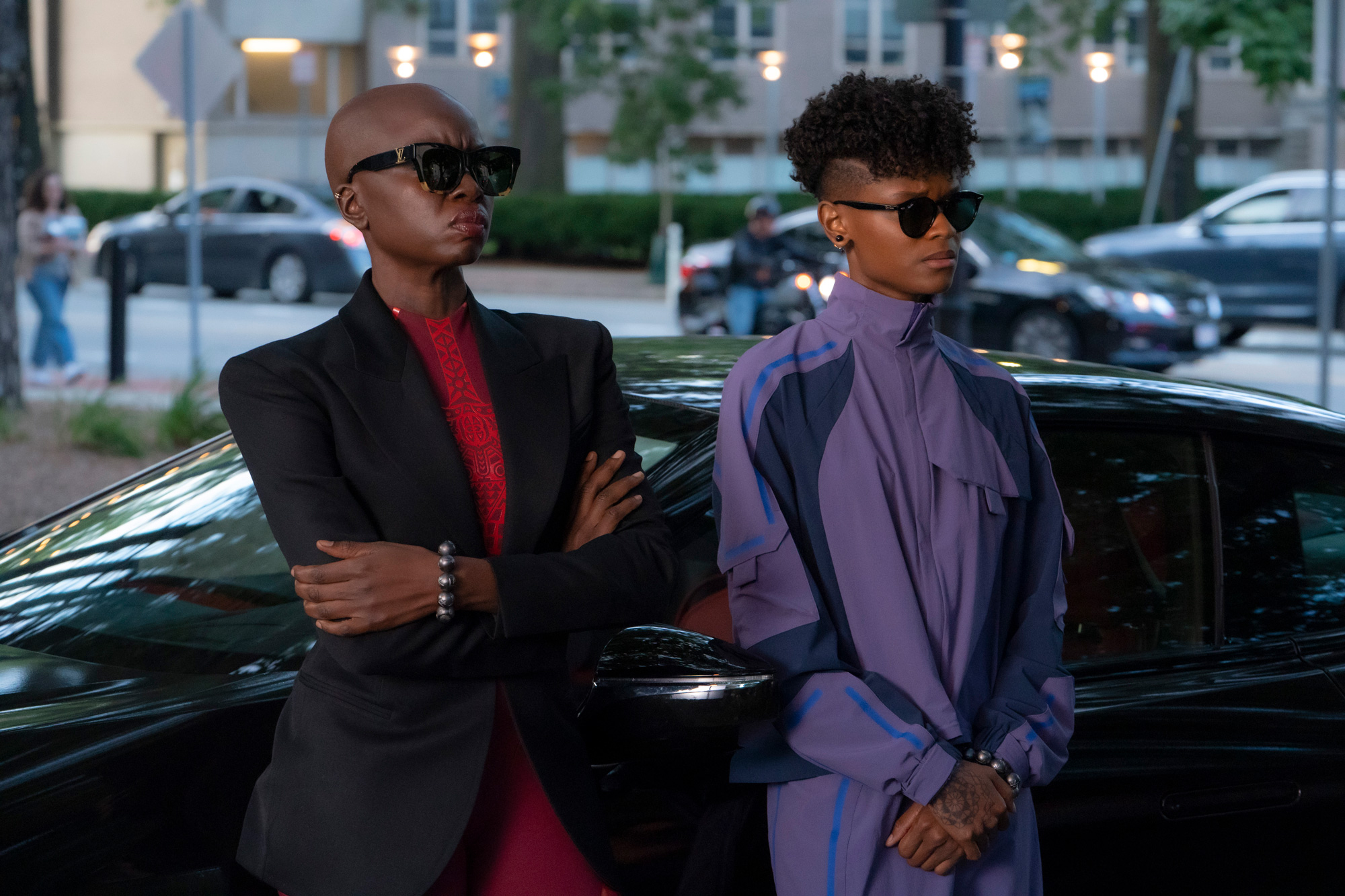 During a special screening of the latest Marvel Studios production, students shared their enthusiasm at seeing MIT on the big screen.
Abby Abazorius | MIT News Office
Excited cheers and applause filled the 26-100 lecture hall on Nov. 20, as 77 Massachusetts Avenue — the main entrance to MIT — appeared on the big screen during a showing of Marvel Studios' "Black Panther: Wakanda Forever." The several hundred MIT students in the audience had been waiting with eager anticipation for the first glimpse of their campus, which was used as a filming location in summer 2021.
"Knowing that they shot scenes on campus was really exciting," said graduate student Jatin Patil as he waited in line for the special screening. "I'm excited to see a bit of campus in the movie."
Several students at the screening were at MIT when scenes were shot last summer, and they noted feeling a special connection to the movie.
"This has been a long time coming for me," explained sophomore Ananda Santos Figueiredo. "They started filming on campus the exact day I arrived at MIT last year. It was all new and exciting, and it was amazing to be on campus at that time and start getting to know the MIT community through the lens of this film."
The movie aired in 26-100, a student-run movie theater operated by the MIT Lecture Series Committee (LSC), during a special event hosted by the Institute Office of Communications and the Division of Student Life. The LSC brings film screenings to the MIT community and surrounding neighborhoods throughout the year, showcasing everything from current blockbuster films to foreign cinema and classic flicks. Erika Yang, a senior and chairperson of the LSC, explained that the group has "all of the equipment that you would find at a chain cinema."
"I love film and I love being able to bring all sorts of different films to our school and the surrounding community," Yang said.
Figueiredo, who is also a member of the LSC, added that being able to "come and watch this movie and help set this screening up has been really special. It feels so nice to be able to share this movie with the MIT community that embraced me the moment that I arrived on campus."
The LSC operated concessions, offering complimentary popcorn and water for all those who attended, and worked together on the technical production with Boston Light and Sound, which supported the projection on behalf of Disney.
"A lot of excitement"
While a number of students noted that they had already seen the film in theaters the previous week, many saw it for the first time at MIT. Students and staff members expressed a sense of pride at seeing the Institute portrayed in a film that celebrates racial and gender diversity in science.
"We are very excited to see MIT on the big screen," said Stuart Schmill '86, dean of MIT Admissions and Student Financial Services. "Over the years we have had such a connection with the Marvel cinematic universe. MIT as a place of technological preeminence makes sense and Wakanda as a place of technological preeminence — I think the two go together very well. I think there is a lot of excitement at MIT about this movie and a good amount of pride, too."
Schmill also emphasized the significance of having one of the film's Black female characters, Riri Williams (also known as Ironheart), portrayed as a student at MIT. "I think we have always tried to show the fullness of MIT and who the people of MIT are, and I think we will see that on the screen tonight," Schmill said.
In the comics, Riri Williams makes her first appearance in 2016 in "Invincible Iron Man (Vol. 3) 7," written by Brian Michael Bendis. "Ironheart Vol. 1: Those With Courage," written by Eve Ewing and published in 2019, features the hero as a student at MIT residing in Simmons Hall, and the cover illustration shows Ironheart flying above the Institute's iconic dome.
"I think part of my excitement for this movie was because Tony Stark, and all the Marvel superheros, are very inspiring, very hands on, very smart people who embody the 'mens-et-manus' MIT culture," said senior Jenny Zhang, referring to MIT's motto of "mind and hand." "That's very inspiring, but at the same time, representation matters, and just being female engineers, female scientists, having Ironheart also there is important."
For Zhang and fellow senior Claire McLellan-Cassivi — who became friends through their "shared passions for puzzles, engineering, and the MCU," as Zhang put it — the screening was an opportunity not only to see the latest Marvel film but also to relive their day as professional actors. McLellan-Cassivi and Zhang served as extras on the set of "Wakanda Forever" during a day of filming at MIT they describe as "unforgettable." Both enjoyed seeing how the iconic spaces on MIT's campus and the Institute's maker culture came to life through the movie.
"Being on set and feeling that energy," said Zhang, "it was pretty amazing. I still can't really believe it."
"Those with courage"
Ironheart was also the subject of a TEDxMIT talk this summer on the importance of inclusivity in STEM by alumna Selam Gano '18, who referenced the superhero in her discussion of the work required to effect social progress.
Gano, who spent two years as an undergraduate completing work to bring a clean water well to schoolchildren in her father's hometown in rural Ethiopia, said she often asked herself as a student: Who is innovation really for?
"If you're a scientist or engineer, don't you want your ideas and inventions to be available to everyone rather than a select few? And don't you want a future designed for you and me and everyone, rather than one that only benefits those with the most resources?"
Moving back to the hero of Ironheart, Gano described how she takes heart in the future. "We create the hero, and we have the impact of a super being," she said. "Not because we were born that way or because we were bitten by a radioactive spider. But because we wake up each day and we have the courage to choose to believe that we can."
« Back to News