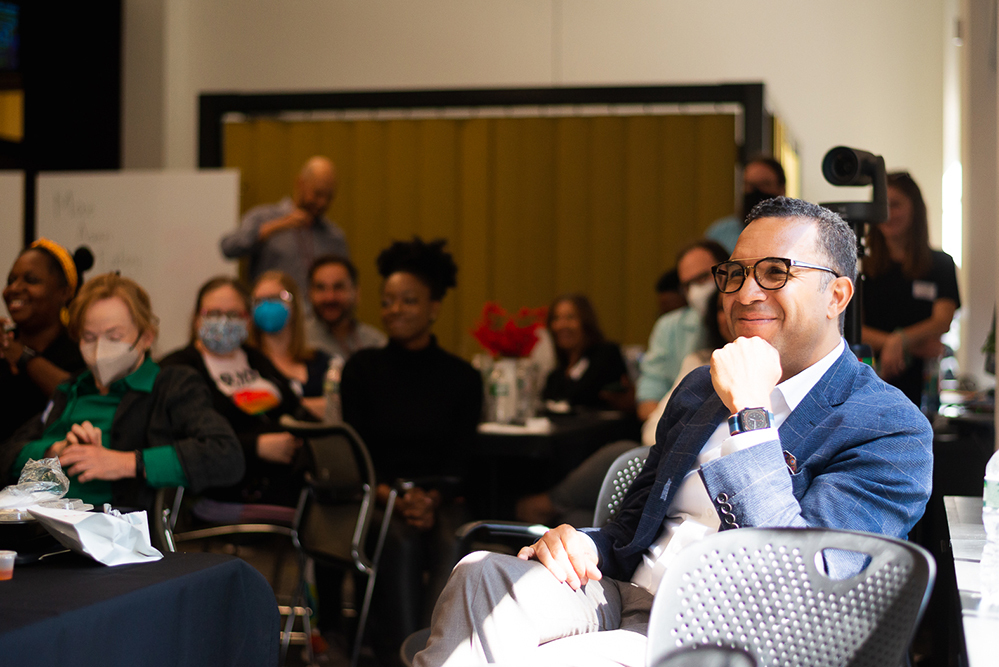 A new campus series intends to inspire conversation about building community across the Institute.
Institute Community and Equity Office
MIT's new series "Dialogues Across Difference" will bring speakers to campus and create opportunities for community members to demonstrate practical ways to take on difficult subjects across differences of opinion, background, viewpoint, and life experience.
A collaboration among the offices of the MIT president, provost, and chancellor, the program kicks off March 22 with John Tomasi, the inaugural president of Heterodox Academy. His lecture, "Humility, Community, and the Search for Truth at MIT," will be followed by discussion with Institute Community and Equity Officer John Dozier, then a community discussion with questions from the live audience.
In a conversation prepared for MIT News, Dozier reflects on the origins, intent, and relevance of having community conversations at MIT.
Q: Where did the idea for this series come from?
A: It's an idea that emerged almost two years ago at the end of my first year at MIT, when Covid had pushed us all farther apart. At that time, we really wanted to find ways to engage in community conversation. More recently, a number of community-oriented projects have come to life at MIT — the values statement, the strategic action plan, the free expression statement, and others. We thought the time was right to bring the MIT community into a series of conversations about what's driving all this work, and about the kind of community we want to build.
Q: How did you select John Tomasi as the first speaker?
A: I have been following his work at Heterodox Academy for a while. I had read some of his essays on their blog and was impressed with his clarity and compassion. So we set up a time to talk last fall, just as our ideas for this series were taking shape. Speaking with him brought it home — his insights and knowledge were tremendous assets that I wanted to share with the MIT community, and my conversation with him was a critical part of the connection. We needed to share that, too, and bring others into it.
I'm just as excited, by the way, about having Professor Malick Ghachem from History as our second speaker. His ideas about free speech will make that conversation distinct from John's, but Malick has an equally principled orientation to the issues. We're thinking about these events as examples or models for constructive interactions almost as much as we're thinking about what the speakers have to share with us.
Q: There seems to be a lot happening around free expression these days. Can you say more about that?
A: There have been a couple of incidents on campus in the last few weeks that have escalated discussions about free speech on campus. These things are not happening in a vacuum. University leaders across the country are struggling to strike a balance between freedom of speech, which is so important on college campuses, and preserving a sense of community, respect, and belonging.
We also learned of a debate that will be happening on campus in a few weeks over what I think is an utterly false binary of "diversity, equity, and inclusion" versus "merit, fairness, and equality." A number of people, including me, were invited to participate in this event last year. We declined based on the framing, but it fueled our thinking about how to set the right conditions for a discussion — avoiding simplified versions of issues and concentrating on a format that will broaden attendees' perspectives rather than on having one side "win."
As President Kornbluth said in her video message to the community a couple of weeks ago, there is "a clear distinction between what we can say to each other — what we have a right to say — and what we should say to each other as decent human beings living together in a community." This is why it's so important to start a conversation series, to get people talking to each other about this distinction.
« Back to News