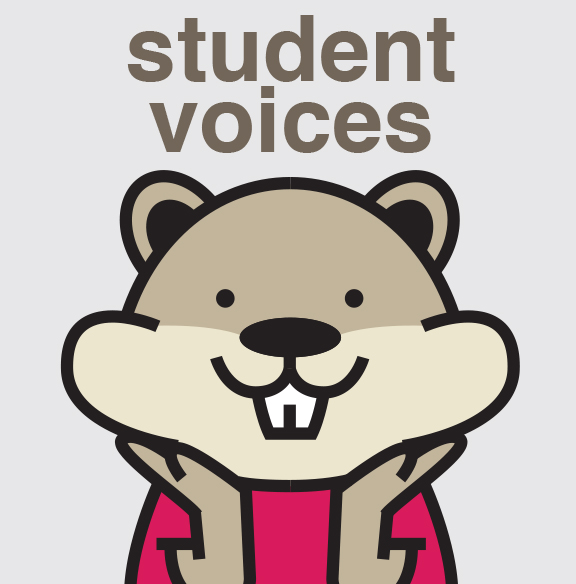 Nature and Nurture
Living and learning through the MIT Outing Club
My undergraduate research advisor gave me one piece of advice before I came to MIT: join the MIT Outing Club (MITOC). She gave no further explanation, but I figured she knew what she was talking about. She had completed her PhD at MIT in the same group I was about to join; she was also the most enthusiastic, energetic, and athletic professor I had ever met. At the time, I knew that attending MIT would be one of the most difficult things I had ever done. I would need something other than physics to keep me sane. Aspiring to emulate my advisor's healthy lifestyle, I jumped into MITOC my first week at MIT. I became a MITOC "desk worker," participated in the MITOC Rock Climbing Program, and joined MITOC's first "Circus" of the academic year. I was lucky to be introduced to all these opportunities by senior graduate students. Now I can pass that knowledge and its impact forward.
Working the Desk
In becoming a desk worker, I learned that MITOC has its own office on the fourth floor of the Stratton Student Center (MIT's student union), which is filled with every piece of outdoor-related gear you could imagine. Any MITOC member can rent this gear for a small fee per day of use. As a desk worker, I learned how to use the gear inventory system to check gear in and out to the community. For each office hour I work, MITOC credits me $15 that I can put toward my personal rental fees. This credit has allowed me to rent all my gear for free: climbing helmets, climbing shoes, harnesses, a butt-sled (i.e. a fun way to get down a snowy mountain after hiking all day), 3-person tent, camping stove, mountaineering boots, crash pads, and more! I will never have to say no to an adventure for lack of gear.
Renting a bouldering crash pad from the MITOC office before a day of climbing in Rhode Island
Rock Program
During my second week at MIT, I began the MITOC Rock Program—a four-weekend set of trips to Rumney, New Hampshire, designed to teach safety and technical skills for outdoor climbing . There were four different levels of trips based on participant experience, ranging from never having climbed before to having competed on MIT's rock-climbing team. Having climbed on top rope at my undergrad gym, I participated in the second level of the trips and slowly became comfortable with what is known as lead or sport climbing (the style of climbing where a climber clips the rope into bolts for protection as she climbs). The first time I rappelled (descended from the top of a rock wall on a stationary rope), I had a MITOC leader right beside me, walking me through every step. Even though I trusted the leader's expertise, it was difficult to convince myself to trust the rappel. The leader set up the rappel, explained to me the reasons why it was safe, and then announced it was time to remove my personal anchor from the wall. For several minutes, I told them again and again that wasn't going to happen. Luckily, the leader understood that it takes time to feel comfortable with technical rope skills, especially when you're dangling fifty feet in the air. She reassured me until I was comfortable, and then we both descended successfully. Since that moment, I've known that MITOC is the perfect place to safely push my limits.
Learning to lead climb at the MITOC Rock Program
Circus
In the third week of the semester, I joined my first Circus. As the name suggests, a MITOC Circus can be a little hectic. It's one weekend every month (excluding winter) where 60-80 members of the MITOC community all travel up to New Hampshire and stay at an MITOC-owned cabin named Camelot. The cabin is surprisingly sturdy and cozy for something that was built by MIT students back in the 70s, and there is enough surrounding land (also owned by MITOC) to effectively cut you off from the rest of society. Each night at Circus, dedicated MITOC hiking and climbing leaders plan trips into the wilderness for the next day, and participants sort themselves into these trips by interest. I went climbing on one day and hiked the next, with a celebratory swim in the crystal-clear creek nearby. The days were so packed that the weekend was a blur, but the community's sense of excitement and eagerness to connect permeated every second.
Camelot
A Strong Community
All three of my early experiences with MITOC introduced me to friends that form the backbone of my MIT family today. Over my first Thanksgiving break, I went on a hiking trip to New York and Pennsylvania with my desk worker buddies. The trip leaders and participants I met during the MITOC Rock Program (including the leader who taught me to rappel) are now my climbing gym crew. The strong, inspiring women I met at my first Circus are my go-to friends for a girls' night in. This past weekend, I even co-led a feminist-themed winter hike with some of these women. We summitted two White Mountain peaks, Field and Avalon, in temperatures below 0°F; discussed issues of gender dynamics in the outdoors and at MIT; and rewarded our hard work by sledding back down to the trailhead.
"Feminists on Field" Winter Hiking Trip
As I had predicted, academics at MIT have been difficult for me this first year. I have not yet passed my written qualifying exams, and, in the hustle to do and be better, I have often felt disillusioned. However, my moments of calm and comradery in nature have helped me move on from my perceived shortcomings and start to realize I'm likely capable of more than I think. In each of my trips with MITOC, I can point to specific moments where being outdoors centered me. During the MITOC Rock Program, I remember the first night clearly.  I lay on a picnic table with my new friends gazing into the sky. As often happens, the wild darkness with all its glittering stars humbled me. That moment reminds me that the happiest times in life are often the simplest. Even if I get one low grade or have a rough week in lab, those simple reminders from friends and nature recharge me and push me forward.
Climb on! My Thursday night climbing crew.
« Back to Blog