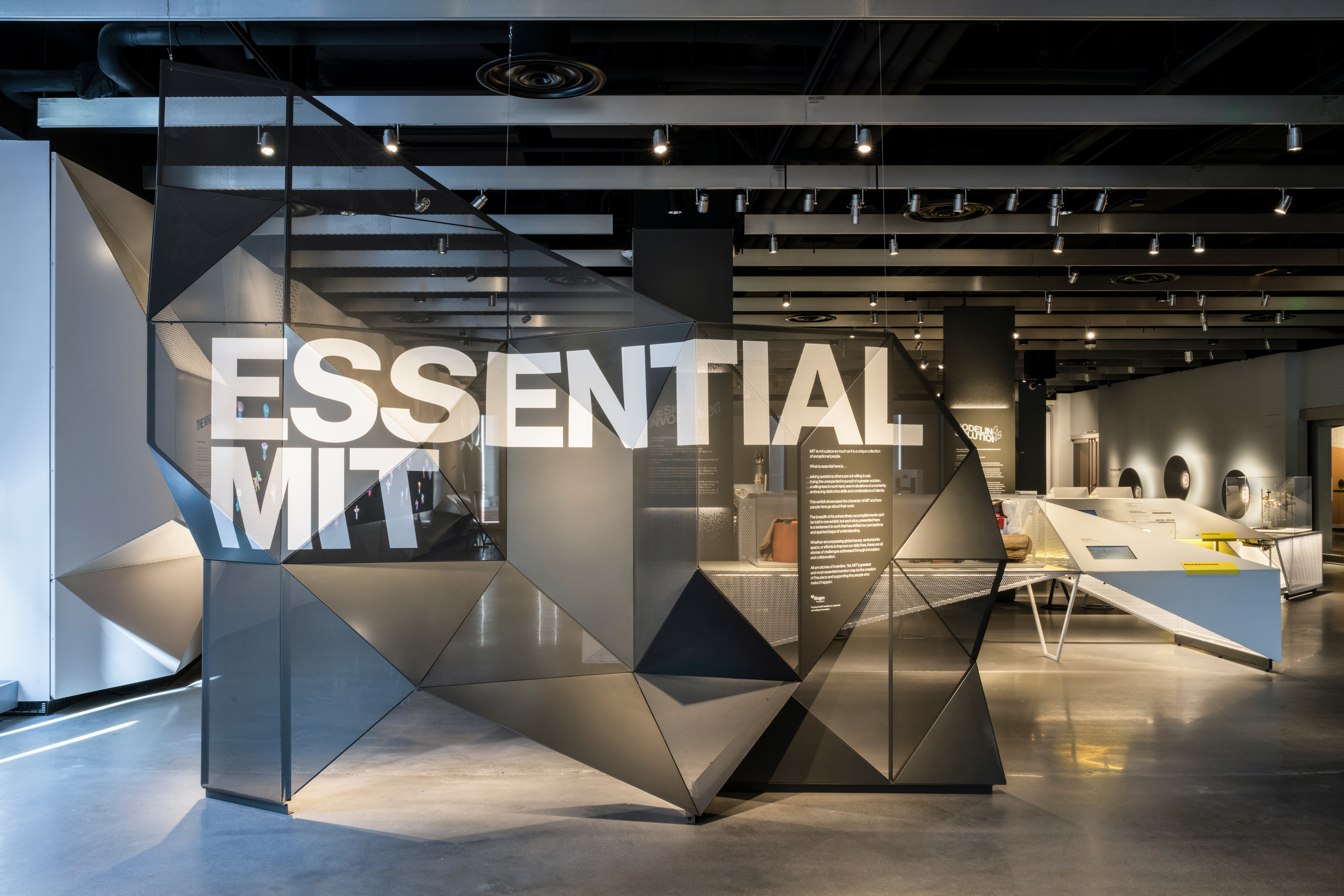 The new museum opens Oct. 2 at the gateway between Kendall Square and campus.
Zach Winn | MIT News Office
The atmosphere of discovery generated by MIT's research and innovation activities has been described as magic by many. But that magic can sometimes seem obscure or even intimidating to outsiders.
Now the MIT Museum, which opens to the public on Oct. 2, is inviting everyone to take part in MIT's magic with a new 56,000-square-foot space in the heart of Cambridge's Kendall Square. The reimagined museum invites visitors to explore the Institute's innovations in science, technology, engineering, arts, and math (STEAM) — and to take part in that work with hands-on learning labs and maker spaces, interactive exhibits, and venues to discuss the impact of science and technology on society.
"We're taking MIT's great mission and making it more accessible to the wider community," MIT Museum Director John Durant says. "What MIT does and stands for is too important to be held within the community of researchers, students, and staff. If MIT is world-changing, then its work needs to be out there in the wider community, and the wider community needs to be able to access and understand it, and to ask questions about how we're going to apply all this new knowledge and innovation to make the world a better place. The museum is all about turning MIT inside out."
"The opening of the new MIT Museum is a cause for celebration," says L. Rafael Reif, MIT's president. "We are excited to welcome the world in to this brilliantly reimagined space. Museum visitors will get a real sense of the Institute's spirit of curiosity, boldness, and ingenuity, and will find countless ways to explore and engage with MIT's remarkable contributions to human progress."
Praising the efforts of Museum staff and leaders, he adds, "Despite enormous challenges, they came together to build the MIT Museum a beautiful new home."
The museum's opening exhibits address big questions in areas like the potential and risks of artificial intelligence — including a deepfake video of President Nixon giving a speech about the failed moon landing — and the moral challenges brought by advances in genetic engineering.
The space also shows art and artefacts from the museum's collection of over 1 million objects, many for the first time, from Rainer Weiss's Laser Interferometer Gravitational-wave Observatory (LIGO) prototype to recordings from community members about the Black experience at MIT.
All of the museum's sections are designed to be surprising and welcoming, but also to provoke conversations about how unfolding innovations should shape the world. To encourage diverse perspectives in those conversations, the museum has taken a number of steps to welcome the public, including offering free general admission to Cambridge residents, promoting free spaces in the museum, hosting open workshops, and more.
"Access is a central piece of this whole endeavor, and it's a value we're underscoring to support changing views of who is a scientist, who is an engineer, who gets to know about these issues, and who cares," MIT Museum Director of Collections Deborah Douglas explains. "These are big questions in our society, and I think we can be a place that feels open and welcome, but also a place for hard and interesting conversations to happen."
An inspired design
Nestled among the Kendall Square T stop and MIT's new welcome center, the museum's glass-walled lobby was built to dissolve the boundaries between Kendall Square and MIT's campus.
An amphitheater dubbed The Exchange beckons visitors with a massive media wall made to facilitate presentations, discussions, debates, and anything else community members decide to do with it.
"One big theme of the new museum is conversation," Durant says. "We see the museum serving as a kind of forum or meeting ground for different groups. It's a place where MIT researchers, staff, and students can meet with entrepreneurs, civic leaders, members of the general public — anybody who has a stake in the future of research and innovation."
Broad, open staircases take visitors through a journey of galleries that begins on the first floor with a welcome message, leads to second floor research stories from MIT and exhibits addressing technology topics of global importance, and finishes on the third floor with displays from the museum's collection.
Displayed in the freely accessible lobby is an art piece from the Media Lab's Poetic Justice Group that celebrates the diverse spoken and sign languages of visitors through a count from 1 to 100, with each number displayed in a different language.
"We're trying to say, whoever you are, this is your place," Durant says of the exhibit. "As MIT often says to its incoming students, 'You belong!'"
The second- and third-floor galleries feature interactive displays that let users manipulate the genomes of virtual mice and work with neural nets that learn how to recognize facial expressions.
"So much of innovation and science research is still about culture, so we tried to balance that and use the museum to display the conversations happening at the intersection of science and culture right now," Durant says.
On the top floor, objects from the MIT Museum's collections are arranged by topic areas including computer programming, the role of play and curiosity in discovery, photography, and even a virtual time capsule exploring the community that came together to recreate MIT online during the pandemic.
All of the displays in the collections gallery are designed to change on a regular basis, reflecting the organizing committee's decision to mold the space around community preferences.
"We hope visitors will see the gallery as a tool as much as a treasure house," Douglas explains. "We have all these cool things in our collections, and so many different stories we could tell, but we want our visitors to feel empowered to come in and tell entirely different stories than the ones the curators have suggested. We're like a supermarket that doesn't tell you what to do with the flour, sugar, and butter."
Each floor also features spaces that allow visitors to take part in MIT's research, from its Maker Hub to wet labs and other workshop spaces that will offer daily, drop-in activities. In fact, the new museum has roughly three times more space for face-to-face, hands-on activities than the old museum.
"We aspire to be so much more than a series of exhibition spaces," says Ann Neuman, director of MIT Museum's galleries and exhibitions. "In the spirit of MIT's 'mind and hand' experimental sensibilities, we're a venue for the broader community to participate in science, examine emerging technologies, and engage with ideas that are shaping our world in every way."
The highly anticipated opening will be celebrated in conjunction with a redesigned Cambridge Science Festival, which is based out of the museum but will extend far beyond its doors, from Oct. 3-9.
"We're in an ideal location as a gateway between the technology district Kendall Square and MIT," Durant says. "Our mission is to be an interface institution, so it suits us perfectly to have one foot firmly in MIT and one foot in the wider community."
A chance to learn
The planning team for the new museum had to overcome challenges related to the Covid-19 pandemic, which not only made the vast majority of their meetings virtual but also forced them to close the doors of the old museum even before they started moving things over to the new location.
With the grand opening, organizers will finally get the chance to get real-time feedback from the community.
"We're going to learn so much as soon as the doors are open," Durant says. "I want to see our programs grow and strengthen, our outreach efforts grow and strengthen. From day one we have to be learning and adapting."
Indeed, the idea of the museum as a living, evolving space was echoed by other members of the museum's leadership, who described Oct. 2 as the beginning of something rather than an ending.
"My colleagues like to say the museum is a hypothesis, not a well-established theory just yet," Douglas says. "Science and technology can be intimidating, and our goal is to get people to realize that these are some of the most exciting ways in which human creativity and ingenuity express themselves. It's improved lives. It's made this nation and many others great. There have been negative consequences from technology, but it also provides one of our best hopes for the future, and we want everyone to feel a part of that."
« Back to News