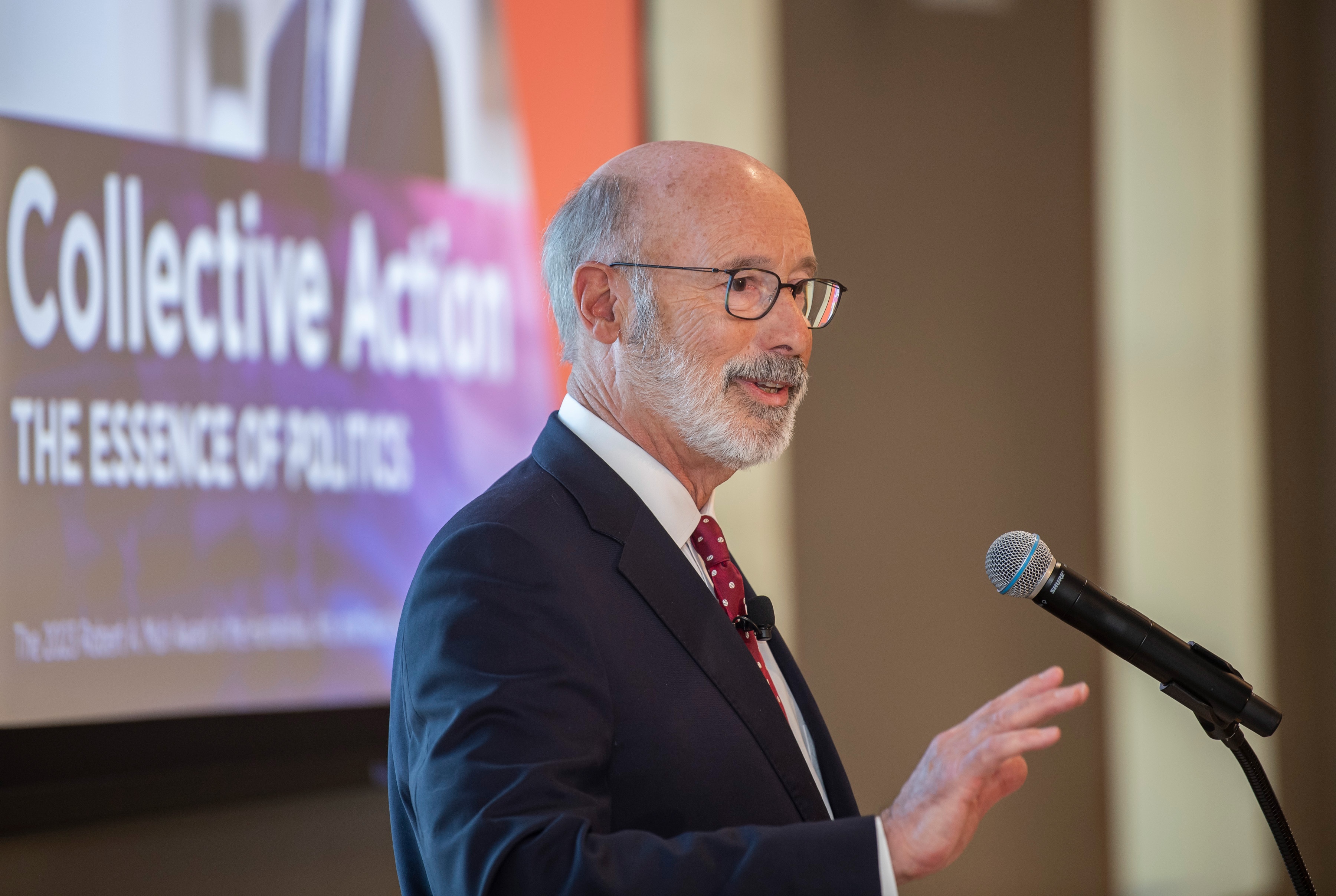 Receiving the Robert A. Muh award, the former Pennsylvania Gov. Tom Wolf calls for a greater sense of collective purpose in politics.
Peter Dizikes | MIT News Office
Former Pennsylvania governor Tom Wolf PhD '81 made a forthright call for integrity and the expression of a common purpose in politics, while accepting the Institute's 2023 Robert A. Muh Alumni Award from the School of Humanities, Arts, and Social Sciences (SHASS) on March 21.
Government, Wolf suggested in his acceptance lecture, is a form of collective action with two parts: a practical "first dimension" centered on accomplishing concrete goals, and a "second dimension" focused on integrity and trust, often with an explicit commitment to the laws and traditions of democracy.
The latter aspect, Wolf contended, is too frequently neglected by politicans in both major political parties, including those who most stand to benefit from the existence of the consistent rule of law.
"This second dimension is not taken as seriously as it should be by political elites," said Wolf, who just left office after the completion of his second term, having first been elected in 2014. "Instead of paying close attention to the rules and the traditions that define our political system of collective action, politicians generally ignore them."
Alternatively, Wolf said, by articulating that the U.S. government is a common endeavor from which all can benefit, politicans can help themselves, strengthen civil society, and sustain a government of the people.
"It consists of giving participants the confidence that the collective action they engage in is worthy of their trust, support, and continuing engagement," Wolf said in a talk titled "Collective Action: The Essence of Politics," delivered in MIT's Samberg Center. "Collective action must include a clear and explicit commitment to building and maintaining legitimacy. Collective action participants, especially leaders, have to consciously nurture that legitimacy."
In doing so, Wolf noted, politicians would be working to reverse a long-running trend. In 1958, according to polling, 73 percent of Americans said they trusted the federal government. By 1974, that figure had dropped to 36 percent. In May of 2022, Wolf noted, the number was just 20 percent. Those numbers, he implied, reflect a rising tide of extremism and attempts to discredit democratic governance.
"We're inundated with ideological rants that have more than a tinge of lunacy to them," Wolf said. "Our politics are all over dominated by demagogues who just a short time ago would have been dismissed as completely delusional people."
As evidence for the political value of sticking up foir the collective good, Wolf cited the 2022 midterm results in Pennsylvania, where, he said, candidates addressing issues of democratic legitimacy, transparency, and authenticity did much better than expected.
"The payoff is that those candidates win elections," Wolf said.
A new piece of hardware
The Muh Award was founded and endowed by Robert A. Muh '59 and his wife Berit, and is one of the leading honors granted by SHASS. Muh, a life member emeritus of the MIT Corporation, established the award for "extraordinary contributions" by alumni in the humanities, arts, and social sciences.
Robert and Berit Muh were both in attendance for the event, along with their daughter Carrie Muh '96, '97, SM '97.
"Bob inspires us all with his dedication to MIT," said Agustín Rayo, the Kenan Sahin Dean of SHASS, in his welcoming remarks.
Wolf received his BA from Dartmouth College and an MPhil from the University of London. At MIT, where Wolf's doctoral advisor was Walter Dean Burnham, Wolf's PhD thesis, "Congressional sea change: conflict and organizational accommodation in the House of Representatives, 1878-1921," won the American Political Science Association's annual award for the best dissertation in the field.
However, Wolf did not enter academia. Instead, he moved back to his hometown near York, Pennsylvania, managed a family-owned True Value hardware store, and entered the family's lumber business. Ultimately he helped the business, Wolf Home Products, become a distributor of building supplies and its own branded cabinets, which are entirely sourced and built in the U.S.
Over time, Wolf became more involved in politics, serving as Pennsylvania's secretary of revenue from 2007 to 2008. He was first elected governor in 2014, and was reelected in 2018, winning by 17 points.
Wolf was introduced by Richard Samuels PhD '80, the Ford International Professor of Political Science and director of MIT's Center for International Studies, and a graduate school friend of Wolf. Samuels cited Wolf's "balance of integrity and intellect" as being among his central characteristics.
"I can think of no one more deserving of the prestigious Robert A. Muh award than Tom Wolf," Samuels said, noting that Pennsylvania's economy and manufacturing base grew during Wolf's two terms, while Wolf also invested significantly in education and created a multibillion dollar state budget surplus.
"The only thing he couldn't do was to get the Phillies across the finish line in last year's World Series," Samuels quipped.
Challenging conventional wisdom?
Wolf, a member of the Democratic Party, noted that the stakes were high in his home state this past fall, with some candidates spreading falsehoods about the 2020 election, among other things. But many more candidates in Pennsylvania than in other parts of the country, he contended, developed messages about the "second dimension" of collective politics.
As a result, Wolf said, that kind of message had an usually strong effect on the state's voters. "They did not elect deniers. They did not elect nihilists," he said.
And so, while the first midterm election in a new president's term often produces a wave result for the opposing party, that was not the case for Pennsylvania Democrats aligned with President Biden, Wolf proposed.
"The Pennsylvania results challenge conventional wisdom about the way midterm elections are supposed to work," he said. "What Pennsylvania showed in 2022 is that collective action [messages] in democracies actually do work, when public servants representing the democracy are viewed as attentive to the values that make collective action legitimate."
During a question-and-answer session after his talk, Wolf engaged with a wide variety of audience queries. One audience member noted that opponents of democracy, or at least smoothly-functioning government, have the incentive to not engage in collective action, making it harder to establish politics as a place for collective action.
Suzanne Berger, a political scientist and the John M. Deutch Institute Professor at MIT, suggested that the long-term decline of political trust was only partly related to perceptions of integrity, and not something politicians could entirely reverse through words and actions; instead, she suggested, failed wars and the long-term rise in inequality in the U.S. had damaged trust in the federal government as well.
Wolf acknowledged the validity of those points, and noted that the very high levels of public trust in 1958 that he cited were likely buttressed by a strong sense of collective endeavor lasting in the aftermath of World War II. Still, he suggested, politicians could at least make some headway against the skepticism and cynicism of the public by behaving honorably and earning their trust, and "anything you can do to convince voters of that" can help win elections.
All told, Wolf noted, the value of being sincere about the public good was "the lesson of Pennsylvania, it's the lesson for any public servant, any politican who really wants to rid our political system of the bitter toxicity that surrounds it today."
« Back to News