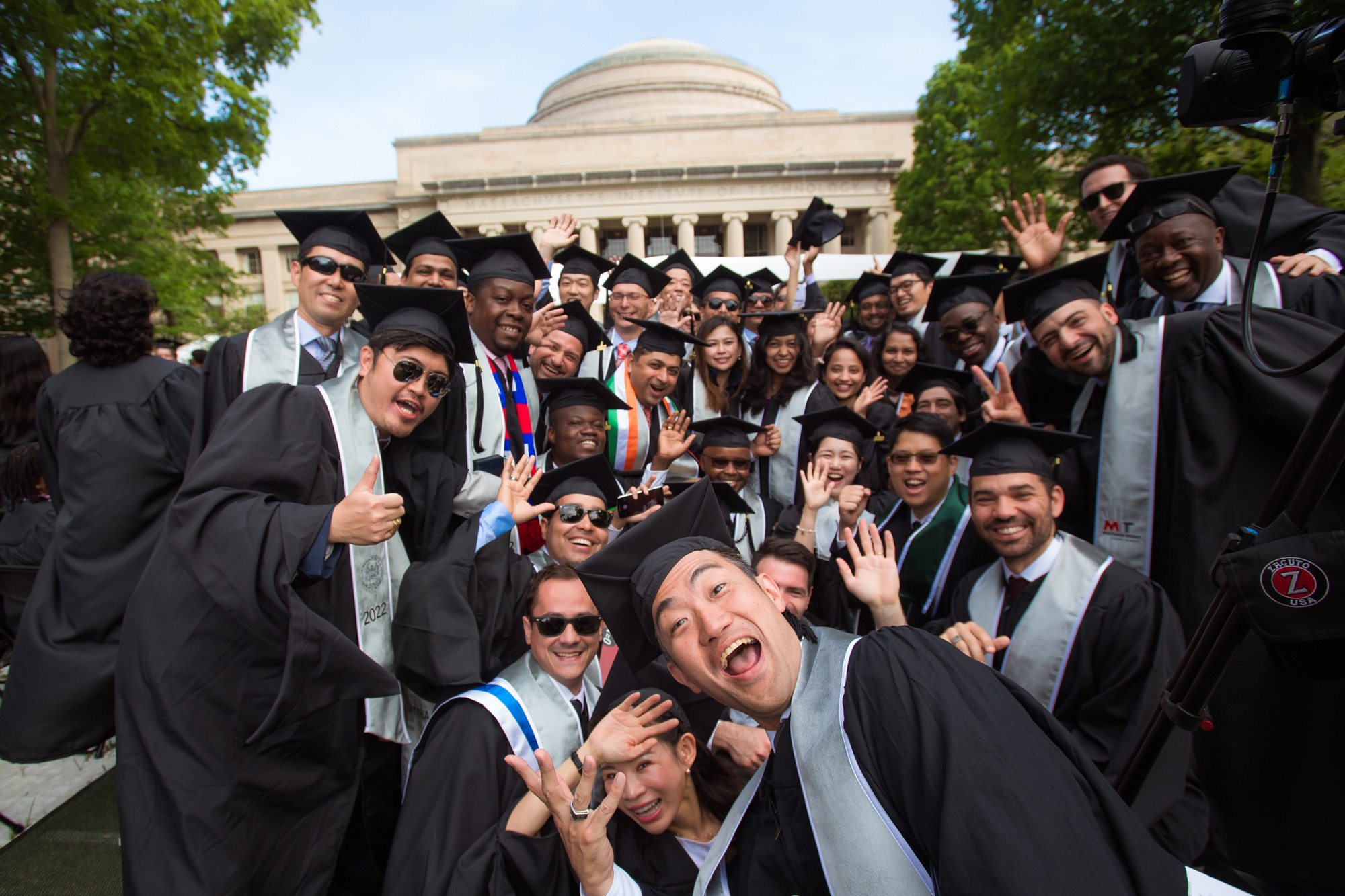 Head of the World Trade Organization urges graduates to embrace opportunities to serve others.
David L. Chandler | MIT News Office
On a clear warm day, the MIT graduating class of 2022 gathered in Killian Court for the first in-person commencement exercises in three years, after two years of online ceremonies due to the Covid-19 pandemic.
Ngozi Okonjo-Iweala MCP '78, PhD '81, director-general of the World Trade Organization, delivered the Commencement address, stressing the global need for science-informed policy to address problems of climate change, pandemics, international security, and wealth disparities. She told the graduates: "In these uncertain times, in this complex world in which you are entering, you need not be so daunted, if you can search for the opportunities hidden in challenges." She urged them to go "into the world to embrace the opportunities to serve."
An expert in global finance, economics, and international development, Okonjo-Iweala is the first woman and first African to lead the WTO. She earned a master's degree in city planning from MIT in 1978, and a PhD in regional economics and development in 1981.
Okonjo-Iweala began her address by paying tribute to MIT President L. Rafael Reif, who earlier this semester announced plans to end his decade-long tenure in that role. Calling this a "bittersweet day" because of his departure, she honored "his academic, institutional, and thought leadership of these past 10 years."
She spoke warmly of the way MIT had helped her while she was a graduate student struggling to pay the bills. She was assured that the Institute would do whatever was needed to make sure she could complete her studies, she recalled, saying, "They had my back." Noting that this year's graduating class had their own educational journeys challenged by the global pandemic, she described how her own early education was interrupted for three years by civil war in her home country of Nigeria. She also noted the recent tragic shootings in Uvalde, Texas, saying that "I feel grief as a mother and a grandmother."
"MIT has helped make me who I am today," she said. "My parents made it clear to me that education was a privilege, and that with that privilege comes responsibility — the responsibility to use it for others, not just for yourself."
She said that what the world needs in this time of multiple global challenges, including Covid-19, climate change, public health, and international security, is an approach "combining science, social science, and public policy, to meet the challenges of our future."
Okonjo-Iweala, who was formerly head of the World Bank, said that "a common thread running through many of these challenges is the central role for science," and she stressed the need for technological innovation to address the global problems facing humanity. "New inventions and new ways of doing things will have an impact, mainly to the extent they are scaled up across the dividing lines of income and geography," she said.
"We don't just need vaccines," she continued. "We need shots in arms across the world, to be safe. We need new renewable technologies diffused not just in rich countries to fight climate change, but also in poor ones. We need new agricultural technologies built to local conditions and culture, if we're to fight hunger. In other words, we need innovation. But we also need access, equity, diffusion."
In the case of the global response to the pandemic, she noted that only 17 percent of people in Africa and 13 percent of people in low-income countries have been fully vaccinated, compared to 75 percent of people in high income countries. "Since we all know that no one is safe until everyone is safe, the risk of more dangerous variants and pathogens remains real because of this public policy lapse and the lack of timely international cooperation," she said.
As for climate change, she pointed out that the world somehow managed to come up with $14 trillion to address the Covid-19 pandemic but has not managed to fulfill the pledges nations made to provide $100 billion to help less-developed nations build renewable energy solutions.
To address these global challenges, she told the new graduates, "the world needs your smarts, your skills, your adaptability, and the great training you have received here at MIT. The world needs you for innovation, for policymaking, for connecting the dots so that implementation can actually happen."
President Reif, in his charge to the graduates, urged the assembled crowd to shout out a loud "thank you!" to all family, professors, friends, and other who helped them reach today's milestone. He pointed out that research, including from MIT's Department of Brain and Cognitive Sciences, shows that "simply expressing gratitude does wonderful things to your brain. It gets different parts of your brain to act in a synchronized way. It lights up reward pathways!"
"All of us could use a reliable device for feeling better. So now, thanks to brain science, Course 9, you have one! The Gratitude Amplifier is unbreakable. Its battery never dies, it will never try to sell you anything, you can use it every day, forever — and it's free!"
He recalled the example of the way students banded together to create a new space for relaxation on campus, now known as the Banana Lounge, a central location where students could relax with free coffee and bananas. "The students have done this all essentially themselves, applying their skills and the most delightful MIT values." The project has already distributed a half-million bananas, he said, and produced a "wonderful, tropical, perfectly improbable new MIT institution."
He urged the graduating students to work to "make the world a little more like MIT. More daring and more passionate. More rigorous, inventive and ambitious. More humble, more respectful, more generous, more kind." And, he added, "try always to share your bananas!"
Adam Joseph "AJ" Miller, president of the Graduate Student Council, said, "Today marks the end of a chapter, the culmination of so many late nights, to forge lifelong friendships, to hold onto new experiences, to shape our dreams." He added that "Something I heard a lot about when I first got here was all the doubt so many of us had in ourselves. I can say unequivocally today though, there are no impostors before me. Nobody sits where you sit by accident. You're all now graduates of MIT, carrying on an incredibly impressive history."
Miller urged his fellow students to "stay confident in yourselves because of the challenges you've overcome. Be courageous in trying, because failure is learning and investing in each other."
Temiloluwa Omitoogun, president of the Class of 2022, told his classmates, "MIT is hard. MIT during an unprecedented pandemic is even harder, but we did it. Even if you don't realize it, this is a huge accomplishment." He added that "it's sad that we're all parting ways at the moment, but I'm even more excited than sad. I'm excited to see what more you all will accomplish. I look out and I don't just see friends and classmates. I see future leaders, people who will change the world. I'm going to try my best to keep up and change the world too."
Later in the day, in a separate ceremony on Briggs Field, each of the members of the undergraduate Class of 2022 had a chance to hear their names read aloud as they walked across the stage to receive their diplomas. Right before this presentation, senior and physics and mathematics major Quinn Brodsky performed a heartful rendition of "Hypotheticals" by Lake Street Dive.
Addressing the graduating seniors, Chancellor Melissa Nobles urged them to "absorb and relish this celebration of what you've achieved during your transformative time at MIT. How much you have grown, academically, professionally and personally!" She added that "the lifelong friends and mentors you found here are the people who I know will continue to be sources of encouragement, support, and inspiration as you make your way in the world."
Recalling the way the pandemic altered their academic careers, she said "you should know now that you can handle whatever life throws your way. Never forget that you are stronger and more resilient than you think you are." She added, "hold on to the way this pandemic has put certain things into perspective. Time with people we care about is precious. So are our health and wellbeing, and the health and wellbeing of the ones we love. Looking out for others and feeling a sense of shared responsibility for the common good are paramount."
Nobles concluded that "your journey into the future holds countless possibilities, risks, joys, rewards, sometimes failures, and always surprises. … We wish you well on the road ahead."
« Back to News