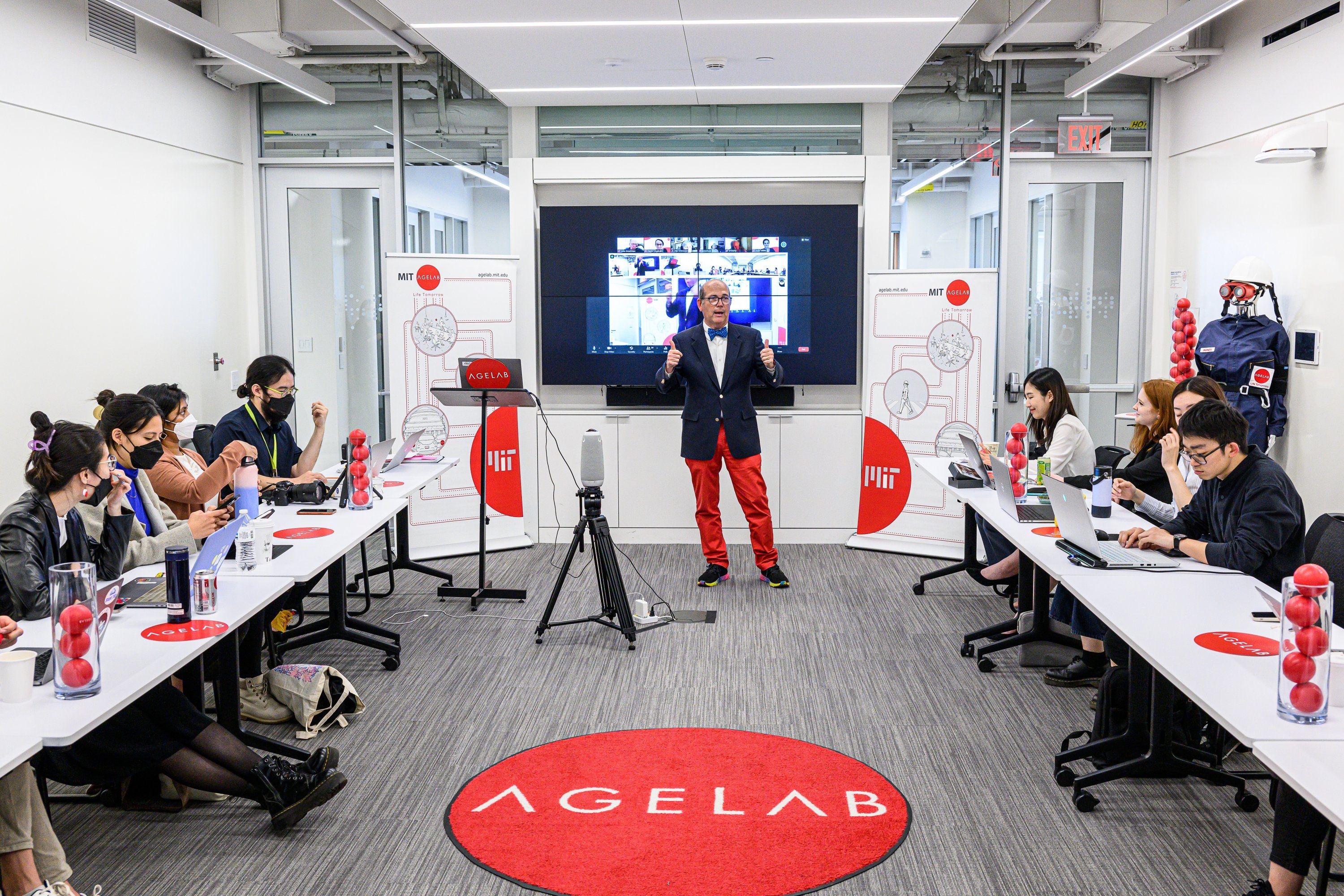 Projects from a new MIT urban studies and planning course speak to the impact of increased longevity on systems and markets.
Adam Felts | MIT AgeLab
A pop-up hearing aid exposition called HearWeAre. A travel agency that matches older and younger travelers for group adventures. An app that guides outgoing hospital patients through every step of the discharge process.
These are a few of the projects presented by students on the final day in the MIT Department of Urban Studies and Planning (DUSP)'s class 11.547J/SCM.287J (Global Aging and the Built Environment). Taught by Joseph Coughlin, the director of the MIT AgeLab, and supported by his team of AgeLab researchers, the class guides students toward understanding the impact of increased longevity on systems and markets and invites them to imagine how they might design better products, services, and infrastructure for an aging society.
The class attracted MIT, Harvard University, and Wellesley College students from a diverse array of disciplines, including urban planning, industrial design, supply chain management, engineering, business, and architecture. Their projects, accordingly, spanned a wide range of areas, from re-imagining the physical and service architecture of shopping malls, to addressing challenges in evaluating and purchasing hearing aids, to an analysis of the pain points older (and younger) adults experience when navigating the built environment of the bathroom.
The lengthening human lifespan — a trend in industrialized societies since the early 20th century — is often characterized as a crisis, and aging is often discussed as a problem in need of solutions. But in his research and public appearances, Coughlin stresses that longer lives are a boon to individuals as well as an unfulfilled market opportunity.
"A 100-year lifespan is the new normal for many of us. That's an unqualified achievement," Coughlin says. "But I think we need to also focus on ensuring and supporting 100 good years of life. There is a market and a need for improving our quality of life as we age that has yet to be meaningfully explored."
Sheng-Hung Lee, a graduating master's student at MIT's Integrated Design and Management program and the teaching assistant for the course, explains that the class was project- and solution-driven. "We guided students to focus on real unmet needs of users. Learn how to interview real users, understand their pain points, and translate that learning into the design process," he says.
Students had access to the MIT AgeLab's research tools, including AGNES, an empathy tool that simulates limitations that are commonly associated with aging. The class also had the opportunity to interview and collaborate with members of the 85+ Lifestyle Leaders Panel, a cohort of research participants aged 85 and older.
Throughout the semester, students worked through the design-thinking process, with their coursework organized around the development and unveiling of their final projects. "The aim of the course was not just to create ideas, but to understand what it takes to bring them out into the world," Coughlin says. With that goal in mind, the class's projects were informed by players in the industries they were hoping to participate in. Each group paired with a company or organization — including Adventist Health, Lowe's, Kohler, Viking Cruises, Boston Properties, and AARP — to receive industry input on their projects.
David Hong, a first-year graduate student at in DUSP, worked on a project that looked to facilitate older adults' travel to and from hospitals. His project group observed that the "last 50 feet," from stepping onto the pavement to reaching the hospital receptionist, was a challenging and typically unaided part of the hospital journey for older travelers.
Rather than imagine a new transportation mode or service, Hong and his classmates went with a human solution. Connecting older hospital travelers with a medical volunteer — someone to help with aspects of the journey from getting over the curb onto the sidewalk to patient advocacy in the waiting room — could increase travelers' levels of ease and safety, make them more willing to travel for medical care, and improve health outcomes.
For Hong, the theoretical underpinnings of the course helped to guide the development of his group's project from the beginning. "Joe's framing of global demographic trends — both the issues and the business opportunities behind them — was a paradigm shift for me to begin to view aging as a social construct, as well as to view the issues of older adults as consumer needs that have yet to be met," he says.
Throughout the semester, the class received support and guest lectures from AgeLab research staff, who instructed them on design thinking, conducting interviews, and research methods. "The supportive and collaborative nature of the AgeLab brings like-minded folks together," says Hong. "With my project group, there were four researchers attached who provided help to us."
On the final day of class, the student groups presented their ideas before an audience of their peers, industry representatives, AgeLab researchers, and older adults. They were instructed to imagine themselves pitching their ideas to potential investors. And at least one collaborating company, Kohler, plans to continue working with its affiliated student group after the semester is over.
"The class connects the dots between industry and academia," says Lee, talking about how the Global Aging course fits the broader institutional philosophy at MIT. "We wanted to prioritize "design making" over design thinking. We asked students to use their hands to think."
« Back to News