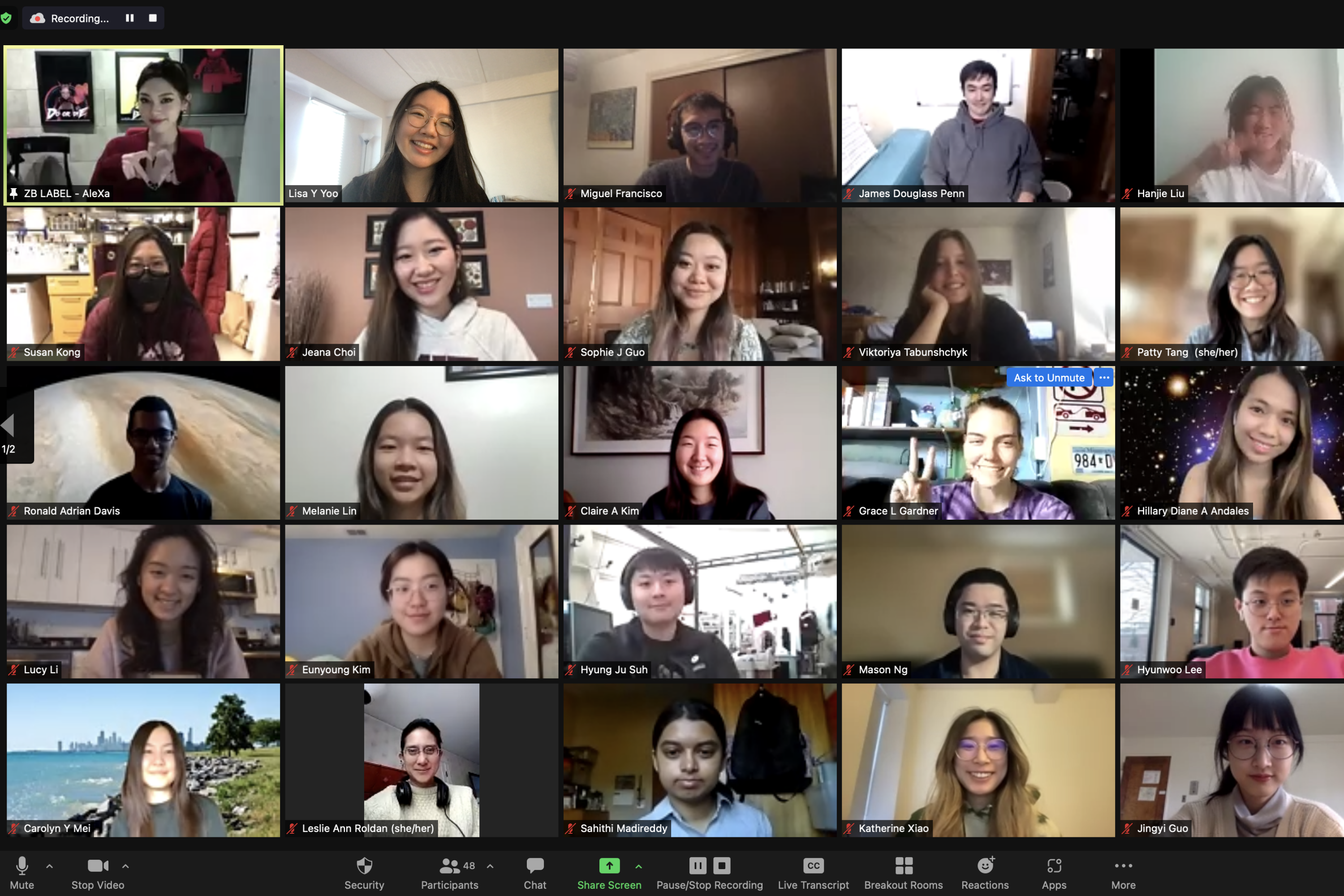 Artists and industry professionals including AleXa join the online course, offering insights into Korean pop music.
Naveen Kumar | Arts at MIT
Jeana Choi and Lisa Yoo had already bonded over their appreciation for Korean music when they decided to organize a K-pop course at MIT during the Institute's Independent Activities Period (IAP) this January. Both graduating fifth-year master's students in electrical engineering and computer science, Choi and Yoo became friends in class 21M.294 (Popular Musics of the World), where they collaborated on a podcast-style interview with a producer of Korean R&B.
Choi, who had previously run an IAP course about classical music, came to Yoo with the idea of creating a class around K-pop, short for Korean pop music, which has grown into a global phenomenon in recent years. "We didn't know what would be possible, so we were really reaching for the stars," Yoo says of contacting potential guests to participate.
The resulting course, "Achieving the Unthinkable: K-Pop on the Global Stage," brought together a starry and diverse roster of international guest artists, including performers, producers, choreographers, and more, offering participants a wide array of insider perspectives on the massive industry.
Choi and Yoo are both Korean-American and grew up with a fondness for K-pop, so watching it develop a global following has been especially fascinating. "We wanted to dive into K-pop from an analytical perspective, which hasn't really been done before," Yoo says. Choi considers the opportunity to organize IAP courses as a chance to give back to the community and leave a mark. "You can really do anything if you just reach out and take the first step," Choi says.
The course met twice a week for nine total sessions. "Achieving the Unthinkable" received more than 100 signups, including both live participants and those who watched recordings. Some were already K-pop fans, while others with surface-level knowledge hoped to deepen their understanding.
Aligning the stars
Both computer science majors, Choi and Yoo were roommates during the fall semester as they undertook planning for the course. Choi knew from her experience running a previous IAP course during the pandemic that the virtual format has its advantages. "You can bring in outside guests from all over the world and you don't have to fly them out," she recalls.
The organizers first recognized that it would be best to have English-speaking guests, as engaging a translator may add friction to the online experience. They began by contacting artists, before casting a wider net to include the many professionals who work behind the scenes. "K-pop in itself is a melting pot of different styles and concepts fused together with all these different creative minds," Choi says. "There are so many people involved in each song."
Because K-pop is also such an international industry, the flexibility of a virtual course proved especially rewarding. Guests participated from Korea, but also Sweden, Los Angeles, and Seattle. "We got a really diverse variety of perspectives on answering the question of why and how K-pop has become such a phenomenon in recent years," Yoo says.
"Everyone who said yes was super excited to talk about their experience," Choi recalls of securing guest speakers.
The organizers held hourlong planning meetings over Zoom with each guest, to determine what they wanted to cover and coordinate suggested assignments. Tiffany Suh, for example, a Los Angeles-based music video producer who has worked with BTS, one of K-pop's most famous and recognizable groups, took participants through a BTS dance break scene by scene, explaining how the video was actually shot and edited.
Nick Joseph, a choreographer and creative director, also led students through a scene from a BTS video, but from the perspective of the group's dance maneuvers, breaking down what makes the movement so dynamic and complex. Advanced planning of logistics, and going over what material guests would cover, made for an immersive and detailed experience, Choi says.
Other guests included AleXa, a K-pop artist and idol based in Korea; Swedish songwriting duos Moonshine and Caesar & Loui; L.A.-based songwriter Chikk; A&R executive Michelle Cho; solo artist Benji; and creative director DPR REM. Lauren Dickel from MIT's Music and Theater Arts Section assisted the organizers with artist logistics, while Madeline Wang helped moderate the conversations.
Each session concluded with Q&A between the artists and participants, a 20-minute period that usually ran overtime. "The highlight has definitely been the interactions between the MIT community and the artists," Choi says. Course participants were very engaged, Choi says, and "the guests appreciated speaking to eager young minds."
Course speakers helped illuminate why and how K-pop has grown so rapidly in popularity in recent years. Chikk noted that K-pop started achieving crossover success when the group collaborated with U.S. pop artists, like Nicki Minaj and Selena Gomez, and made an English-language album. Suh, the music video producer, highlighted how technology has accelerated the rise of K-pop, with YouTube allowing groups to cultivate global audiences. And Benji broke down the industry's now tried-and-true formula for developing a successful K-pop act, from training and development to marketing and promotion.
"All the different insights from our guests have helped participants develop a deeper appreciation for where the music comes from, which has been so great," Yoo adds.
Lifelong music lessons
Both Choi and Yoo cultivated a love of music from a young age, and will undoubtedly carry that enthusiasm beyond MIT. Choi grew up in the Boston area, playing violin from age 5 and attending performances around town, before minoring in music at MIT and playing in the Chamber Music Society. Yoo, who hails from Ithaca, New York, grew up playing piano and clarinet, and joined the Wind Ensemble and also played in Chamber Music Society while at MIT.
"My music and arts experience overall at MIT has been super positive, and definitely contributed to how we ended up organizing the IAP," Yoo says. "It's been super rewarding giving back to people, since both of us have been involved in the music community here at MIT."
The spirit of curiosity and possibility that led Choi and Yoo to organize "Achieving the Unthinkable" will undoubtedly stay with them beyond graduation this month. "I still want to learn more about music, Yoo says, "because I'm always craving to understand more."
This class was supported by the Arts at MIT, Music and Theater Arts, and received funding from the Council for the Arts at MIT (CAMIT), a group of alumni and friends with a strong commitment to the arts and serving the MIT community.
« Back to News