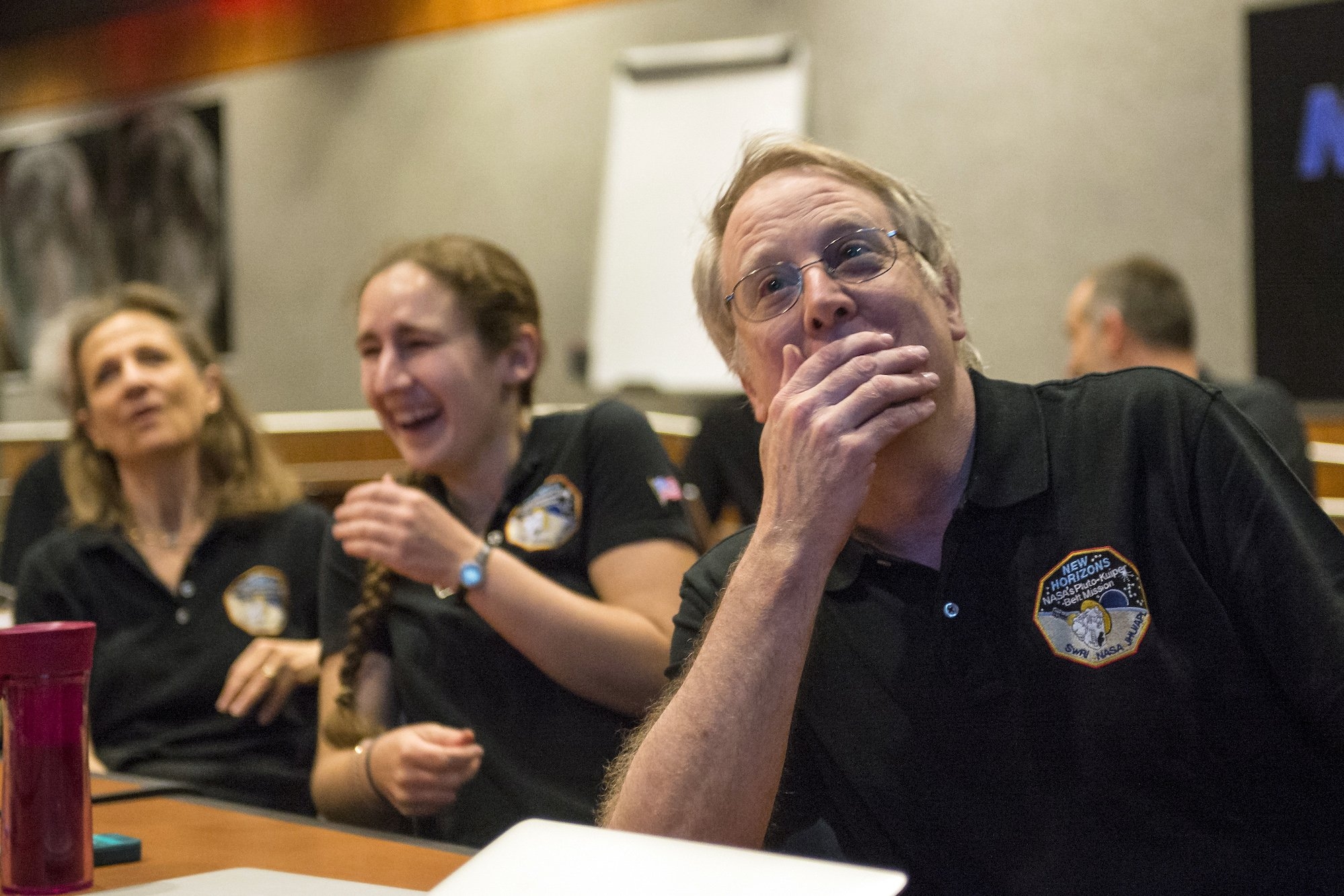 Over more than three decades at MIT, Binzel developed key insights into the solar system and played a role in multiple NASA missions.
EAPS
Richard Binzel has long held a see-for-yourself attitude toward astronomy. It developed in 1970, when he received a Criterion RV6 telescope for his 12th birthday. It was on a cold Ohio night looking through that telescope at the rings of Saturn that he first realized he wanted to be a planetary astronomer.
"I thought, 'Oh my gosh, how fantastic planets are. That's what I want to study when I grow up,'" says Binzel. It didn't take him long to get there.
Binzel turned that passion into a successful career. Known for his work on asteroid characterization, he played a key role in a number of NASA missions to space, including the New Horizons mission to Pluto and the OSIRIS-REx mission to the asteroid Bennu. He has also been a celebrated teacher and mentor, with a constellation of former students involved in research on the solar system and beyond.
Now, after 33 years at the forefront of planetary science in the MIT Department of Earth, Atmospheric and Planetary Sciences (EAPS), Professor Richard Binzel has recently retired from teaching.
"Rick is an outstanding scientist and educator," says Cathy Olkin '88, PhD '96, a collaborator and former student of Binzel's, and now the deputy principal investigator for NASA's Lucy mission to the Trojan asteroids. "His contributions to our understanding of small bodies in our solar system are as deep as they are vast."
In January, Binzel was working from his new home in Lafayette, Colorado, where he and his wife Michelle moved to be nearer their son and two young grandchildren. He had just returned from a trip to Antarctica to observe a solar eclipse. Such celestial alignments have long fascinated Binzel, who has led similar MIT alumni trips to observe eclipses all over the world, viewing them as "a chance to see the solar system in action."
"It's astronomy as a spectator sport," he says.
Binzel published his first paper in 1974 at the age of 15 while attending an astronomy camp in California (astrophysicist and science communicator Neil deGrasse Tyson was a fellow camper). The paper came about after he helped take a measurement of an asteroid's rotation period that went against what the "grown-ups" were saying.
"It's a great lesson in science," says Binzel. "You just have to go out and measure for yourself."
That attitude has served him well through his career, first as a physics student at Macalester College in St. Paul, Minnesota, where as an undergraduate he published a controversial paper in Science reasoning that minor planets are, like their larger counterparts, orbited by "numerous and commonplace" satellites. It took two more decades before that reasoning was widely confirmed.
After receiving his PhD in astronomy from the University of Texas, he spent a year at the Planetary Science Institute in Arizona, before joining MIT in 1988. During his tenure at MIT, he published hundreds of papers, and won a number of awards, including the 1991 Harold C. Urey Prize in Planetary Science for his work on the evolution of the solar system and the origin of meteorites.
A culmination of this research was Binzel's 1993 paper reporting his discovery of a field of debris around the giant asteroid Vesta. The debris, like an interplanetary trail of crumbs, was the missing link needed to show that a distinctive class of meteorites found on Earth are in fact fragments from Vesta knocked loose by ancient impacts.
"Now, we understand so much of the dynamic nature of the Main Belt, but that was one of the first key insights into how we get these meteorites on Earth," says Francesca DeMeo, a research scientist at EAPS, and one of Binzel's closest collaborators, as well as a former student.
Binzel's fascination with the solar system stems from his being, at heart, a "homebody." Astronomers studying black holes can never go to a black hole and verify their theories; but with the solar system, he says, astronomers aren't limited to what they can see through telescopes.
"At an early age it occurred to me that it was within our capability to go explore our own solar system and find out the real answers," he says. "The satisfaction of knowing definitively that you could be right or wrong was very enticing to me."
Binzel has realized this vision several times during his career, playing key roles in missions to Pluto, Bennu, and the recently launched Lucy mission to the Trojan asteroids, as well as the upcoming Psyche mission to investigate an object believed to be the naked metal core of a protoplanet. He is also angling for a probe to investigate the asteroid Apophis, expected to pass by Earth within one-tenth of the distance to the moon on April 13, 2029, which does not pose any danger to the Earth.
"As I always say," emphasizes Binzel, "Apophis will miss the Earth. Apophis will miss the Earth. Apophis will miss the Earth." Indeed, the asteroid scores a '0' on the Torino scale, the widely-used system of rating the hazards asteroids pose to Earth that Binzel invented.
One lesson Binzel takes from his travels in space, which he says is good for any young scientist, is the importance of persistence. He points to the long arc of the NASA New Horizons mission, which was designed to explore the outer edge of our solar system. It took 20 years to get the mission approved, five years to build it, and nine more years for the spacecraft to actually get to the Kuiper belt, where the first close-up images of Pluto revealed its unexpected beauty and complexity.
"His passion for planetary science led us to the discovery of the beating heart of Pluto," says April Russell, a course developer at Rensselaer Polytechnic Institute, and one of Binzel's former students. "A world once thought to be an inert ice ball turned out to be full of secrets to unpack." In 2017, Binzel received a NASA Silver Achievement Medal in recognition of his contributions to NASA missions.
Of all his accomplishments, though, Binzel says he is proudest of his students, especially those he saw struggle at MIT.
"It's the perseverance and the persistence and the grit that it takes for many of our students. Seeing for themselves that they can succeed, and thinking that maybe I was able to do something that put air under their wings is very, very satisfying," he says.
On the official day of his retirement in January, Binzel was surprised on a Zoom call by more than 50 of those former students, colleagues, and friends, who beamed in to wish him well and pay tribute to his research, passionate teaching, and infamous space-themed ties. Binzel, reflecting on all the mentors and students who had shaped his career, shared a quote with the group: "You can only take with you what you have given away."
Of course, leaving MIT doesn't mean leaving science for Binzel. He will continue his work on the Lucy and Psyche missions, as well as continue a textbook series in space science he has long edited. He also has the grandchildren to contend with, and "the grandchildren always win," he says.
And 50 years later, Binzel still has that Criterion RV6 telescope that started it all in its original box. Ever the homebody, he plans to set it up on his back patio, where he has a view of the moon setting over the Rockies each night.
"I have fantastic skies," he says.
« Back to News