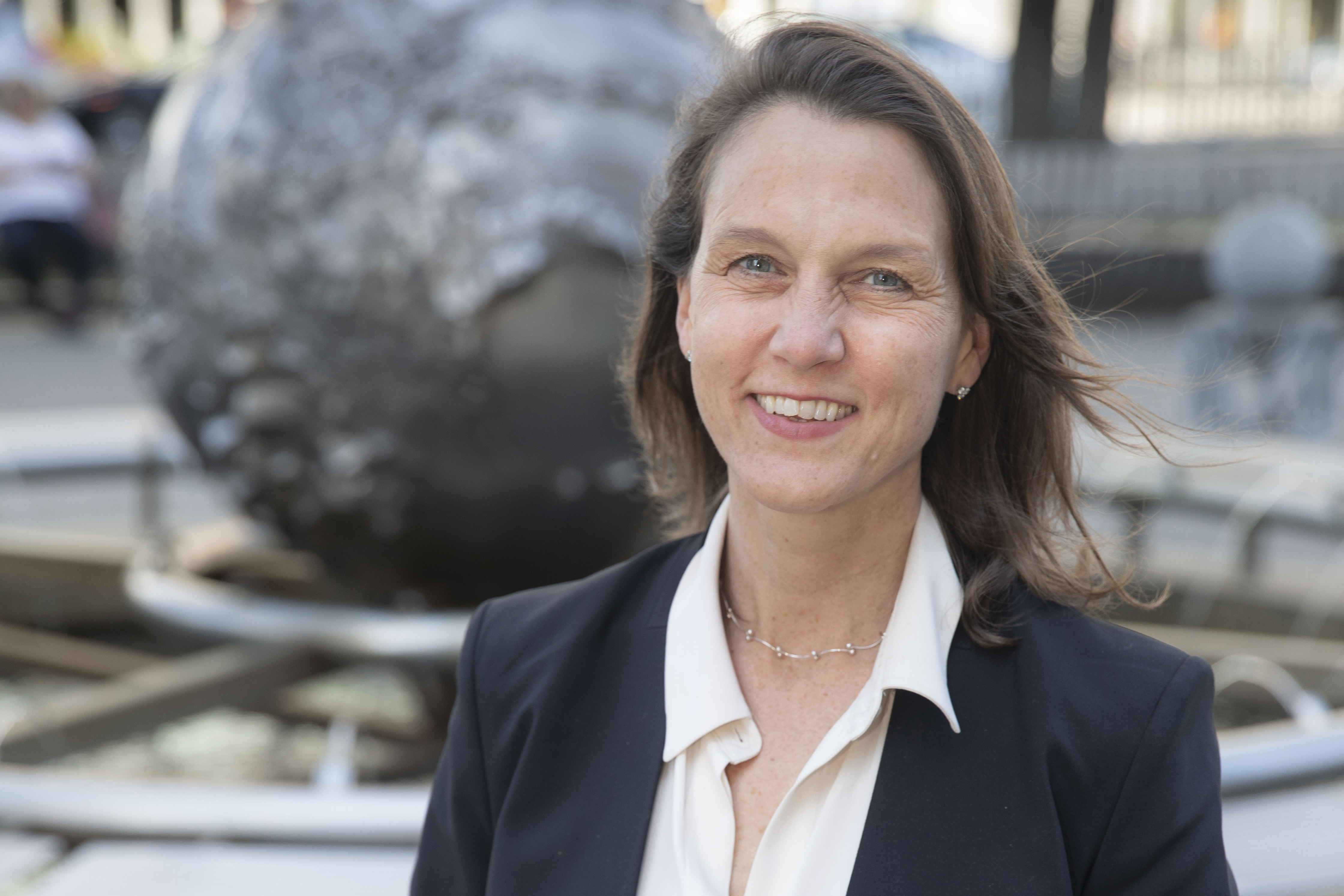 CEO Stephanie Khurana describes the nonprofit, whose work is aimed at those without easy access to degree and credential programs.
Peter Dizikes | MIT News Office
MIT and Harvard University are teaming up on a new online education initiative: Axim Collaborative, a venture designed to make learning more accessible, effective, and relevant so that learners can reach their full potential. Axim Collaborative is a nonprofit funded with the $700 million the two institutions received for the sale of edX, the online learning platform they founded in 2012. The initiative recently named Stephanie Khurana as its founding CEO.
Khurana has extensive experience in entrepreneurship, education, and philanthropy. She has been managing partner and COO of the Draper Richards Kaplan Foundation, a global philanthropy; served on the boards of Generation, Propel America, Braven, EdBuild, Empower Schools, and Kinvolved; and worked for the tech startups Cambridge Technology Partners and Surebridge. MIT News sat down with Khurana to discuss Axim Collaborative.
Q: What is Axim Collaborative, and what are your objectives?
A: Axim Collaborative was born out of the vision of edX and this idea that we can reach more learners through online education. As we know, edX was founded in 2012 by Harvard and MIT, with the idea of making learning accessible for all. It was a very bold vision. And there was a full market to be pursued, particularly of people who already had a degree and were looking to augment their learning. With the sale of edX to 2U and the creation of Axim Collaborative, it generated the opportunity to extend that commitment to access: How can we open doors more widely to students and learners who may not have a degree or credential but would benefit from that?
So, Axim Collaborative aims to expand access, and deepen the impact. Do not just take one course; pursue a course pathway, stay in it because you have a community that cares about you, [and create] a meaningful career path. That idea of impact by furthering outcomes is something we care about. Axim Collaborative is about access, though the collaborative part is an essential piece. We want to do this in partnership with other institutions who support those goals.
Q: Is it fair to say that is a distinctive point of emphasis here, the focus on underserved groups of students, with less access, on nontraditional paths?
A: Over 80 percent of learners aren't in full-time residential four-year universities. These are learners and students who might not [have] the same resources, and they still have the same aspirations many others do. How can we help the institutions who are serving them to engage those students and help them persist?
Q: As you mentioned, MIT does have a broad and longstanding interest in this field, including the formation of edX, but also extending back to MIT OpenCourseWare before that. What is the nature of the collaboration you foresee between Axim and MIT?
A: There's a lot of opportunity for collaboration. I've been just so excited about the MIT faculty I've already spoken with, their ideas and commitment to learning, and their thinking about different ways of teaching and learning and advising. From CSAIL to MIT Open Learning and other groups, there is faculty interest, which we welcome, to consider how we can apply great ideas, innovation, and research to fuel this work and make a difference for others.
Q: If we have MIT community members who have not already engaged with Axim, what is the opportunity for contact? If people have ideas for a project they want to pursue, should they get in touch to see what's feasible?
A: Absolutely. We welcome those conversations, and I'm happy to have them, as are many of our team members. As we develop and build our capabilities, we'll have more ideas about how people can develop research proposals, or engage in convenings or collaborations that we might host, to connect the great work and research happening at MIT or Harvard with other communities.
We expect some ideas to be in a research phase, where they are things we can test. There could be other proposals where people already have interesting partnerships and are doing work in the community. Our hope is to go deep with a few partnerships. We envision work in some strategic, targeted areas that we think will have meaningful outcomes, where there's an opportunity to help learners get through the system. That's the first thing. We'll look to see: What mattered in terms of helping students complete a course, a course pathway, a credential, an associate degree, or a four-year degree? And we can look at those outcomes, as well as whether somebody has meaningful employment, so they can now feed their family of four, whereas before they couldn't.
Q: So it's not only about reaching underserved students, but another real point of emphasis for you is to get people across the finish line, for a degree or credential.
A: We're trying to go from access to achievement. This is a big aspiration, and it's very hard to do. And I come to this work very humbly. Having spent some time working with institutions like the ones we'll be partnering with, I say this with all deference and humility, because it does require deep, thoughtful work. I have appreciation for the people who are solving these problems all day long, and are very talented, smart, and intelligent.
Q: What other facets of Axim Collaborative would you like to emphasize?
A: Part of the Axim Collaborative is that we do support the Open edX platform, which is currently serving lots of learners. There's a real opportunity to continue to steward that platform and think about how we can use that to reach more people. It has a global footprint that is incredibly valuable, although a lot of our work might start in the U.S.
Q: Isn't part of the excitement here precisely that you don't know exactly who is going to step forward, you don't necessarily know who all your partners will be, or what those projects will be?
A: That's right. And those voices matter, to shape what that future will look like. Having been an entrepreneur most of my career, that is an exciting part. It's up to us to imagine and create and aspire, while collaborating with others who have big, bold ideas and are committed to the helping more learners succeed. It's the gift of a lifetime. I can't think of a more important problem to be working on, in terms of what is really important to our humanity, in that education is one of the great levers that can make a difference for many of us. That's why we're in these institutions — to let people realize their full potential. To be able to have an extraordinary entrepreneurial opportunity, with such incredible resources and people to work with, is itself a gift.
« Back to News