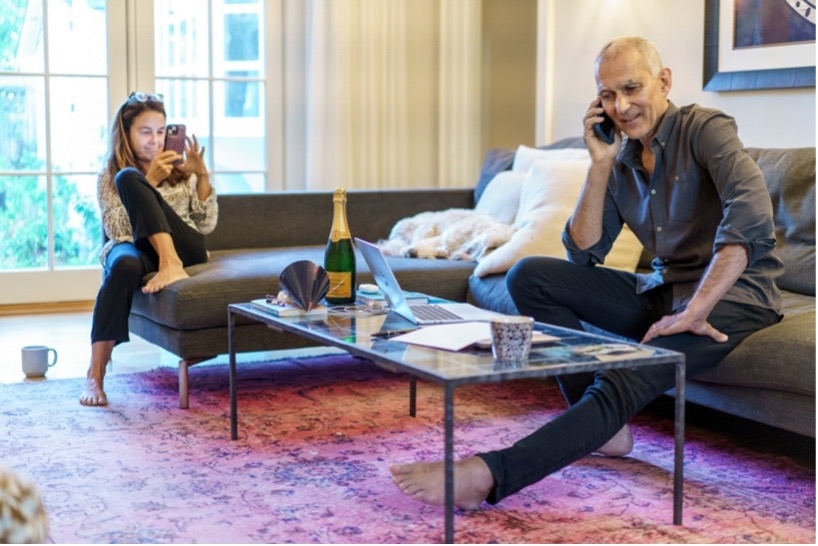 A look at how the MIT professor spent his day after learning he had won the Nobel Prize in Chemistry.
Maia Weinstock | MIT News
Today, MIT Professor Moungi Bawendi won a share of the 2023 Nobel Prize in Chemistry, for his role in developing quantum dots — nanoscale particles that can emit exceedingly bright light. Bawendi, a professor of chemistry who has been on the MIT faculty since 1990, told MIT News this morning that he felt "surprise and shock" upon receiving the call from the Nobel committee from his home in Cambridge, Massachusetts, adding, "It was such an honor to wake up to."
The following images provide a brief snapshot of his first day as a Nobel laureate.
Early this morning, Bawendi received a phone call from Nobel Prize officials in Sweden, letting him know that he had won a share of this year's chemistry prize. Hear some of his first reactions via a Nobel Prize phone interview.
Bawendi took his first questions from the media during a 5:45 a.m. (ET) press conference hosted by the Royal Swedish Academy of Sciences in Stockholm to announce this year's winners. Watch the full press conference.
He quickly began to receive texts and calls from family, friends, colleagues, and more.
Media crews soon arrived at his home in Cambridge, where his wife, Rachel Zimmerman; stepdaughter, Julie Teller; and very good dog Phoebe were celebrating with him.
The Nobel laureate joined Phoebe for official MIT portrait photos.
Bawendi arrived at the MIT campus shortly before he was scheduled to teach, and was greeted with applause and festive food and drinks from his colleagues and students.
Following a sartorial update, Bawendi prepared to teach his 9 a.m. class, greeting more colleagues and students in the Department of Chemistry.
Bawendi ended up scrapping plans for his class, 5.73 (Introduction to Quantum Mechanics), switching from a normal lesson to a brief history of his work on quantum dot science. The class "went very well, except I didn't talk about what I was supposed to talk about," he joked afterward, at an MIT press conference.
After class, the professor of chemistry made time to take photos with students.
An MIT press conference, hosted by the Institute Office of Communications and President Sally Kornbluth, was held at 10:30 a.m. ET. Watch the full press conference video.
After lunch, Bawendi met in person with President Kornbluth.
In the late afternoon, toasts were made at a celebration for Bawendi organized by the Department of Chemistry.
« Back to News