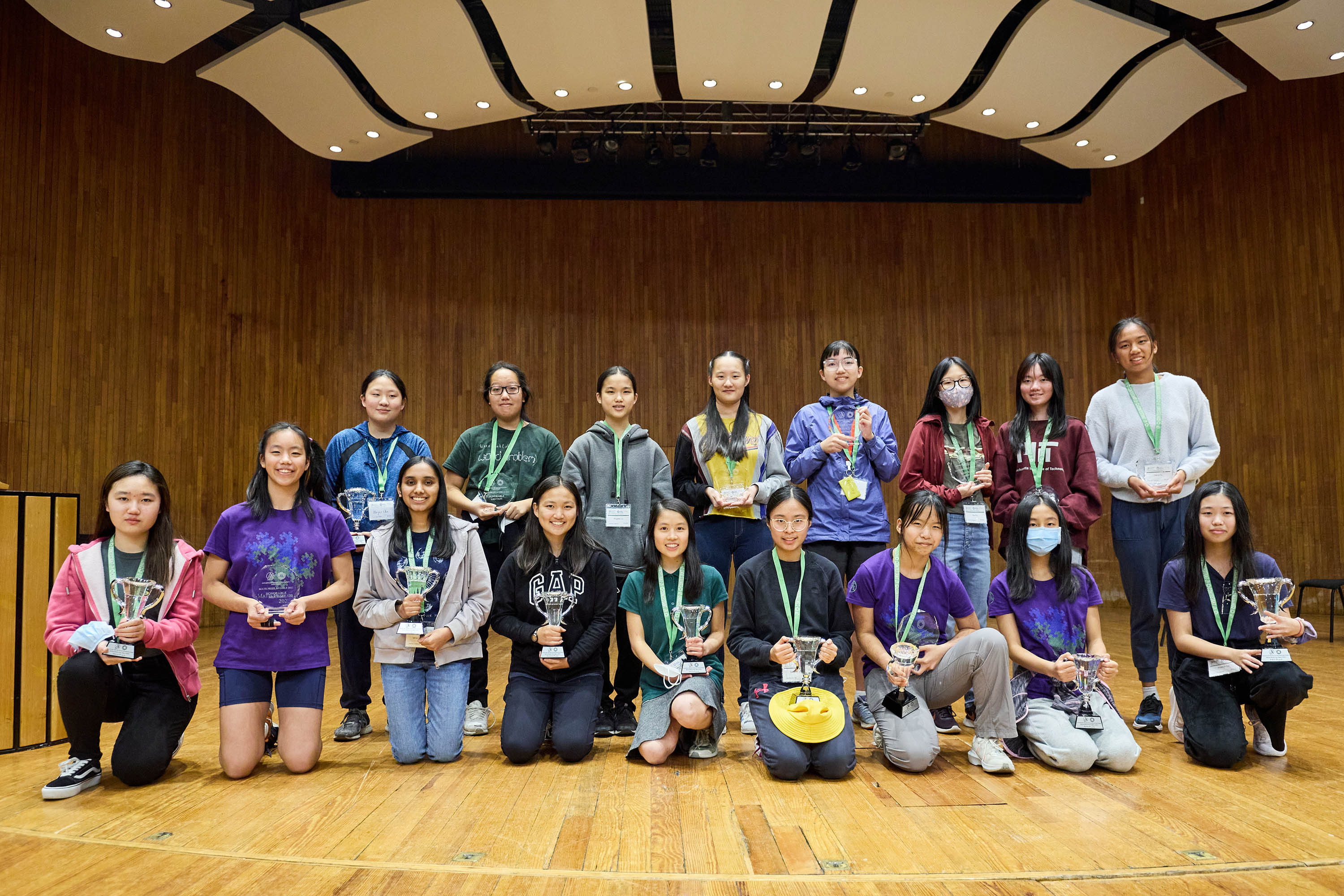 MIT hosts the 14th Math Prize for Girls, which aims to encourage female middle and high school students of mathematics.
Sandi Miller | Department of Mathematics
A good math problem is like a walled, secret garden, according to Department of Electrical Engineering and Computer Science (EECS) head and MIT Professor Asu Ozdaglar, who was addressing an audience of middle and high school female-identifying mathematics contestants at the 14th annual Math Prize for Girls (MP4G) event.
"Many people walking around the outside never attempt to glimpse at the other side of what seems to be a high brick wall," she says. "Worst of all, many students are told that the garden of math is not for them — that they are not the right kind of person to succeed at math. We know that more girls are given this message than boys."
The 240 girls in the audience were able to find the keys to open the gate to that garden, in part thanks to the growing sisterhood of the math equation that gathers annually at MIT. It's not just a math contest. MP4G alumnae have formed an expanding network to debunk gender stereotypes within STEM fields, and to help pass the keys to that garden along to a whole new generation of girls from the United States and Canada.
The contest
The female "mathletes" who had qualified to take the exam by scoring well on the recent American Mathematics Competition exam began the MP4G weekend on a Saturday attending social events. There was a campus tour, dinner, and a game night, and on Sunday they enjoyed breakfast before the contest, and lunch together before the awards ceremony.
As they took a 2.5-hour exam with 20 multistage problems in in geometry, algebra, and trigonometry, their parents attended a panel by Math Prize alumnae that included MIT PhD candidates Velina Kozareva and Rachel Zhang '21.
The awards ceremony in Kresge Auditorium featured a performance by the MIT Logarhythms a cappella group, a keynote lecture from Boston College Professor Eli Grigsby on "Geometry and Neural Networks," and presentation of awards to the top 35 contestants.
Florida Virtual School junior Jessica Wan received the top $50,000 prize with a score of 17 out of 20. She also won it in the last contest, in 2019, as an eighth grader. (The MP4G event was on hiatus for two years due to the pandemic.)
"The contest problems were challenging and very interesting, and the opportunity to meet fellow mathletes from around the country was phenomenal!" says Wan.
The next four winners were Isabella Zhu, a 12th grader from Thomas Jefferson High School in Virginia, whose score of 15 earned her $20,000; California 10th graders Ishani Agarwal of Saratoga High School and home-schooled Angela Liu each scored of 12, to earn $7,000 each; and 10th grader Emily Yu of Mendon High School in New York, whose score of 11 earned $4,000. The next four winners won $2,000 each, and winners in 10th through 17th places got $300. The winners are posted on the foundation's Art of Problem Solving website.
The 35 top scorers will be invited to compete next month in the 2022 Math Prize Olympiad, a four-hour exam with four proof-oriented problems taken at their schools.
Alumni network
Sponsored by the Advantage Testing Foundation and global trading firm Jane Street, MP4G is the largest contest of its kind in North America and has also served as an unofficial pipeline to MIT. Many high school participants apply to MIT, and seven of the 12 MP4G winners have since matriculated to MIT: mathematics graduate student Danielle Wang '21, in 2010 and 2013; Victoria Xia '18, who won in 2011 and 2012; Rachel Zhang '21, in 2015; Qi Qi '21 and Catherine (Katie) Wu '22, who both won in 2016; Megan Joshi '22 in 2017; and third-year mathematics major Yuxuan Zheng in 2018.
"This competition encourages more girls to be passionate about mathematics and interested in STEM careers, and this is certainly much-needed," says MIT Department of Mathematics head Michel Goemans, the RSA Professor of Mathematics. "We can certainly feel the impact of this competition, as we often cross paths with some of the participants in college or graduate school."
Former contestants have gone on to earn graduate degrees in such fields as engineering, computer science, biomedical sciences, and mathematics, and work in tech-driven industries such as aviation, robotics, and artificial intelligence, as well as financial services. Many of them thank this MP4G network for their career trajectories.
At the event, MP4G alumni and MIT volunteers helped the girls collaborate on scientific problems, talked about pursuing STEM careers, and discussed gender equality in mathematical achievement and STEM fields in order to provide a diverse and driven STEM workforce.
Several attendees said that they appreciated the unique feeling of being in a room full of female math enthusiasts.
"I have loved all my competition math experiences thus far, but this was definitely my favorite," says Garima Rastogi, an 11th grader at the Virtual Learning Academy Charter School in New Hampshire. "The energy of a room full of girls who are passionate about math — it's so different and so empowering."
Olivia Xu, an 11th grader at the Harker School in California who finished in 11th place this year, said that participating in MP4G "opened my eyes to the numerous pathways I can embark on in college and beyond."
Allison Koenecke '14, who participated in MP4G's inaugural contest, and is now an information science assistant professor at Cornell University, says she was drawn to the contest because her high school experience had been missing a certain support system for women interested in STEM.
"I hope that these young women have more opportunities to not feel so 'othered' when pursuing kind of their intellectual passions," she noted in a video shown at the event.
Former MP4G panelist and 2013 and 2014 MP4G alum Cameron Krulewski, who is currently pursuing her PhD in mathematics at MIT, calls the event an invaluable experience for girls to "compete, make friends, find mentors, and be inspired, all in an environment in which they are not a minority: "I know that it's an experience I have carried forward in my mathematical career. When I return to volunteer, I'm always inspired by the enthusiasm and dedication of the young women I interact with at Math Prize."
More money
Thanks to Jane Street's endowment of $15 million, this year saw the cash prize doubled to a total of $100,000.
"Our partnership will ensure the long-term sustainability of the contest as well as creating opportunities for expanding its scope and accessibility," says Jane Street Managing Director Sandor Lehoczky, who is on the board of trustees for Advantage Testing Foundation and MP4G. "Programs like this foster gender equity in STEM fields today and into the future."
Lehoczky is a Math Olympiad alum and co-author of "The Art of Problem Solving," a book that launched the Art of Problem Solving math community.
Many MP4G alumnae have gone on to work at Jane Street, including Sophie Mori '19, who studied computer science, linguistics, and philosophy, and Sophia Xia '21, who studied math and computer science.
For the love of math-y daughters
The contest was founded by two men who were inspired by their mathematically talented daughters. MP4G Director Ravi Boppana PhD '86, who is also a research affiliate at MIT's math department, has one daughter, and Advantage Testing President Arun Alagappan has three.
Boppana and his wife, panel moderator Ranu Boppana '87, are the parents of Meena Boppana, a math and computer science teacher at the Commonwealth School in Boston who proctored the exams on Sunday.
"She was one of our inspirations for starting the Math Prize in 2009, since she was a math-y girl while participating in math contests and math teams that were mostly male," says Ravi Boppana.
Meena couldn't participate in MP4G because of her family's conflict of interest. "She qualified for the first three Math Prizes from 2009 to 2011, but only took the MP4G exams unofficially," says Ravi.
To run this event, other MIT community members helping out also included members from the Admissions Office and the Department of Mathematics, about 50 students who hosted contestants in their dorm rooms, and 60 student volunteers.
MP4G Program Administrator Sulochana Devadas and her husband, EECS professor and PRIMES Computer Science Section Coordinator Srini Devadas, have two MP4G alumnae, Sheela and EECS graduate student Lalita (Lali) Devadas; Lali had helped organize the games night.
MP4G board members include Gigliola Staffilani, the Abby Rockefeller Mauze Professor of Mathematics; Donner Professor of Mathematics Michael Sipser; University of California at San Diego Professor Ioana Dumitriu PhD '03; and Harvard University Professor Lauren K. Williams PhD '05.
Nitya Mani, who had worked as a trader at Jane Street before deciding to pursue her doctorate at MIT to study discrete probability and graph theory, was a five-year MP4G contestant who finished ninth in 2014. This year, she served as MP4G's emcee.
MP4G "was one of the things that kept me in math, because I was having such a negative experience doing math contests," recalls Mani.
"I think that the ability to form that community is what has kept all of us collectively not just in math, but in STEM as a whole, because we've kind of formed a support system and a support network for each other that kind of can extend, you know, beyond high school."
« Back to News