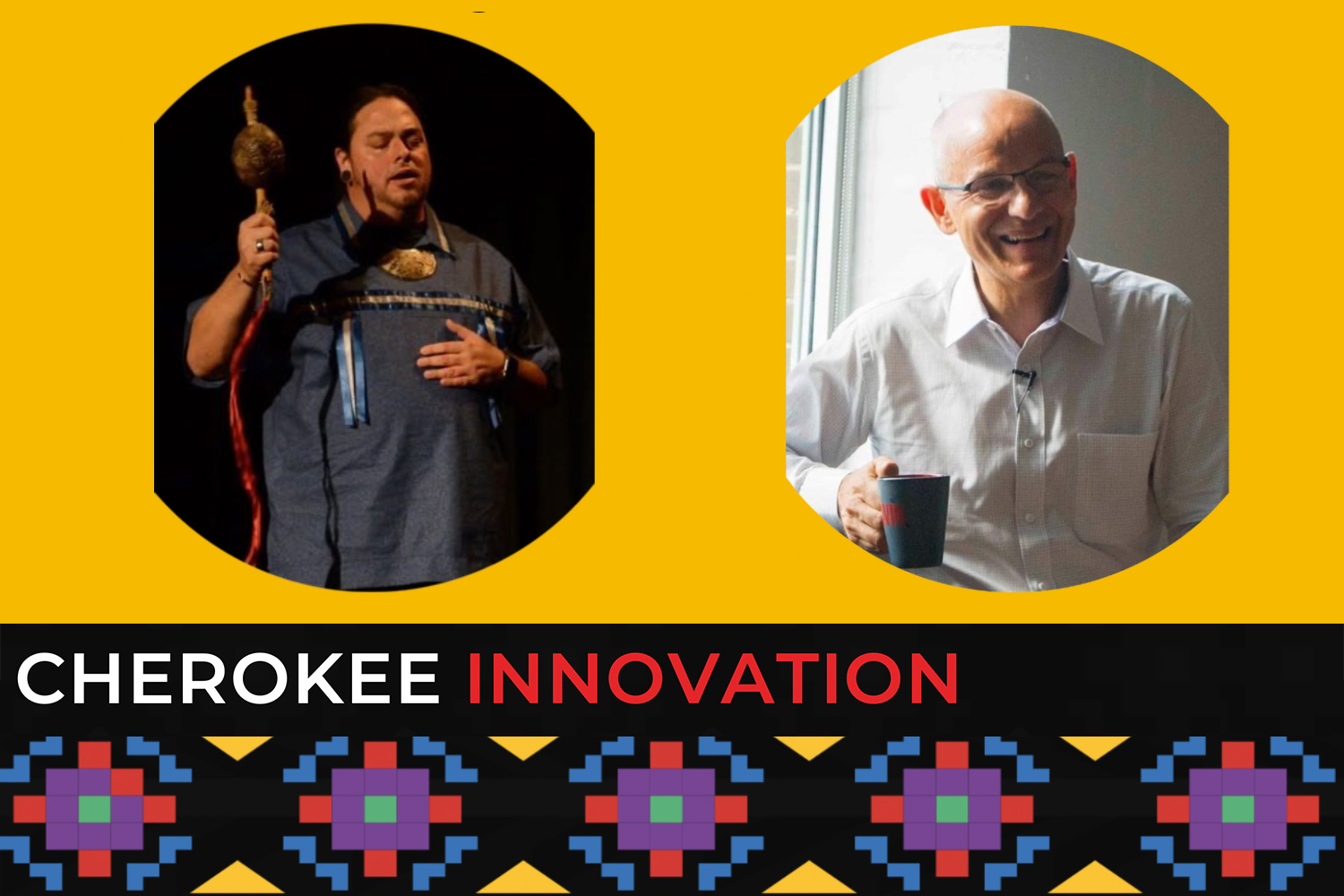 At an MIT event, speakers profiled four Cherokee innovators and traced their success back to the communal and egalitarian culture they came from.
Zach Winn | MIT News Office
Traditional Cherokee community values can broadly be condensed into four primary teachings that have guided members of the community through life and its challenges for centuries, two members of the Cherokee nation told an MIT audience last week. Be respectful and curious; observe and learn from your environment; take time to think about and find answers; and commit to the answer and guide others to the right or "true path."
For MIT Senior Lecturer and Cherokee citizen David Robertson, the culture holds lessons about his central research focus at MIT: Innovation.
In a Nov. 22 online presentation, Robertson and Wahde Galisgewi, manager and developer of adult immersion language revitalization programs for the Cherokee Nation, profiled four Cherokee innovators and traced their innovations back to the communal and egalitarian culture they came from. The experiences and accomplishments of these four individuals have lessons for inventors who could benefit from having a more community-focused approach to innovation.
"I was struck by this cycle of Cherokee values," says Robertson, "in particular, how it's a cycle of empathy. … As I've learned from Wahde, Cherokee values are really about empathy for your community. They focus on appreciating, honoring, and supporting others in your community and living united with them."
For Galisgewi, the presentation was an opportunity to share his Cherokee culture with a wider audience and to show the culture holds value for everyone.
"Looking to marginalized people or minority groups for ideas might sound counterintuitive," Galisgewi says. "But by learning about their history and culture, you can learn new skills and ideas to apply. Ultimately world views, languages, value systems, ideologies, and philosophies are like tools in the toolbox of the mind. A smart person has a lot of tools, but a smart group of people doesn't only rely on their own values and life experiences, they go out into other communities and are sometimes granted access to the knowledge of the general family of humanity."
For Robertson, the presentation was also a way to paint a more complete picture of the legacy and impact of the Cherokee Nation.
"We all know about the trauma that Cherokees and other native tribes have suffered," Robertson says. "It's easy to forget the unique and powerful strengths that the Cherokee culture has had and continues to have. Learning about the best of another culture lets you look at your own world a little differently."
Celebrating Cherokee innovators
Following the devastation of the U.S. Civil War in the 1860s, there were plenty of cattle in South Texas but no market for cattle owners to sell to. If ranchers could get their cattle north to the railroads in Kansas, they could sell for 10 times the local price. But the path crossed through the territories of multiple Native nations who didn't want cattle trampling their land.
The challenge hampered economic development until Jesse Chisholm, a Cherokee man, took it on. Chisholm spoke 15 languages, including 13 tribal languages, and began meeting with the elders of each nation along the path to learn more about what they cared about. The result of Chisholm's diplomacy was a complex trade agreement that established what's known as the Chisholm Trail. The trail allowed cattle owners to follow a defined path through the territories while Native Americans charged a toll.
For his part, Chisholm set up a trading post at the southern entrance to the trail, selling goods needed by both Native Americans and cattle owners. "He was the first person in the U.S. to create a convenience store on a toll road, and maybe the first person to complete a multilateral trade agreement inside the U.S.," Robertson explained in the presentation.
In the 1920s, a small company started Native American-themed imitations of Chisholm's trading post in the Dallas-Fort Worth area, right on the Chisholm Trail. The store chain, called Tote'M Stores, was popular and grew rapidly. After World War II, the chain changed its name to 7-Eleven — now the largest chain of convenience stores in the world.
"Chisholm had to show empathy to create these agreements," says Galisgewi, tying Chisholm's actions back to the Cherokee idea of finding others to learn from. "[The idea] is you find them and then you're almost measuring yourself against them. You learn who you are by spending time with them. Chisholm had to admire these people to live united with them. For them to have understanding, belief, and trust in him, he had to show belief and trust in them."
The other Cherokee innovators profiled in the presentation were Wilma Mankiller, an accomplished activist, social worker, and community developer who was also the first woman elected to serve as Principal Chief of the Cherokee Nation; Sequoyah, who invented a Cherokee syllabary that made reading and writing in Cherokee possible; and James Robertson, David's father, who invented a computer division algorithm that is used in most computers today.
"We're wired to learn from stories," Robertson said in the presentation. "I think the stories of these Cherokee innovators are fascinating and tell us a little something about our history. It also makes that history real."
Lessons worth learning
In March, Robertson heard Galisgewi give a presentation on Cherokee community values that made him realize Cherokee traditions had a lot to teach him about innovation.
"The values teach us how we're supposed to take care of each other and how we're supposed to live as Cherokees," Galisgewi explained.
As Robertson connected with Galisgewi and learned more about Cherokee culture, he saw a number of lessons for innovators.
"When a Cherokee is faced with a problem or challenge, the first thing they do is ask questions," Galisgewi says. "They're not pushy or nosy, but they want to know what other people think, so they're curious in a very respectful way."
As an example of community-centered design, Robertson showed how the designers of the Logitech UE Boom Bluetooth speaker improved their product when they began focusing not only on features of the speaker but also on how a community interacted with it.
For instance, after watching different communities use it, the Logitech team realized they had to give users the ability to pair more than one speaker with a single smartphone and created an app to allow that. Additionally, after watching groups using the speaker at a party, they made it not only waterproof, but also beer- and ketchup-proof.
Robertson plans to continue exploring Cherokee culture and says he's still trying to understand how innovators can be more community-centered rather than individual-centered when they study customer needs. For now, he hopes Cherokees take away as much from the presentation as businesses do.
"I hope there are some aspects of this that aren't just about helping companies do better with innovation, but also about helping Cherokees understand and appreciate their culture," Robertson says. "There are a lot of citizens of Cherokee Nation, like myself, that didn't grow up in the nation. We may have cultural influences through parents and relatives like I did, but I hope Wahde and I can bring out some of the great things that are part of our culture and history."
For Galisgewi, the presentation was an opportunity to bring the value of Cherokee culture to a field others might not see as related.
"I was told when I was young that we will share some of this with the world and the world would be better for it," Galisgewi says. "Engaging the world through the lens of innovation is interesting to me. Showcasing our value systems and some of our deep philosophical ideals is not just about heritage or the past. I feel honored to share these things I hold very dear, and now we've been given a platform to show these ideas are not just passe, but that used in the right context, could be actually considered cutting-edge."
« Back to News