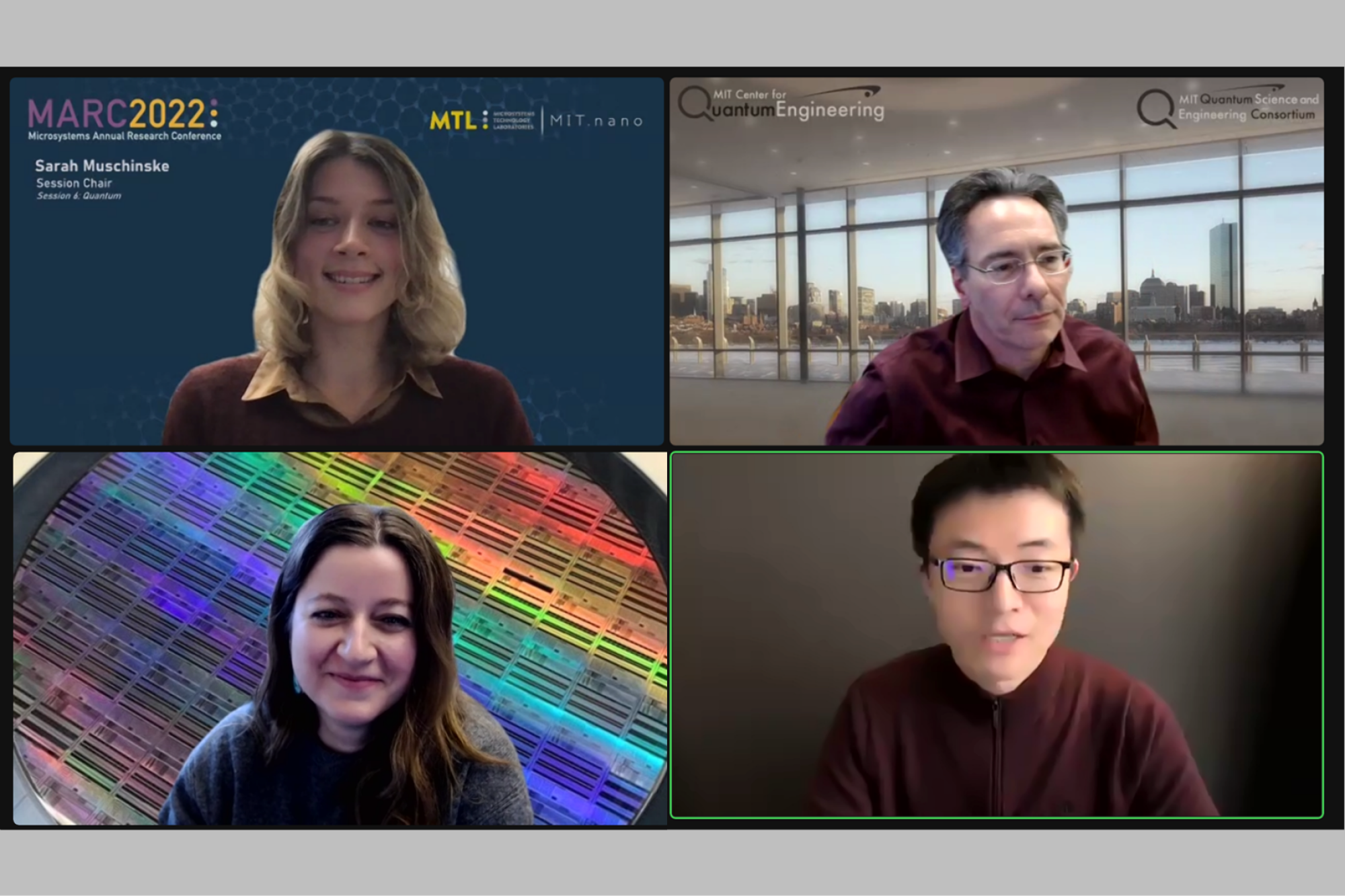 Virtual conference gathered students, faculty, and industry partners to explore the future of microsystems and nanotechnology.
Amanda Stoll DiCristofaro | MIT.nano
Graduate student co-chairs Jatin Patil and Kruthika Kikkeri had big plans for the 18th annual Microsystems Annual Research Conference (MARC) in January 2022: After last year's all-virtual event, students, faculty, staff, and industry partners would again be able to gather in person to chart the future of microsystems and nanotechnology.
Then the pandemic took another turn. As the Omicron variant surged and with only three weeks to pivot, Kikkeri and Patil led the 16-person MARC student committee to redirect efforts — swapping campus event space for an online platform, physical poster displays for digital, live research talks for prerecorded presentations, and social gatherings for virtual trivia.
"We are so thankful to have had such a flexible and dedicated team who made this all happen," says Patil, a PhD candidate in the research group of Professor Jeffrey Grossman in the Department of Materials Science and Engineering (DMSE). "Everyone came together to shift gears and take on new responsibilities, despite having their own academic projects to maintain."
In addition to Kikkeri and Patil, the core planning group included Maitreyi Ashok, Will Banner, Jaehwan Kim, Rishabh Mittal, and Nili Persits from the Department of Electrical Engineering and Computer Science (EECS), and Narumi Wong from chemical engineering.
The pivot ended up setting records. MARC attracted 262 attendees, the most ever for the long-standing event co-sponsored by the Microsystems Technology Laboratories (MTL) and MIT.nano. In addition, more than 100 student abstracts were presented from 37 MIT research groups, two more record-breaking statistics.
"We were delighted to see such high numbers of participation," says Kikkeri, a PhD candidate in the research group of Professor Joel Voldman in EECS. "It was energizing to see our community so engaged, particularly during these isolating times."
"MARC is like a crystal ball."
Every January, MARC aims to accomplish several goals: highlight scientific achievements of the past year, look to the next set of challenges, and create opportunities for collaboration among MIT students, faculty, and industry partners. MARC 2022 proved to be no different.
"We can build a better tomorrow, together," said MIT.nano Director Vladimir Bulović, the Fariborz Maseeh (1990) Chair in Emerging Technology, in his opening remarks. "The projects you hear about today are shaping what the future will be. MARC is like a crystal ball. Every year we get a glimpse at what is coming our way."
Research presentations spanned nine topics: integrated circuits; electronic devices; power; energy-efficient AI; optics, photonics, and magnetics; quantum; medical and biological technologies; materials and manufacturing; and nanostructures and nanomaterials. Each category was carefully curated by one of eight EECS graduate student session chairs: Ruicong Chen, Isaac Harris, Thomas Krause, Wei Liao, Sarah Muschinske, Milica Notaros, Kaidong Peng, and Abigail Zhien Wang.
"I am, once again, blown away by the incredible array of mind-boggling research represented by the student posters and pitches at this year's MARC," says MTL Director Hae-Seung Lee, professor of electrical engineering and computer science. "It makes me so proud to be part of this community."
Fostering a strong research community is an important component of MARC, which includes attendance by members of MTL's Microsystems Industrial Group (MIG) and MIT.nano's Consortium. Concerned that opportunities for organic networking would be lacking in a virtual setting, Kikkeri and Patil added a structured segment for students and company representatives to discuss research collaborations, internships, and full-time opportunities. This new block featured more than 20 one-on-one meetings.
Education to fuel future advancements
Each day opened with a keynote lecture touching on the future of nanoscience and microsystems technology. Professor Tsu-Jae King Liu, the Dean and Roy W. Carlson Professor of Engineering at the University of California at Berkeley, delivered the first talk on alternative approaches to transistor scaling, discussing the need for new innovations across materials, processes, devices, and chip architecture.
Liu also addressed the current shortage of workers in the semiconductor industry, stressing the importance of education and encouraging collaboration between academia, industry, and government. "We all need to work together to revitalize the curriculum for microelectronics," she said. "Hands-on training in the clean room is invaluable for preparing students to work efficiently in semiconductor manufacturing."
On the second day, Jay M. Gambetta, IBM fellow and vice president of IBM Quantum, spoke about the current state of quantum computing technologies and gave his thoughts on the next set of inventions, in which he sees scientists pushing what can be done with a single chip to create new systems to accelerate workloads. He also stressed the importance of education, saying universities can play a role by giving students a flavor of both computer science and physics. "How we bring these two areas together is where we're going to see a lot of innovation in the near future," he said.
Interspersed between keynotes, prerecorded student pitches, and live poster sessions hosted on the virtual platform Gather, MIT faculty joined three technical panels highlighting current work in their research groups and sharing thoughts on the future of their fields. Panelists included School of Engineering Dean and Vannevar Bush Professor Anantha Chandrakasan, Donner Professor of Engineering Jesús del Alamo, Joseph F. and Nancy P. Keithley Professor David Perreault, Robert J. Shillman (1974) CD Assistant Professor Song Han, EECS Assistant Professor Jelena Notaros, EECS and Department of Physics Professor William Oliver, EECS Assistant Professor Sixian You, Department of Nuclear Science and Engineering Professor Bilge Yildiz, and Assistant Professor Deblina Sarkar of the Program in Media Arts and Sciences.
In their closing remarks, Lee and Bulović congratulated the student committee on another successful MARC and spoke of future opportunities for collaboration.
"MARC is coming to a close, but we are just beginning the next set of great ideas," said Bulović. "MIT.nano is proud to be your home; the place where you can do your best work and then take it to the intellectual center of MTL to further hone it in collaboration with colleagues."
"This was a professional-level conference," said Lee. "The core committee, session chairs, and panel moderators have done a superb job. With several large opportunities ahead of us, we are excited to engage many of you together in the near future."
« Back to News