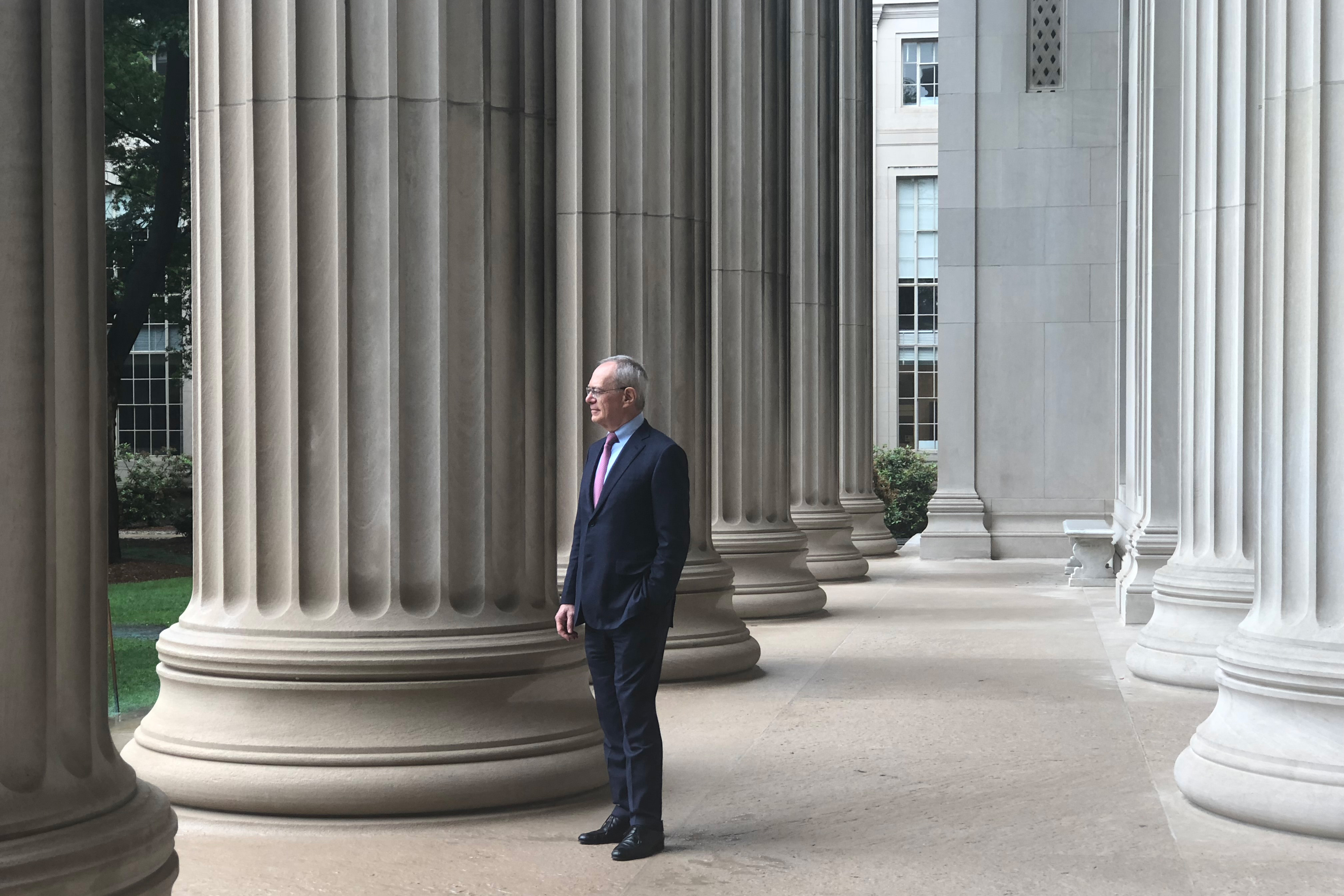 For a decade, Reif's bold vision led the Institute to dynamic growth and increased stature on the world stage.
Steve Bradt | MIT News Office
L. Rafael Reif announced today that he plans to step down as president of MIT at the end of 2022, after more than 10 years in the role.
Reif has guided the Institute through a decade of dynamic growth, greatly enhancing its global stature and magnetism. Under his watch, MIT evolved into one of the world's most potent engines of innovation and embarked on pathbreaking efforts to redefine both online education and the field of computing.
As president, Reif catalyzed pioneering efforts to prioritize the health and well-being of students, and stood up publicly in defense of all members of the MIT community. He oversaw a revitalization of MIT's physical campus and neighboring Kendall Square, and steered MIT safely through both political turmoil and the Covid-19 pandemic. As he steps down, the Institute is positioned for a thriving future, with both the resources and talent to follow through on its aspirations.
"Thanks to the exceptional efforts and impact of the people of MIT in research, education, and innovation, the Institute consistently ranks among the very top universities in the world," Reif wrote in a letter to the MIT community announcing his plans. "We can all be proud of these collective achievements; I am thankful to everyone whose creativity, vision, and hard work made them possible. I will always be grateful for the pleasure and privilege of working with such a tremendous range of people whose talents, judgment, and character I respect and admire."
Before becoming MIT's 17th president in 2012, Reif served for seven years as provost. He has been at MIT since 1980, when he joined the faculty as an assistant professor of electrical engineering. After stepping down as president, Reif will take a sabbatical, then return to the faculty of the Department of Electrical Engineering and Computer Science.
A native of Venezuela, Reif first came to the United States to earn his doctorate in electrical engineering at Stanford University, where he learned English. His parents were Jewish refugees who fled Eastern Europe in advance of the Nazi regime. Despite very modest circumstances, three of the family's four sons would go on to earn PhDs in the United States — including one who earned a PhD at MIT.
"MIT has seen tremendous growth and development during Rafael's decade-long tenure as president," says Diane Greene SM '78, chair of the MIT Corporation. "At a time of accelerated change, MIT's relentless focus on excellence has expanded the boundaries of the basic and applied sciences that will benefit of our world for years to come. MIT has attracted the globe's finest faculty who passionately strive to advance understanding and alleviate contemporary problems, and equip students with the tools necessary to move humankind forward. Rafael's years of commitment, dedication, and sacrifice have helped make possible these considerable achievements, and he has earned the appreciation and gratitude of all members of the MIT community."
Building an innovation ecosystem around MIT
Starting when he was provost, Reif worked to engineer a uniquely potent innovation infrastructure at MIT. He also took steps to develop a world-class innovation ecosystem in the Kendall Square neighborhood adjacent to MIT's campus — an area that has been described as "the most innovative square mile on the planet."
In a 2015 op-ed in the Washington Post, Reif first publicly outlined the need for a new kind of organization — which he called an "innovation orchard" — to help ensure the success of startups in "tough tech": breakthrough ideas, in sectors such as biotechnology, robotics, manufacturing, medical devices, and energy, that are based on new science and therefore take time to commercialize.
The following year, MIT responded to this challenge by announcing The Engine, a new kind of business incubator designed to support startups working on scientific and technological innovation with the potential for transformative societal impact. The Engine offered startups access to "patient" capital, affordable workspaces, specialized equipment, streamlined business services, and a community of like-minded entrepreneurs.
"If we hope for serious solutions to the world's great challenges, we need to make sure the innovators working on those problems see a realistic pathway to the marketplace," Reif said at the time.
To date, The Engine has raised $430 million in two rounds of funding, including investments by MIT. It has used these funds to support 27 portfolio companies tackling issues as varied as climate change, human health challenges, and pioneering advanced systems.
"MIT has long been synonymous with technology; thanks to Rafael's leadership, it is now also known as one of the most remarkable engines of perpetual innovation, across multiple fields," says Noubar Afeyan PhD '87, founder and CEO of Flagship Pioneering and a member of the MIT Corporation from 2016 to 2021. "As provost and then as president, Rafael has pushed MIT relentlessly forward; through challenging times in higher education and beyond, he never lost sight of the positive impact that MIT's education, research, and innovation could contribute to humanity. His legacy will be felt far beyond the campus, as research nurtured at MIT translates into products and policies that create a better world."
Presenting a new vision of computing
In that spirit of fostering a better world, MIT in 2018 announced a $1 billion commitment to address the global opportunities and challenges presented by the growing prevalence of computing and the rise of artificial intelligence. The initiative marked the single largest investment in computing and AI by a U.S. academic institution, helping position MIT and the United States to lead the world in preparing for the rapid evolution of computing and AI.
"As computing reshapes our world, MIT intends to help make sure it does so for the good of all," Reif said at the time. "In keeping with the scope of this challenge, we are reshaping MIT."
At the heart of this endeavor was the most significant restructuring of MIT in 70 years: the creation of the MIT Stephen A. Schwarzman College of Computing, made possible by a $350 million gift. The MIT Schwarzman College of Computing reoriented the Institute to bring the power of computing and AI to all fields of study, allowing the future of computing and AI to be shaped by insights from other disciplines; it also promised to educate students in every discipline to responsibly use and develop AI and computing technologies to help make a better world.
Promoting health and well-being
Showing leadership in yet another domain, Reif led MIT to take decisive action to address sexual assault and mental health on its campus, putting the Institute in the national vanguard of dealing with these issues proactively and forthrightly.
In 2014, Reif asked then-incoming Chancellor Cynthia Barnhart to explore the impact of sexual assault on MIT students and the broader community after The Tech, MIT's student newspaper, published a young alumna's account of her assault as an undergraduate. All MIT students received a questionnaire on sexual assault, two days before a White House task force called on all of the nation's colleges and universities to survey their students on the topic. In releasing its results publicly, MIT announced a series of concrete steps to address and help prevent unwanted sexual behavior on campus.
The next year, Reif tasked the chancellor with developing a comprehensive plan to promote community well-being. The Institute unveiled a series of immediate and long-term steps to increase student access to mental health counseling and other types of support. This included establishing the MindHandHeart coalition to promote community and caring with distinctly MIT approaches, adding "heart" to MIT's motto of "mens et manus" ("mind and hand").
"Rafael Reif is a person of great humanity," Institute Professor Ann Graybiel says. "This quality informs his every decision, his every effort to help those in the MIT community — and others across the globe — achieve a sense of purpose. The span of his generosity, from helping individual students and celebrating achievements across the community to helping our entire MIT family through wrenching experiences, is remarkable. President Reif has had such enormous influence in part because his outreach is unmistakably genuine and heartfelt, fostering amazing creativity, productivity, resilience, and strength of determination — as well as MIT-grade fun and quirkiness. In short, President Reif has had a transformative influence: MIT has become a more positive and caring community than ever before, and we are fortunate indeed to have had his leadership and that of his team."
Championing MIT's international community
Protecting members of the community from a very different set of dangers, Reif steered MIT through a period of domestic political turmoil during the second half of his presidency, with the Institute often acting to defend its international students and researchers against new federal policies affecting immigrants and international travel.
In early 2017, for example, five members of the MIT community were temporarily stranded abroad after a sudden executive order restricted citizens of Iran, Iraq, Libya, Somalia, Sudan, Syria, and Yemen from entering the U.S. Reif immediately began pursuing action on behalf of affected students and researchers — a total of more than 100 people at MIT who were citizens of the seven nations cited in the travel ban.
Reif was outspoken in his support of the Deferred Action for Childhood Arrivals (DACA) program; in 2017 MIT joined other institutions in filing an amicus brief in a federal lawsuit challenging its repeal. In an op-ed in The Boston Globe, Reif called on the president and Congress to preserve DACA. He noted that like the "Dreamers" — as the beneficiaries of DACA are sometimes known — he himself is an immigrant.
"I have the particular patriotism of an immigrant, rooted in deep gratitude and appreciation for a country founded on a dream of fairness," he wrote. "I urge President Trump and the Congress to find a sound, stable legislative path to keep that promise of fairness for the Dreamers, too."
Standing up to policy and legal challenges
In response to other threats, Reif led MIT in challenging a pair of high-profile legal actions in which the Institute stood up for members of its community.
In 2020, MIT and Harvard University filed a lawsuit challenging a new policy that would have barred international students on F-1 student visas from the U.S. if their classes were fully online due to Covid-19. The policy, issued by the U.S. Immigration and Customs Enforcement and the Department of Homeland Security, was rescinded shortly after the lawsuit was filed.
The day the policy was withdrawn, Reif authored an op-ed in The New York Times, saying that it reflected "a stark misreading of our national interest," undermining America's ability to draw the best and brightest from all over the world.
"Why is foreign talent so important to the United States?" Reif wrote. "For the same reason the Boston Red Sox don't limit themselves to players born in Boston: The larger the pool you draw from, the larger the supply of exceptional talent."
In January 2021, mechanical engineering Professor Gang Chen was arrested on allegations of federal grant fraud. The case emerged from the U.S. government's China Initiative, started in 2018 to crack down on purported economic and scientific espionage by China. Chen was on paid leave while he fought the charges, and MIT paid for his legal expenses.
Last month, the federal government asked the court to dismiss all charges again Chen. In a letter to the MIT community sharing the news, Reif wrote: "Having had faith in Gang from the beginning, we can all be grateful that a just outcome of a damaging process is on the horizon."
Stewarding MIT's resources and revitalizing its campus
To advance the Institute's efforts to address some of the world's most pressing problems, MIT publicly launched the Campaign for a Better World in 2016. The campaign ultimately raised $6.24 billion from 112,000 individuals and organizations, far surpassing its original goal of $5 billion and greatly increasing philanthropic support for undergraduate scholarships and graduate fellowships at MIT.
"Everywhere I traveled throughout the campaign, I was struck by the energy and enthusiasm of our alumni and friends and by how deeply the 'better world' theme resonated with them," Reif said at the campaign's conclusion in 2021. "They understood instinctively that this is what MIT was made for."
During Reif's tenure, the Institute's endowment grew from $10.3 billion to $27.4 billion — reflecting both strong fundraising and the endowment's spectacular investment performance.
Among other priorities, MIT put those added resources to work in revitalizing its campus: The 2017 premiere of the Theater Arts Building marked the Institute's first facility dedicated to the performing arts; the 2018 opening of MIT.nano, the largest building of its kind, promised a new age of nanoscale advancements; and the New Vassar residence hall, which opened in 2021, offers undergraduates a fresh residential option. Construction projects now underway include the headquarters of the MIT Schwarzman College of Computing, scheduled to open in 2023, and a new music building, targeted for completion in 2024, that will consolidate many activities of MIT's conservatory-level music program under a single roof.
Major renovations of existing buildings have included the Wright Brothers Wind Tunnel, now the most advanced academic wind tunnel in the nation, and a transformation of Hayden Library and the Building 14 courtyard. Building 2, home of the Department of Mathematics, and Building 52, an Art Deco landmark that is the headquarters of the Department of Economics, were both restored and renovated. And the historic Metropolitan Storage Warehouse is now slated for conversion into a modern hub for interdisciplinary design research and education, a new home for the School of Architecture and Planning, and the site of the largest makerspace on MIT's campus.
Bringing MIT-caliber thinking to education
Bringing similar energy to reimagining a core component of the MIT mission, Reif entered his presidency with a particular focus on online learning, foreseeing the power of massive open online courses (MOOCs) to bring an MIT education to learners worldwide. Two weeks before he was named president, he participated as MIT's provost in the public launch of edX, an ambitious partnership between MIT and Harvard University that aimed to deliver online education, free of charge, to learners anywhere in the world.
Both edX and MITx, an earlier online education initiative that Reif championed as provost, also aimed to enrich on-campus education by making use of lessons learned about effective online teaching methods, as well as tools created for online classes.
"During my presidency at Harvard, it was my privilege to work with Rafael on collaborations that strengthened not only MIT and Harvard, but higher education and scientific discovery more generally," says Drew Gilpin Faust, former president of Harvard University and a member of the MIT Corporation. "From the creation and nurturing of the Broad [Institute], the Ragon [Institute], and edX to efforts on behalf of federal funding for research, Rafael has represented a model of visionary and humane leadership."
EdX has since been acquired and reorganized as a public benefit company, a move spurred by shifts in the online-learning market as Covid-19 prompted a surge in remote learning. The transaction allows edX to continue in its founding mission, with net proceeds funding a nonprofit that will explore the next generation of online education.
In announcing that news last June, Reif noted that edX had by then engaged 160 partner institutions, reached 39 million learners, and exceeded 110 million course enrollments. "All of us can take pride in what edX has accomplished, including — and perhaps most significant — edX's role in helping create a thriving market for online learning," he wrote.
Navigating difficult moments
Along with its successes, MIT has faced its share of difficult events and issues over the past decade. Reif's tenure included the 2013 killing of an MIT Police officer; the Institute's painful reckoning over its engagements with a convicted sex offender; and the radical disruption to campus operations that followed the onset of the Covid-19 pandemic.
Reif was nine months into his term as president when Officer Sean Collier was killed in the line of duty, shocking the MIT community even as the region reeled from the attack days earlier on the Boston Marathon. Thousands of police from across the nation traveled to MIT for a ceremony paying tribute to Collier, joining members of the MIT community in a service where they heard from Reif, then-Vice President Joseph Biden, and other dignitaries.
"Officer Collier did not just have a job at MIT — he had a life here," Reif said in his remarks. "MIT is a place that celebrates passionate curiosity. And Sean Collier fit right in."
In 2019, the MIT community was rocked by revelations that the Institute had accepted donations from Jeffrey Epstein, even after his conviction as a sex offender, and that Epstein had visited campus on multiple occasions. The engagements with Epstein, who had gained international notoriety as an accused pedophile, led to particular scrutiny of the MIT Media Lab.
Shortly after the issue erupted, MIT established two committees to examine its external engagements and review its policies and processes on soliciting and accepting gifts, the recommendations of which are now being implemented. A leadership transition took place at the Media Lab, allowing it to chart a path forward. And an independent review of the matter concluded that Reif was not involved in approving MIT's decision to accept the Epstein donations. Yet the events shocked the MIT community and caused some to call into question the institution's values, leading to a third committee to develop a values statement for MIT — work that is nearing its completion.
Then, in March 2020, MIT — like most of the country — was forced into an abrupt shutdown by the sudden global spread of Covid-19. Reif led the Institute community to understand the need for this rapid shift and unprecedented disruption, and then he and his team guided it through a phased reopening first of the Institute's research operations, then of its in-person educational enterprise, and finally of most administrative operations.
Throughout the pandemic, MIT's careful, analytical approach and the extraordinary efforts of faculty and staff helped minimize the on-campus spread of Covid, allowing the Institute to sustain its mission of research, education, and innovation. Thanks to MIT's early adoption of vaccination and booster requirements, few members of its community have been seriously sickened by Covid.
Planning for MIT's future
Even in the early days of Covid, Reif continued looking forward. Anticipating a wave of change to sweep across institutions and societies in the wake of the pandemic, he convened Task Force 2021 and Beyond in May 2020 to "explore how MIT might invent a thriving new future."
More than 200 MIT faculty, staff, and students ultimately participated in the task force during its 18 months of work. This past November, the group released its final report, offering 17 recommendations to strengthen and streamline MIT, and make the investments needed to improve its teaching, research, and innovation enterprises while becoming more nimble and adaptable.
The strong performance of MIT's endowment in 2021 came at a perfect moment, enabling Reif to make resources available to advance a range of clear community priorities, including those outlined by the task force, and setting the Institute on a strong course into its future.
"Rafael Reif is a pioneer whose innovations at MIT have set new global standards in research and education," says Shirley Ann Jackson '68, PhD '73, president of Rensselaer Polytechnic Institute and a life member of the MIT Corporation. "He has been an important spokesperson for higher education, and for support of the critically important work of research universities. He has consistently stood up for the MIT community, and articulated powerfully the value of attracting talent from every corner. I greatly respect Rafael's leadership, and have long valued him as a friend."
« Back to News