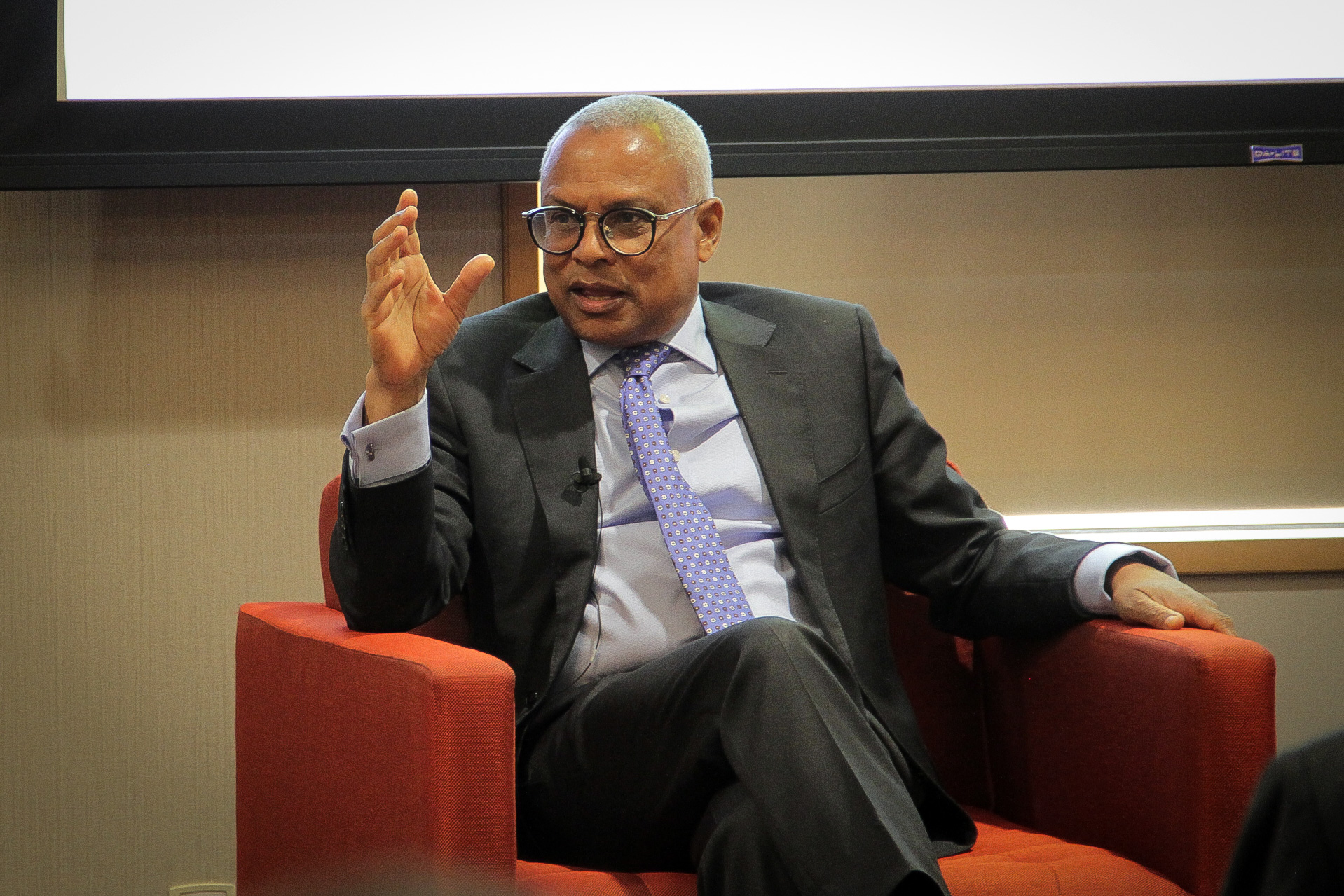 The visit featured a public seminar on African governance, as well as meetings with faculty, students, and staff.
Peter Dizikes | MIT News Office
President José Maria Neves of Cape Verde visited MIT on Tuesday, meeting with Associate Provost Richard Lester and other members of the campus community, and conducting a public event about e-governance in Africa that highlighted the ways technology has helped his country.
"Technology and information are a mechanism or means to establish links between [our] islands, and between Cape Verde and the diaspora," Neves said at the public forum. He added that high-tech communications have been "an essential tool to organize the country, and also to accelerate the transformation of the country." Using online tools more extensively, he noted, "leads to more inclusion, more transparency."
The forum was part of the MIT x TAU series focusing on various aspects of sustainable development in Africa. The event was held before an audience in MIT's Samberg Center as well as webcast live, and was sponsored by MIT's Center for International Studies (CIS), the MIT-Africa Program, Global MIT, and the True Africa University (TAU), a global learning network.
The forum was moderated by Claude Grunitzky MBA '12, a journalist and entrepreneur who runs the TRUE Africa media platform and founded TAU, and is a research affiliate at CIS.
In his remarks, Neves expressed a forward-looking vision for his country, an island nation about 400 miles west of Africa with a population of just over 550,000. It has been a representative democracy since the 1990s.
"There's going to be a need to invest more in education, science, and innovation," said Neves, who communicated most of his remarks through a translator. "If there is a will, if there is determination, the resources will be mobilized."
In recent years, Cape Verde has developed a formal framework for its expansion of online governance capacity. Among other things, Neves noted that online government records now allow for the quick resolution of transactions which, in the past, might have taken up to a year to conduct, especially for Cape Verdeans who live overseas and rarely visit in person. Cape Verde has provided more internet access points for residents, and used online tools in election administration.
Neves' visit to MIT was one of several events he was holding in the region; New England has a large diaspora community of Cape Verdean heritage.
"One of the strengths of Cabo Verde is having this diaspora spread throughout the world," Neves said. "This community is extremely important to Cape Verde." He also linked his country's success in governance to the global connections it has maintained.
"Cape Verde is a free country, a democratic country, a place where the law works, and it's democratized and there's freedom," Neves said. "All of that is because we have a country that's very open to the world."
Neves was born on the island of Santiago in Cape Verde and graduated from the School of Business Administration of the Getúlio Vargas Foundation in São Paulo, Brazil. He served as prime minister of Cape Verde from 2001 through 2016, and has been its president, the head of state, since November 2021.
Before the public forum, Neves also held a smaller meeting with a group of MIT faculty, students, and staff, fielding questions about an array of issues.
"MIT is a reference [point] of higher education in Cape Verde, so there are many ways to collaborate," Neves said, outlining a variety of possibilities for student exchange and educational cooperation.
Mutliple people in the group also asked Neves questions about language and communication in Cape Verde. The official language is Portugese, though much international activity has to be conducted in English; meanwhile, much of the public speaks Cape Verdean Creole.
As far as conducting more activity in Cape Verdean Creole, Neves said, "I do think that things are evolving gradually, and we are building consensus." He added, "We must help people understand the importance of bilingualism or multilingualism in Cape Verde. We are a lot richer because we have two languages."
And while this was the first visit Neves had made to the campus, he said he hoped for further engagement between MIT and his government, and joked that he himself could be an Institute student some day.
"Next time I will sign up for an MIT course," Neves quipped at the end of the public forum.
« Back to News