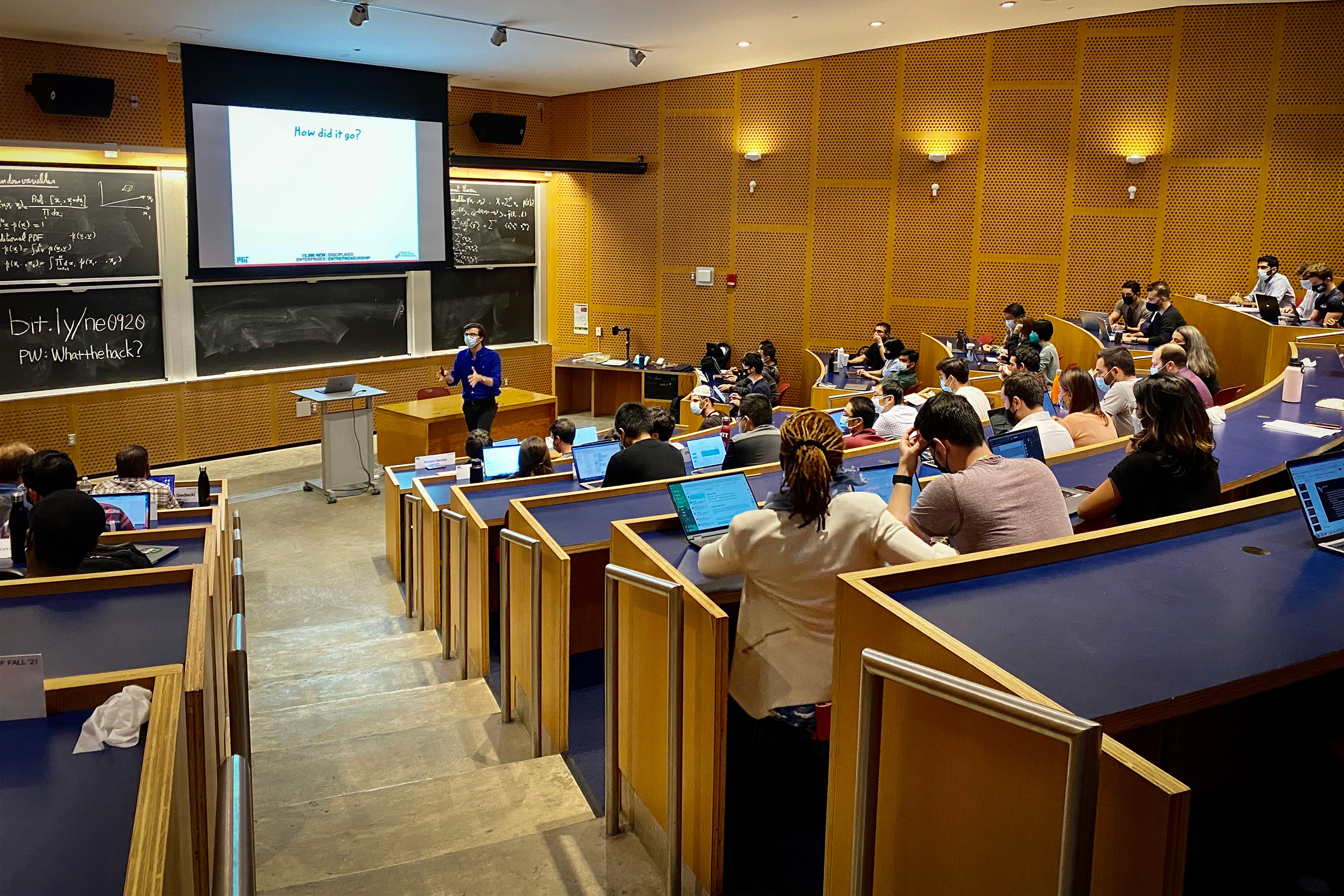 New Enterprises, possibly the oldest entrepreneurship course in the country, has made its mark throughout the greater Boston community.
Zach Winn | MIT News Office
In a process that has taken place for more than 60 years at MIT, this week a group of students gathered to practice entrepreneurship at a whirlwind pace designed to mimic the steep learning curve required to start a company.
MIT's course 15.390 (New Enterprises) has been held every year since 1961 — a time when entrepreneurship education was little more than an obscure idea. Indeed, many people believe New Enterprises is the oldest entrepreneurship course in the country, and its mark on both the Institute and the greater Boston region has been profound.
Over the course of a semester, the project-based class challenges students to form teams, pursue business plans, and respond to feedback given in mock board meetings.
"The goal of the course is to prepare students for one of two things: Maybe they want to pursue a startup and now they have a plan to put in practice, or maybe they're going to take this process and drop it into another organization, be it as a researcher, an employee in a large company, or a nonprofit," says Paul Cheek, a lecturer in MIT's Sloan School of Management who began teaching New Enterprises in 2020. "Whatever they do, they're going to go into it with the entrepreneurial mindset and skillset."
The format is designed to create entrepreneurs, not companies. Still, a staggering number of class projects have turned into successful businesses over the years. Those companies have gone on to bring impactful products into the world, become pillars in the local tech ecosystem, and pioneer new industries.
Bill Aulet, who has helped teach the course for the last 12 years as the managing director of the Martin Trust Center for MIT Entrepreneurship, believes New Enterprises exemplifies MIT's culture of making sure work in the classroom makes an impact on the world.
"When MIT started, it was a home for immigrants and immigrants' kids who were manning the industrial revolution, so we're always doing things differently," says Aulet, who is also a professor of the practice at MIT's Sloan School of Management. "We have a deep culture of entrepreneurship. It's been embedded here a long time, and when people say, 'You're doing a great job,' you have to say, 'It was here before I came, and it will be here long after I leave."
A rich history
MIT looked a lot different in 1961 than it does today. But a trend toward commercializing scientific research was unmistakable after a world war in which physicists had played a decisive role, and a number of companies had successfully spun out of MIT's huge, war-time laboratories.
Richard Morse '33, a lecturer in what was then called the MIT School of Industrial Management, was among those walking MIT's busy campus with a new idea in 1961. Morse had founded National Research Corporation (NRC), best known for inventing frozen orange juice concentrate and spinning off the Minute Maid Corporation. He wanted to formalize the process of commercializing new technology for students. New Enterprises was born.
Morse taught the class, which was limited to 15 students, with help from outside professionals and entrepreneurs rather than faculty. Over the years, the course has evolved to respond to changing conditions and growing demand in the same way a company might.
After Morse, it was taught by Russell Olive '52 and then Barbara Bund, who introduced entrepreneurial marketing to the students. Professors Eric von Hippel '68 and Ed Roberts taught for an interim period to satisfy the growing number of students applying. In later decades, 20 percent of seats in the class were reserved for engineering students, reflecting MIT's highly interdisciplinary approach to entrepreneurship.
As students put what they learned into practice, New Enterprises began to play a formative role in the industries MIT and Cambridge are well-known for today. Among the course's early students was Robert Swanson, who would go on to found Genentech, which developed synthetic insulin. The company is also widely credited with founding the biotechnology industry.
In the 1980s, Jon Hirschtick, who has advanced computer aided design (CAD) by founding companies including SoldWorks and OnShape, drafted the business plan for his first company in New Enterprises. Other successful entrepreneurs, including Aulet, who took the course as a student in 1993, credit New Enterprises with teaching them the ropes of entrepreneurship.
More recently, the start of several pillar companies in the Boston area can be traced back to New Enterprises.
"I basically took New Enterprises twice," says Brian Halligan MBA '05, who co-founded the Cambridge-based marketing software giant Hubspot with Darmesh Shah SM '06. "The first time I worked on another idea. The next semester Dharmesh took it and we marched Hubspot through the course. I think it was the best course I ever took."
These days the course begins by tasking students to come up with business ideas. Instructors then hold sessions around team building, customer discovery and interviews, and business plan development. Students have two mock board meetings throughout the semester, where experts give feedback on their plan and try to identify gaps they have to fill in their business.
The class is a melting pot of undergraduate students, master's students, PhD candidates, and mid-career Sloan fellows, as well as students from Harvard University and Wellesley College.
"It's a fun, entertaining class," says Cheek, who notes students are graded based on how rigorously they apply the entrepreneurial concepts they're taught and how they adapt to feedback. "You look around the room and people are laughing and enjoying the process. It's not just 'do the work and go to class.' They're embracing the spirit of entrepreneurship as well."
Continuing a legacy
New Enterprises is designed to be the beginning of the entrepreneurial journey for students. Instructors often direct students to other entrepreneurial support offerings around campus when the semester is over, such as industry-specific entrepreneurial courses at Sloan or programs like the MIT Sandbox Fund, the Legatum Center, and the Venture Mentoring Service.
No one quite has a complete list of all the companies that have spun out of New Enterprises, but Aulet says he's often contacted by alumni who cite the course as a launching point for their business. Over the past few weeks, this has included the founding teams of Klarity and Lightmatter, which together just raised an additional $98 million in capital to fund their continued growth.
"It's incredibly rewarding to hear from these entrepreneurs about their successes in positively impacting the world," Aulet says.
Cheek says the fact that the course is now more than 60 years old underscores the interconnectedness between MIT's founding ethos and entrepreneurship.
"It so closely relates to the MIT motto, "mens et manus" ["mind and hand" in Latin]," Cheek says. "Entrepreneurship is not just understanding, it's going through a process and practicing. That process has evolved over the course of time. This class has iterated so many times to up-level and increase the value of the entrepreneurship education, and that's something that's definitely not stopping."
« Back to News