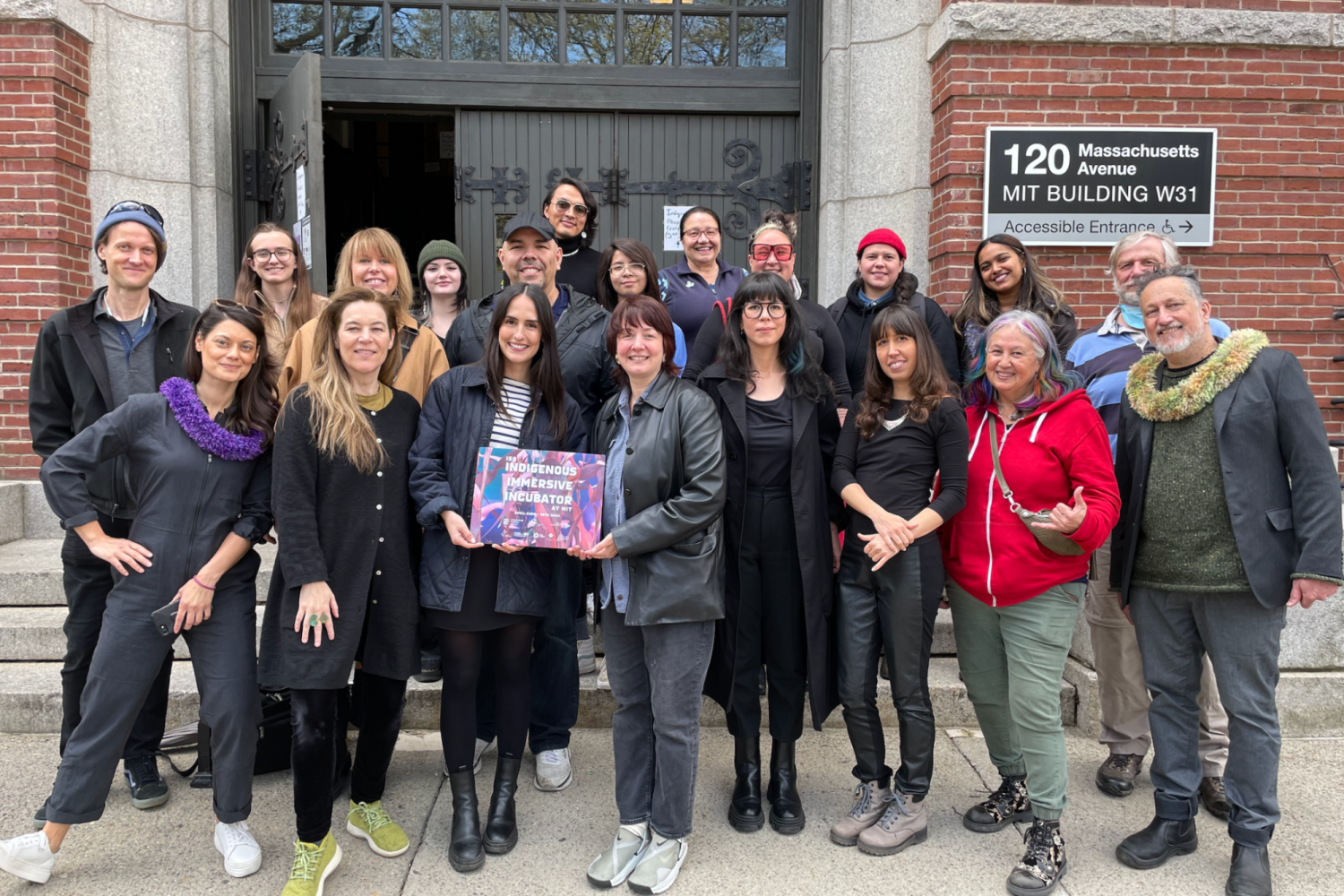 Over the course of four days, Indigenous delegates collaborated on immersive technology with MIT community members.
Open Documentary Lab
An historic delegation of 10 Indigenous artists and advisors recently gathered on MIT's campus to share their work with each other and with the MIT community. The theme of the ISO Indigenous Incubator at MIT gathering was "Indigenous Knowledge and Immersive Technologies."
Led by the Indigenous Screen Office (ISO) of Canada and hosted by the Co-Creation Studio at MIT Open Documentary Lab, the group incubated their own immersive media projects, toured various MIT labs, and met with Indigenous leaders from MIT and across the territory over four days.
"This is the second iteration of our ongoing partnership with Co-Creation Studio at MIT and it has been a joy to see how our shared values of collaboration, creativity, innovation and excellence have aligned to create a truly unique opportunity for Indigenous creators and the MIT community," says Kerry Swanson, CEO of the ISO.
The selected participants funded by ISO were Ryan Atimoyoo (Cree), Laakkuluk Williamson Bathory (Inuk), Anne Riley (Slavey Dene/German) and T'uy't'tatanat Cease Wyss (Skwxwu7mesh/Sto:lo/Hawaiian/Swiss). The MIT-funded selected delegates were Tiare Ribeaux (Kānaka Maoli) and Chloe Alexandra Thompson (Cree).
The gathering began near the Massachusett River, currently called the Charles River, in a session led by Jean-Luc Pierite (Tunica-Biloxi Tribe of Louisiana), president of the board of directors of the North American Indian Center of Boston. Pierite situated the group on the land and water from within an Indigenous perspective.
The group then walked along the river's edge in the spring rain to the MIT Sailing Pavilion, where on the dock, they were welcomed in a traditional smudging ceremony led by co-leads of the MIT Native American Student Association Alvin Harvey (Diné) MIT PhD candidate in aerospace engineering, and Nicole McGaa (Oglala Lakota), aerospace engineering undergraduate student, along with MIT Interfaith Chaplain Nina Lytton. Thomas Green of Massachusett Tribe of Ponkapoag delivered a message of Welcome from Home Territory, which was followed by a feast prepared by renowned Wampanoag chefs Sherry and Jade Pocknett.
"It was a privilege to start our time together as a cohort on the river, eating together with fellow Indigenous artists who carry knowledge from their tribal nations and Indigenous communities," says the lead artist for the incubator, Amelia Winger-Bearskin (Seneca-Cayuga Nation of Oklahoma). "The insightful perspectives of the cohort with regards to our communities and shared human experience, combined with the critical use of technology as a medium, was a gift that has deepened my understanding of art and storytelling."
"The whole gathering was a joyous and co-creative meeting of the minds, hearts, and communities from across the continent and across MIT, and it's an honor to do this work with the Indigenous Screen Office, the most exciting and important media agency in this hemisphere, as they assert narrative sovereignty across all forms of media" says Katerina Cizek, artistic director of Co-Creation Studio, and MIT lead on the ISO Indigenous Immersive Incubator.
In a whirlwind tour of the MIT Media Lab, organized by Paris Myers of the Biomechatronics group, the participants visited four labs. They also came upon Professor Danielle Wood watching, on the big screen in the Media Lab lounge, a livestream of a moon landing mission carrying her payload.
The group visited Future Sketches with an inspiring talk by Vera van de Seyp, an MIT graduate student and research assistant who is hacking knitting machines to produce code-generated patterning on sweaters and vests.
The incubator shared a lunch at the Indigenous People's Center, hosted by MIT Native American Student Association co-leads Alvin Harvey (Diné) and Nicole McGaa, along with Nina Lytton.
"It is so healing to our people coming together in celebration and community in the space that our young Indigenous people have fought so hard for," says Harvey, PhD candidate in aerospace and co-lead of the MIT Native American Student Association. "This is the largest gathering of our people and friends we have ever had in this space!" he remarked, "All these relations are forever welcome to this place and to our community, such is the promise and potential of our journey of healing and spirit."
At a virtual reality (VR) lounge, participants could view 12 immersive projects curated by the incubator team, including specially acquired unpublished pieces through mentor Liz Rosenthal, the curator of Venice Festival Immersive Program.
"To experience VR art in real-time is to grapple with ways of being that can seem familiar and unfamiliar all at once," says Srushti Kamat '22, producer at Co-Creation Studio and MIT co-lead on the incubator. "Made possible by a team of incredible students and staff, the lounge itself became a social space adept with conversation, comfort, and ultimately, community … a direction that the new media industry should seriously consider for a gentler and more human move into technological adaptation."
The next day, Laakkuluk Williamson Bathory held an artistic session on the MIT.nano Immersion Lab's enhanced motion capture stage, to explore the correlations between her performance of uaajeerneq (Greenlandic mask dancing) of her heart rate and the heart rate of her audience members.
"I learned more about the dramaturgy of my practice — how to pull apart the mechanics of my work in order to stretch what is possible," says Laakkuluk Williamson Bathory of her time at Immersion Lab. "I learned that as an Inuk artist, I work hard at evoking emotion, rather than portraying it," adding "I learned more about my feminism in terms of the care I put into on- and off-boarding people's experiences of my work. And I learned about seeing ancestors and spirit infusing the technologies we use in both a historic and real-time context."
"Performance arts offer a wealth of inspiration for scientific exploration," notes Praneeth Namburo, research scientist at MIT.nano. "Through the capture of dance performances at the Immersion Lab, I've been able to develop intriguing hypotheses about how dancers convey emotions through their movements. However, it was during Laakuluk's performance that I was struck with curiosity about the mechanisms behind evoked emotions."
The incubator also featured Jackson 2Bears, who in 2020 participated in the inaugural virtual ISO-MIT Indigenous Delegation. He is now a visiting artist at the studio and lab, supported by MIT Center for Art, Science and Technology (CAST). Jackson shared a work in progress together with community partner Gary Joseph (Six Nations) called "Ne:Kahwistará:ken Kanónhsa'kówa í:se Onkwehonwe (Virtual Longhouse)." They also met with Nikolaos Vlavianos, PhD candidate in design and computation at the MIT Department of Architecture.
"The longhouse is an enduring symbol of the strength of our Rotinonshonni (Iroquois Confederacy), as it signifies a way of living together as a League of Nations under the Great Law of Peace — the Kayanereh'kowa. Our enduring sense of community is mirrored in the longhouse structure; it is emblematic of our diverse creative and cultural practices, which are connected back to our traditional teachings as much as they are today animated by contemporary technologies and production techniques," says 2bears Leween.
"Today, immersive technologies allow us to share and experience digital twins of unique architectural spaces, respecting the spiritual and cultural boundaries of such a sacred architectural structure — the virtual longhouse," says Vlavianos.
The gathering wound down with closing words from MIT Professor Vivek Bald, principal investigator of the Open Documentary Lab, which was founded by former PI William Uricchio with Director Sarah Wolozin. "The original reference of the word "open" was to the open-source software movement that had deep roots here at MIT," noted Bald, "And while it continues to share much of the ethos of that movement, the "open" in Open Documentary Lab has come to stand clearly and directly in relation to the ongoing dynamics of the media and technology industries. Those dynamics are challenging and troubling — the field of documentary is characterized by ever-more closed and tightly kept gates, while new storytelling technologies and potential storytelling technologies are tied to, and limited by, the logics of capital and imperatives of profit. It is in this context that we renew, strengthen, and expand our commitment to the "open" — to facilitating open access and open engagement."
Finally, the group was celebrated with an in-person blessing from Thomas Green of Massachusett Tribe of Ponkapoag.
"Thanks to the invaluable support and unwavering dedication of the Co-Creation Studio, the Indigenous community at MIT, and an array of incredibly talented creatives who participated in this event, we were able to curate an unforgettable few days in Cambridge," said Isabelle Ruiz, program manager at ISO.
The 2023 ISO Indigenous Incubator at MIT is a collaboration between Indigenous Screen Office (Canada) and Co-Creation Studio at MIT Open Documentary Lab. The initiative was made possible with funding from Canada Media Fund, the National Endowment for the Arts, Nia Tero, Perspective Fund, and MIT CAST, and the ongoing support of the MacArthur Foundation and Ford Foundation.
« Back to News