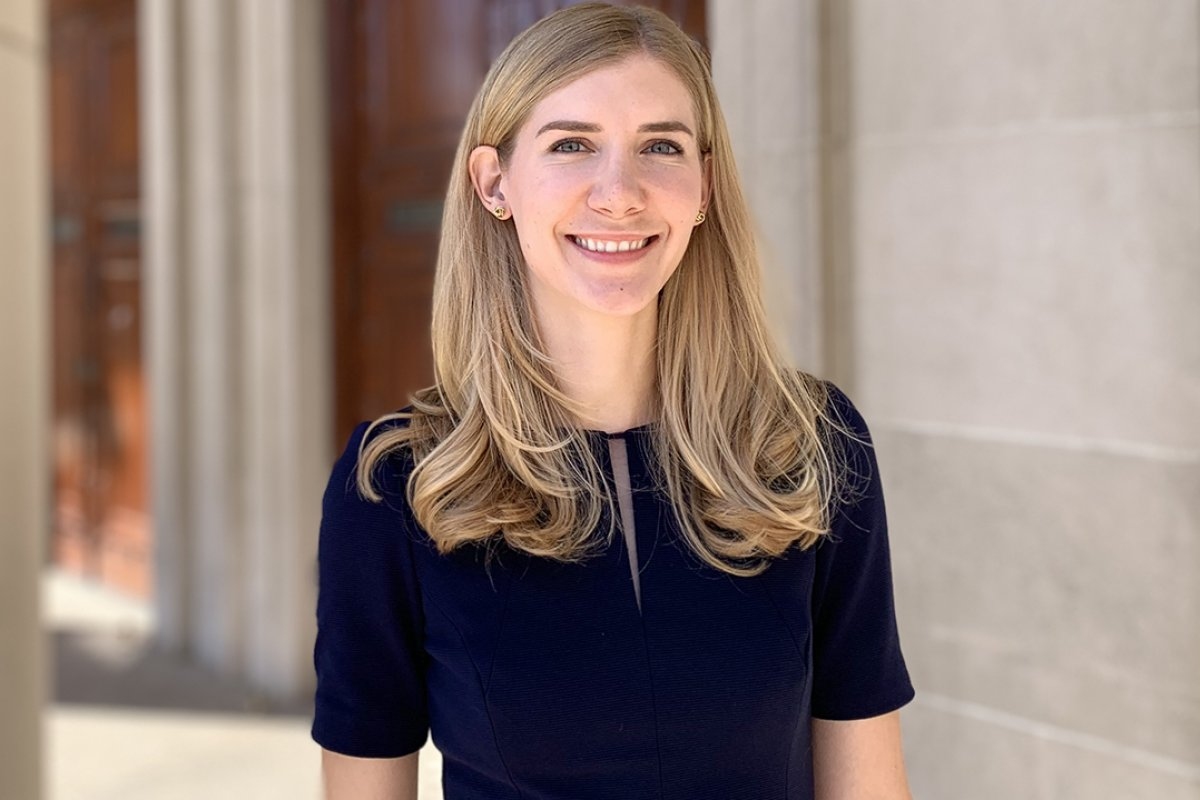 Awarded by the Center for International Studies, the prize will help support the PhD candidate's dissertation research on Chinese foreign and security policy.
Michelle English | MIT Center for International Studies
The daughter of an American diplomat, Eleanor Freund spent most of her childhood living abroad in such places as Madagascar, Ghana, South Africa, and Austria. These experiences, she explains, led to an early interest in politics and international relations.
"Whether in South Africa, which was emerging from decades of racial discrimination and violence under apartheid, or Austria, which seemed practiced at navigating Cold War divisions between East and West, I was captivated by the import and impact of politics. I started college knowing that I wanted to major in political science and never doubted that decision."
Freund, a PhD candidate in the MIT Department of Political Science, is the recipient of this year's Jeanne Guillemin Prize at the MIT Center for International Studies (CIS).
The annual prize supports women pursuing doctorate degrees in international relations — a field that has long been dominated by men.
Jeanne Guillemin, a veteran colleague of CIS and a senior advisor in the Security Studies Program (SSP), endowed the fund shortly before her death in 2019. An expert in biological warfare, Guillemin's groundbreaking work included an epidemiological inquiry into the 1979 anthrax outbreak in the Soviet Union and an investigation into the 2001 anthrax letters attack in the United States.
The funds from the prize will be used to support Freund's dissertation research on Chinese foreign and security policies.
Through case studies, fieldwork abroad, and archival research, Freund aims to produce one of the first comprehensive historical studies on China's alliances with other states.
This information could help contribute to a better understanding of how Chinese leaders evaluate threats and cooperate with other states to address these threats. It could also serve as an important resource for policymakers as they attempt to evaluate China's current behavior, anticipate its future behavior, and avoid miscalculating during moments of crisis.
Embracing the China challenge
Freund became interested in China through international relations classes at college, when it became apparent that China would define the 21st century and dominate the attention of American diplomacy.
"I quickly realized that ensuring the relationship between the United States and China was peaceful and productive would require contending with a relationship defined by decades of mistrust. For anyone interested in foreign policy, there could hardly be a more meaningful challenge," she says.
Shortly after graduating from the University of California at Berkeley, Freund moved to Beijing to study Chinese. This led to a host of other experiences, including jobs at the Carnegie Endowment for International Peace and at Harvard's Belfer Center for Science and International Affairs, a master's degree from Tsinghua University as part of the Schwarzman Scholars program, and time at the U.S. Embassy in Beijing.
When considering PhD programs, MIT was a clear first choice.
"First, the political science department, like the rest of the Institute, is imbued with the guiding principle of education in service of practical application. That's an important orienting philosophy for me. Second, the department offers substantial faculty expertise in my areas of interest — Chinese foreign policy and Asian security — and first-rate training in international relations and security studies more generally."
MIT is among the few universities in the United States that provides the opportunity for graduate students in political science to specialize in security studies. A unique feature of SSP is its integration of technical and political analysis of national and international security problems.
This training is crucial to producing the civilian expertise that enables effective oversight of the military and clear-eyed foreign policy decision-making, explains Freund.
SSP also has a long track record of recruiting and training women interested in security studies. Many of these women have gone on to become successful academics and policymakers, including the current U.S. deputy secretary of defense, Kathleen Hicks PhD '10.
That legacy is a source of inspiration to Freund, who envisions a lifelong career in academia or government helping the United States navigate its relationship with China.
"It is an honor to receive an award named for Jeanne Guillemin," says Freund. "I am particularly inspired by the tenacity and compassion she demonstrated while investigating the cause of the 1979 anthrax outbreak in Sverdlovsk. Although I never had the chance to meet her, the written account of her fieldwork in Russia illustrates her dedication to the principles of scientific research, her perseverance in overcoming the obstacles she encountered along the way, and her deep empathy for the victims and their families. I plan to use the award to fund my own fieldwork in Asia next year and hope to bring some of her passion and persistence to that experience."
« Back to News