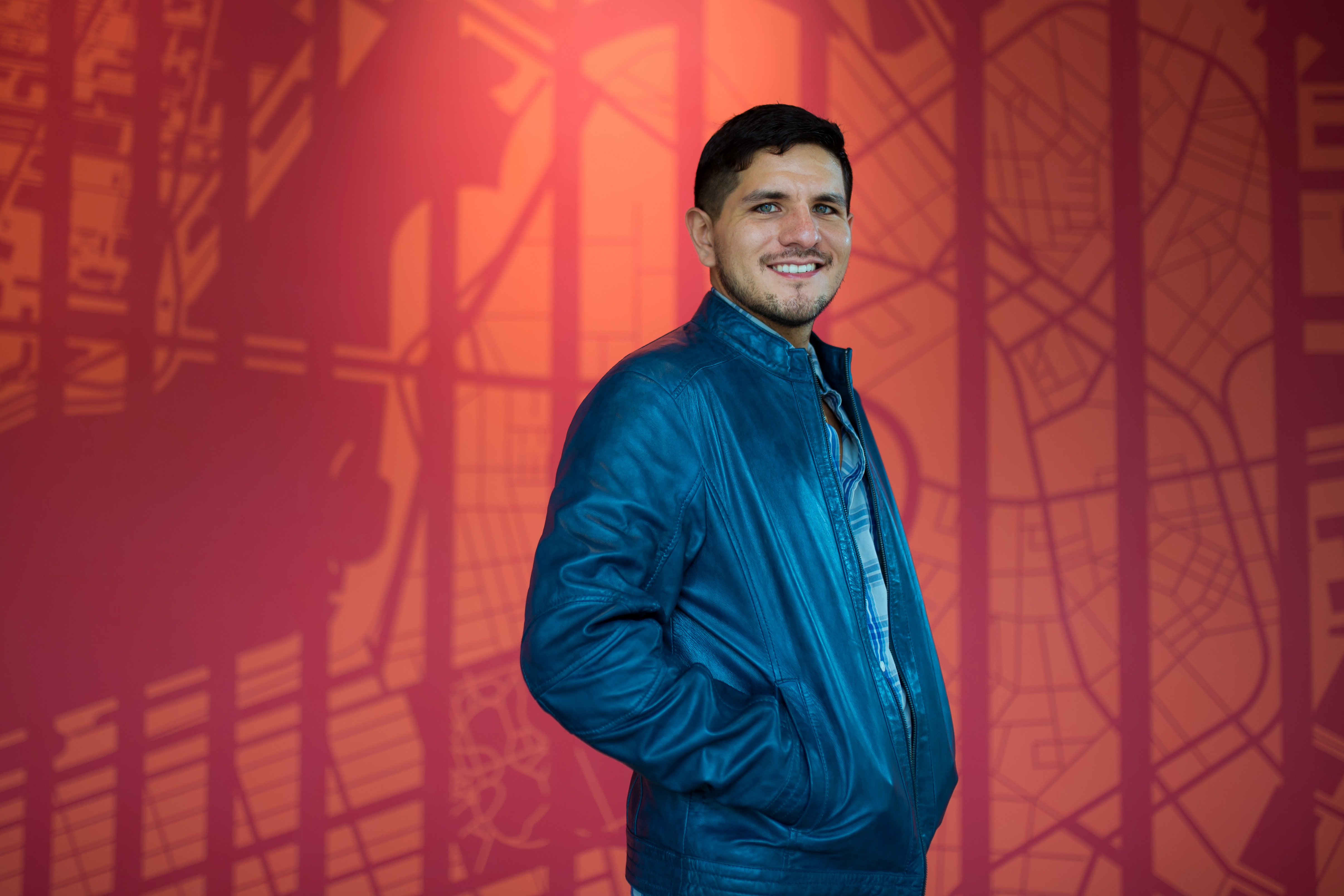 Flavio Emilio Vila Skrzypek, a graduate student in the Department of Urban Studies and Planning, wants to design cities without inequities.
Olivia Young | Office of Graduate Education
Even though Flavio Emilio Vila Skrzypek left his native country of Peru to study at MIT, you can tell immediately that his homeland is close to his heart. Vila, who is pursuing a master's in city planning, has made it his mission to improve land-use policy back home.
"Property policies in Peru should learn from the failure of past policies," he says. "Informal settlements, which have been established outside of the 'formal systems' of housing supply and are commonly referred to as slums, are seen as a problem, as a mistake in the way of urban growth. The state has accepted 'slums' as inevitable, but I want Peru to learn from these circumstances."
Vila's career in urban planning began as an interest in architecture and art. "Architecture was an immediate match," he says; he greatly enjoyed his architecture classes at the University of Lima. But after he graduated, the day-to-day life of a practicing architect came as an unpleasant shock: "To be honest, I rapidly learned that architectural design was not my passion. At some point, I knew I had to quit."
Instead, Vila got a job at the Ministry of Housing in Peru. "That was the moment I found out what I wanted to do in life. Working for my country was the best thing I could do. In my previous work, I had been working in the private sector for the profit of large corporations. Now, I was working to make my country better," he says. Unfortunately, a budget cut ended his career there, but he found a role as teaching assistant and began to explore research — a path that would lead him to MIT.
"The ultimate tribute"
Vila's first research experiences spanned a vast array of different design projects. In conjunction with various nonprofit organizations, he developed a water resilience proposal for a local municipality, designed a school for an indigenous community in the jungle, and generated a method to build mud dwellings for a town in the Andes. During the course of these projects, he witnessed a wide range of social and economic conditions across Peru. "I was born in Lima and I lived all my life in Lima. Visiting different indigenous communities in the Amazon rainforest and the Andes made me realize that these are the types of people that I want to work for," he says.
Vila began building a startup that focused on mitigating social conflicts between indigenous communities and mining corporations. After working there for several years he knew that, to have the biggest impact on his native country, he first needed to arm himself with knowledge. He says, "I knew I needed to become better in order to make this place better."
When he applied to MIT, Vila already had a specific research topic in mind: how environmental policy could shape the conflict between Indigenous communities and extractive industries like mining. Initially, he took on a project as part of MIT's Enhancing Water Affordability project, using hotspot maps to understand water affordability issues in several cities across the United States.
"However, the journey of the degree has taken me to another place," he explains. Vila's thesis work has pivoted to focus on the systematic inequity of urban systems, the structures of informal settlements, and developing policies to upgrade those settlements. Ultimately, he hopes to use his master's to contribute to the decolonization of land and property regimes in Peru.
His research as a Fulbright scholar at MIT is inspired, in part, by Rubina Maravi, a rural immigrant from the Andes whom he describes as "a humble and brave woman that raised me side by side with my mother." Vila tells the emotional story of Maravi's difficult peasant life as a squatter on land in an informal settlement in Lima. Her struggle to obtain a land title has lasted for decades, with no resolution in sight. He says, "to carry indigenous people like Rubina, who are considered so insignificant in Peru, into a space of research at the best university in the world is the ultimate tribute. It is giving them the space that they should have in life."
For Vila, living with two women from such different circumstances — his mother, an inherently privileged Limeña woman, and Maravi, an indigenous woman who lacked many of the advantages that his mother had — underscored the inequities in Peruvian society. He recognizes his innate good fortune because of his heritage. "I am super aware that part of the reason that I am at MIT is because I did not have to work during my childhood to help my family make ends meet. I grew up with sewage and electricity, a privilege that many in Peru did not have," he says.
A "cable to Earth"
Vila conducts his thesis work under the guidance of Gabriella Carolini, an MIT associate professor of urban planning and international development. When he started graduate school, his technical skills in R and other programming tools were limited. But Carolini gave him a chance to learn. "I was committed to improving my R skills in the short term, and she gave me the opportunity," he says.
He is famous in his department for knitting during class and gifting his creations to family and friends. "I suffer from anxiety, so taking everything inside and channeling it into my knitting is super relaxing," he says. His interest in knitting started when he watched Tom Daley, an Olympic diver, knit as a way to relieve his competition nerves during the 2020 Olympics television broadcast. He also noticed the contrast between Tom Daley's calm demeanor and the fierce competitiveness of other athletes. "At the same Olympics," he says, "I saw tennis player Novak Djokovic smash his racket when he lost a point. I realized that was not the kind of masculinity I wanted." When Vila visited Peru in December 2021, his mother gifted him his late grandmother's knitting needles and he taught himself the technique by watching YouTube videos.
When offering advice to future students, Vila points out that a mindset of growth and open-mindedness is critical to the graduate school experience. The challenge of pursuing a degree leads to growth far beyond academic learning, he notes. That personal growth "will ultimately reveal your true self."
"I never closed myself to anything," he says. "In life, I have always been bouncing between different things, from jobs in the private, public, social impact, and academic sectors. In that bounce, you eventually find your path. Now in my degree, I have been bouncing between different topics and courses. But in the end, you will find your way."
Vila maintains that open-mindedness when he contemplates his options for the future. He says, "the degree has been so immersive in so many areas of my life and has reframed my perspective on my future goals. The only certainty that I have right now is that I want to work for the developing world and more specifically, Peru. I don't know in what type of organization: academia, the public sector, a think tank, an international organization." Vila describes his work as his "cable to Earth," adding, "I want my work to make someone's life better. This is what I wanted as a child, as an undergrad, and now. This is what will decide my way in the future."
« Back to News