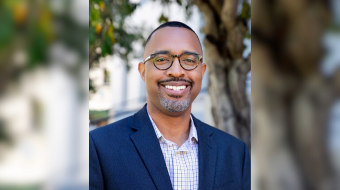 Denzil A. Streete succeeds Blanche Staton, who retired this past spring after serving for more than 25 years at MIT.
View the email announcement from Ian Waitz, Vice Chancellor.
Dear Colleagues,
I am pleased to announce that Denzil A. Streete, PhD, has been appointed as Senior Associate Dean and Director of the Office of Graduate Education (OGE). He will begin on September 12 and succeeds Blanche Staton, who retired this past spring after serving for more than 25 years at MIT.
Denzil is currently Assistant Vice Provost for Graduate Studies and Chief of Staff, and Director of the Office for Graduate Diversity at the University of California, Berkeley, home to 13,000 graduate students in over 126 doctoral and masters degree programs.
His roles and involvement in graduate education at Berkeley are multifaceted, covering the recruitment, departmental admissions process, and academic success of a diverse body of talented graduate students; operations management; and other key priorities, including graduate diversity, campus and departmental climate, professional development, and support for the graduate student community. Thanks in part to his tireless work, Berkeley received a record number of underrepresented graduate applications in 2021, while operating within the constraints of Prop 209, which banned affirmative action in admissions in California public universities in 1996. This built on his pre-pandemic work at Yale in the previous year.
A natural collaborator and passionate advocate for students, he works in close partnership with the campus administrative leadership, deans, and Academic Senate and manages all communications staff within the Graduate Division. He also coordinates development and fundraising efforts to support graduate students at Berkeley.
As MIT and its peers are facing complex issues, from unionization to the impacts of the recent SCOTUS decision on the use of race in admissions, Denzil is well suited to rise to these challenges. In his role as Senior Associate Dean and OGE Director, he will work across our more than 100 graduate programs to bolster the excellent work of our deans, department heads, faculty and PIs, and administrators in recruiting and supporting graduate students.
Denzil puts great emphasis on finding and celebrating joy and sees mental wellbeing as integral to academic success, not an afterthought. He's eager to advance the priorities of the Graduate Student Council (GSC); establish a positive relationship with the Graduate Student Union (GSU) and help implement the future collective bargaining agreement; and deliver on Chancellor Nobles's charge of supporting the whole student.
Before Berkeley, Denzil served as Assistant Dean for Graduate Student Development and Diversity at Yale University's Graduate School of Arts and Sciences, focusing on recruitment and academic and professional success, and serving as the Deputy Title IX Coordinator and Dean's Designee.
His passion for graduate education developed at Columbia University, where he earned his PhD in Comparative and International Education, after what he describes as "taking a providential professional detour through legal research and administration, and media and communications management." Denzil's scholarly and research interests include access and equity in higher education, the "Free College Movement," and minoritized males in higher education.
Originally from Morvant, Trinidad and Tobago, he earned his bachelor of arts in economics (with honors) from St. Francis College, Brooklyn, NY. He is a voracious reader (averaging 50 books per year), frequent flyer, foodie, and world soccer (i.e. football) fan. His dog, Brooklyn, while understandably skeptical of the New England weather, is looking forward to exploring MIT's campus.
I want to thank Kate Trimble (chair), OVC Chief of Staff and Senior Associate Dean for Experiential Learning, and the other members of the search committee (Jessica Landry, Assistant Dean, Graduate Education, OGE; Mary Markel Murphy, Senior Director for Administration, Office of the Vice President for Research; Omar Tantawi, graduate student in environmental engineering; Duane Boning, Clarence J. LeBel Professor in Electrical Engineering and Computer Science and Chair, Committee on Graduate Programs; Karen Gardner, Academic Administrator, Program in Science, Technology, and Society; and Bianca Lepe, graduate student in biological engineering); all those who participated in interviews; as well as the dozens of staff, faculty, and students from across the Institute who attended the presentations by the final candidates and provided helpful feedback and insights.
I'd also like to acknowledge Jessica Landry and Patrick Brown for their ongoing leadership and service as interim directors of the Office of Graduate Education over the past several months.
Please join me in welcoming Denzil to MIT.
Sincerely,
Ian
Ian A. Waitz
Vice Chancellor for Undergraduate and Graduate Education and Jerome C. Hunsaker Professor of Aeronautics and Astronautics at MIT
« Back to News