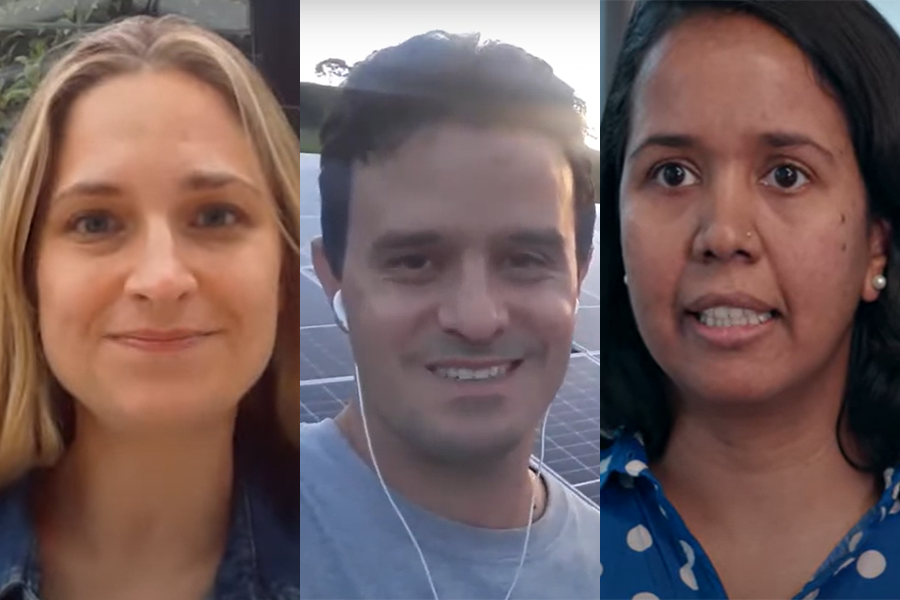 The MicroMasters Program in Statistics and Data Science, with over 1,000 credential holders, brings MIT excellence to learners around the world.
Kaitlin Provencher | Institute for Data, Systems, and Society
How do you quantify the value of education or measure success? For the team behind the MIT Institute for Data, Systems, and Society's (IDSS) MicroMasters Program in Statistics and Data Science (SDS), providing over 1,000 individuals from around the globe with access to MIT-level programming feels like a pretty good place to start.
Thanks to the MIT-conceived MicroMasters-style format, SDS faculty director Professor Devavrat Shah and his colleagues have eliminated the physical restrictions created by a traditional brick-and-mortar education, allowing 1,178 learners and counting from 89 countries access to an MIT education.
"Taking classes from a Nobel Prize winner doesn't happen every day," says Oscar Vele, a strategic development worker for the town of Cuenca, Ecuador. "My dream has always been to study at MIT. I knew it was not easy — now, through this program, my dream came true."
"With an online forum, in principle, admission is no longer the gate — the merit is a gate," says Shah. "If you take a class that is MIT-level, and if you perform at MIT-level, then you should get MIT-level credentials."
The MM SDS program, delivered in collaboration with MIT Open Learning, plays a key role in the IDSS mission of advancing education in data science, and supports MIT's overarching belief that everyone should be able to access a quality education no matter what their life circumstances may be.
"Getting a program like this up and running to the point where it has credentials and credibility across the globe, is an important milestone for us," says Shah. "Basically, for us, it says we are here to stay, and we are just getting started."
Since the program launched in 2018, Shah says he and his team have seen learners from all walks of life, from high-schoolers looking for a challenge to late-in-life learners looking to either evolve or refresh their knowledge.
"Then there are individuals who want to prove to themselves that they can achieve serious knowledge and build a career," Shah says. "Circumstances throughout their lives, whether it's the country or socioeconomic conditions they're born in, they have never had the opportunity to do something like this, and now they have an MIT-level education and credentials, which is a huge deal for them."
Many learners overcome challenges to complete the program, from financial hardships to balancing work, home life, and coursework, and finding private, internet-enabled space for learning — not to mention the added complications of a global pandemic. One Ukrainian learner even finished the program after fleeing her apartment for a bomb shelter.
Remapping the way to a graduate degree
For Diogo da Silva Branco Magalhaes, a 44-year-old lifelong learner, curiosity and the desire to evolve within his current profession brought him to the MicroMasters program. Having spent 15 years working in the public transport sector, da Silva Branco Magalhaes had a very specific challenge at the front of his mind: artificial intelligence.
"It's not science fiction; it's already here," he says. "Think about autonomous vehicles, on-demand transportation, mobility as a service — AI and data, in particular, are the driving force of a number of disruptions that will affect my industry."
When he signed up for the MicroMasters Program in Statistics and Data Science, da Silva Branco Magalhaes' said he had no long-term plans, but was taking a first step. "I just wanted to have a first contact with this reality, understand the basics, and then let's see how it goes," he describes.
Now, after earning his credentials in 2021, he finds himself a few weeks into an accelerated master's program at Northwestern University, one of several graduate pathways supported by the MM SDS program.
"I was really looking to gain some basic background knowledge; I didn't expect the level of quality and depth they were able to provide in an online lecture format," he says. "Having access to this kind of content — it's a privilege, and now that we have it, we have to make the most of it."
A refreshing investment
As an applied mathematician with 15 years of experience in the U.S. defense sector, Celia Wilson says she felt comfortable with her knowledge, though not 100 percent confident that her math skills could stand up against the next generation.
"I felt I was getting left behind," she says. "So I decided to take some time out and invest in myself, and this program was a great opportunity to systematize and refresh my knowledge of statistics and data science."
Since completing the course, Wilson says she has secured a new job as a director of data and analytics, where she is confident in her ability to manage a team of the "new breed of data scientists." It turns out, however, that completing the program has given her an even greater gift than self-confidence.
"Most importantly," she adds, "it's inspired my daughters to tell anyone who will listen that math is definitely for girls."
Connecting an engaged community
Each course is connected to an online forum that allows learners to enhance their experience through real-time conversations with others in their cohort.
"We have worked hard to provide a scalable version of the traditional teaching assistant support system that you would get in a usual on-campus class, with a great online forum for people to connect with each other as learners," Shah says.
David Khachatrian, a data scientist working on improving the drug discovery pipeline, says that leveraging the community to hone his ability to "think clearly and communicate effectively with others" mattered more than anything.
"Take the opportunity to engage with your community of fellow learners and facilitators — answer questions for others to give back to the community, solidify your own understanding, and practice your ability to explain clearly," Khachatrian says. "These skills and behaviors will help you to succeed not just in SDS, but wherever you go in the future."
"There were a lot of active contributions from a lot of learners and I felt it was really a very strong component of the course," da Silva Branco Magalhaes adds. "I had some offline contact with other students who are connections that I've kept up with to this day."
A solid path forward
"We have a dedicated team supporting the MM SDS community on the MIT side," Shah says, citing the contributions of Karene Chu, MM SDS assistant director of education; Susana Kevorkova, the MM SDS program manager; and Jeremy Rossen, MM program coordinator. "They've done so much to ensure the success of the program and our learners, and they are constantly adding value to the program — like identifying real-time supplementary opportunities for learners to participate in, including the IDSS Policy Hackathon."
The program now holds online "graduation" ceremonies, where credential holders from all over the world share their experiences. Says Shah, who looks forward to celebrating the next 1,000 learners: "Every time I think about it, I feel emotional. It feels great, and it keeps us going."
« Back to News