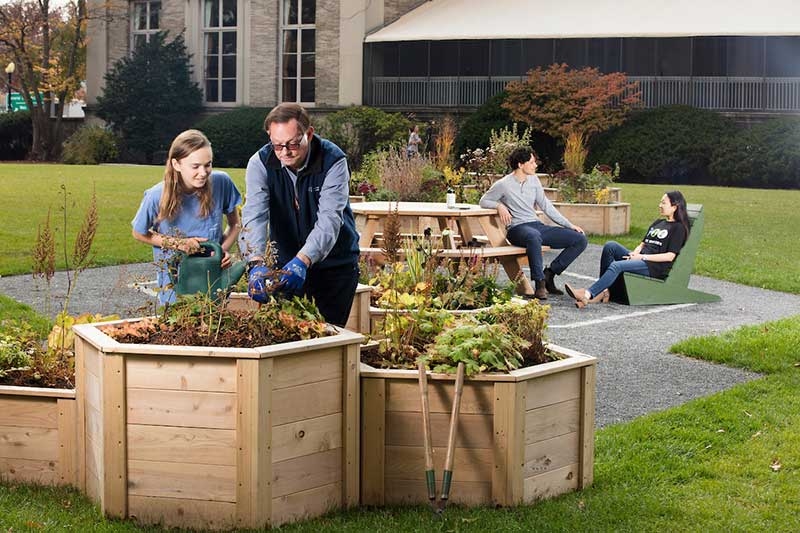 After 48 years with the Institute, Manager of Grounds Services Norman Magnuson reflects on his role in a changing campus and profession.
Nicole Morell | MIT Office of Sustainability
Norman Magnuson's MIT career — culminating in his role as manager of grounds services in the Department of Facilities for the past 20 years — started in 1974 with a summer job. Fresh out of high school and unsure of his next step, Magnuson's father, Norman Sr., a housing manager at MIT, encouraged him to take a summer staffer position with MIT Grounds Services. That temporary job would turn into a 48-year career, in which Magnuson found and fed his passion for horticulture.
Over the years, Magnuson has had a number of roles, including mover, truck driver, and landscaper. In his most recent role, Magnuson was responsible for managing and maintaining the grounds of MIT's more-than-168-acre campus — work that includes landscaping, snow removal, and event setup — a position where his pride of work could be seen across campus. Now, after nearly half a century at the Institute, Magnuson is retiring, leaving an enormous set of shoes to fill.
"Norman's passion for stewarding an immense array of green spaces has delighted the eyes of tens of thousands of people from around the world who have worked, visited, studied, and resided at MIT over the years," says Vice President for Campus Services and Stewardship Joe Higgins. Adds Martin O'Brien, senior manager of Campus Services, "Not only do he and his team excel at high-profile events like snowstorms and Commencement, but day to day, they keep the campus shining."
Touching six decades on a transforming campus
Like many who have spent dozens of years at the Institute, when asked what has changed the most in his time here, Magnuson thinks first of MIT's skyline. He notes that the Landau Building (Building 66) was the first new construction he saw on campus. He remembers seeing E40 and E51 be transformed from warehouses to more functional spaces for research and labs — a pattern that would be repeated often during his time at MIT. As each part of campus dramatically evolved, so did the quiet and steadfast work of Magnuson and Grounds Services.
When Magnuson first started working for Grounds Services, he says that landscaping was often an afterthought. "We worked with whatever extra budget money there was," he remembers, speaking of the landscaping support for new buildings. Magnuson says that over his long career, the work of his department became more professionalized and integrated with departments like the Office of Campus Planning. Grounds Services now works closely with that office to support design and management of resilient campus landscapes that incorporate systems of soils, plantings, and hardscapes for stormwater management, as well as mitigating heat island effects while growing and diversifying the urban forest canopy.
"There's growing recognition of the contributions that our campus green spaces make to both community well-being and campus resiliency," explains Laura Tenny, senior campus planner. "Over the last two years, people have rediscovered the outdoors as a place to come together, and so these campus spaces have become part of the social fabric of MIT. As landscapes become more performance-based and more like living green infrastructure, Norman has overseen a complex campus system that's working at multiple levels, not unlike our sophisticated building and infrastructure systems."
Magnuson says he always welcomed change in the landscaping space and has worked hard to drive it. "I like to be on the cutting edge," he says highlighting environmentally- and climate-friendly change he's pushed for. "I can remember when we used to do things like throw leaves in the trash in plastic garbage bags," he says. "These days, we've almost eliminated herbicides and pesticides, we're mindful of the fertilizer that we use, and we're very cognizant of things like this because we work with teams like the Office of Sustainability (MITOS)."
As Magnuson and his team have striven to do better for the environment, he notes that he has also seen firsthand how climate change is transforming the campus landscape: "Leaves fall off the deciduous trees earlier than they used to. This year the azaleas bloomed late; the rhododendrons were a little bit early. When you look at particular plants that have been in the ground for many years, you do see the difference," he says, adding that snow seasons have also become more unpredictable despite improved forecasting technology.
Enduring connections with the community
With his craft and campus always changing, one thing remained constant for Magnuson: MIT students. Magnuson and his team have connected with students for countless interviews and research projects over the years — a highlight of his work and a reminder of its impact. "I always tell my staff that we help educate the students — not directly most times, but we are part of the mechanism that makes it possible for them to be here," he says.
A recent project for Magnuson was working with students to create and maintain The Hive Garden, MIT's first sustainability garden and a collaborative project between MITOS, the Undergraduate Association Committee on Sustainability, and Grounds Services. "That was probably one of my favorite interactions with the students," Magnuson says of the garden. Susy Jones, senior sustainability project manager who worked with Magnuson on the garden, says Magnuson played an essential role: "He took real joy in working with the students — they brought him sketches of these complex hexagonal garden beds, and I watched him and his team sit patiently with them and come up with something we could implement quickly that would maintain the integrity of their designs," she remembers. "His team happily taught the students how to irrigate the beds and which plants to cut back in the winter — little lessons about the natural world they'll take with them forever."
As Magnuson begins his retirement, he capped off his career with one more go at this favorite MIT event — Commencement. Though the event requires tremendous amounts of work for Grounds Services, Magnuson looks forward to it each year. "It's our Super Bowl," he says. Each spring the Grounds Services team partners with the MIT Repair and Maintenance Carpentry crew to ready Killian Court for several thousand people by turning the open court into a massive seating area and stage while protecting and highlighting the grounds. "When the students come in and they announce them, it's always an emotional moment for me, because it's, 'OK, this is it, it started, and everything looks perfect,'" he says. Former executive officer for Commencement Gayle Gallagher, who worked closely with Magnuson for more than two dozen Commencement weekends, agrees with the "perfect" assessment. "His commitment to the campus grounds — regardless of the season — was unparalleled. He spent countless hours each year to ensure our campus looked its absolute best for our graduates, their families and guests, and our alumni," she recalls. "I always looked forward to collaborating with him — he is simply one-of-a-kind."
When Magnuson looks back on his long career, he notes that community and camaraderie are a large part of what kept him with MIT for so long. He's built many relationships at MIT (his wife, Diane, recently retired from MIT Medical after 44 years, and his daughter Kelsey works with the Department of Facilities Contracts team) and says his department has the unique ability to support individuals and foster careers like it did for him. "We have some very, very talented people and we have a lot of people like me who learned on the job. Landscaping is one of those professions that if you put your all into it, you can get a degree in landscaping without having an actual degree," he says.
"Everybody that works for Grounds is so proud of what they do — you can see it in the work," he adds. "I'm so proud of the work I've done."
« Back to News