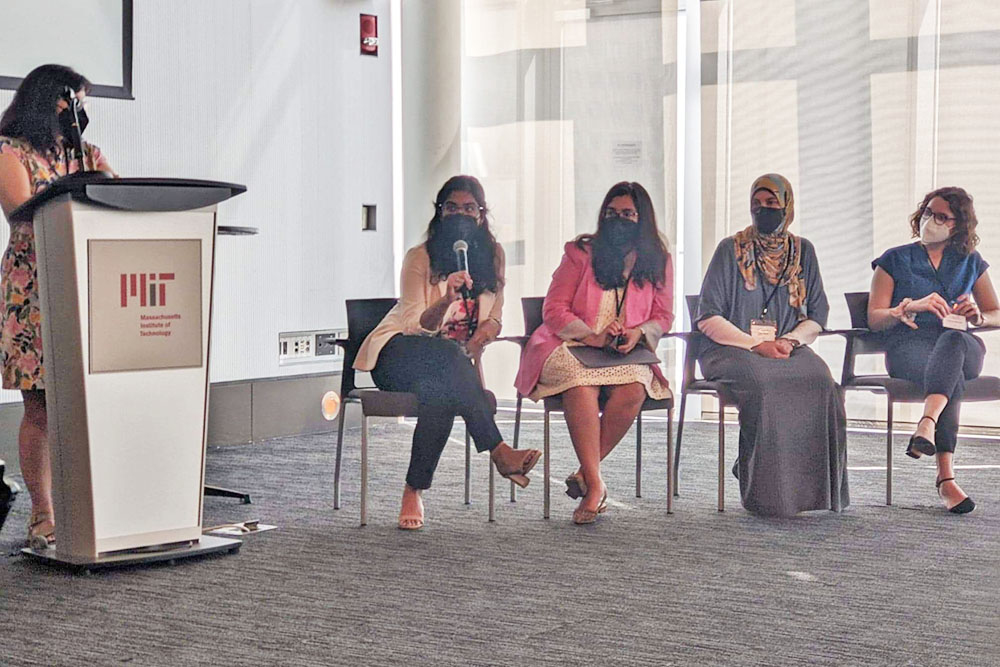 Project shares ways to create community around design equity, ethics, and justice.
Becky Ham | MIT Media Lab
Whether you're building a home or programming a robot, design is a human-centered activity, making it essential to teach design in a way that focuses on equity, justice, and ethics.
That's one of the messages that was shared at a workshop offered by members of MIT's Design Justice Project at the International Design Engineering Technical Conferences & Computers and Information in Engineering Conference (IDETC-CIE) held in Boston Aug. 20-23.
The workshop drew from recent publications by the project, including a look at how design justice is included in MIT syllabi in the journal Design Studies; a discussion on how the concept is featured in the engineering design academic literature in the Journal of Mechanical Design; and a review of ethics, equity, and justice in human-robot interactions published in the proceedings of the 2022 31st IEEE International Conference on Robot and Human Interactive Communication.
The August event was a follow-up to a Design Justice Pedagogy Summit organized by Media Lab design researcher and postdoc Anastasia Ostrowski and mechanical engineering PhD students Madhurima Das and Jana Saadi in 2022.
Design justice is a framework for analyzing how design can both benefit and burden different groups of people, and how concepts of justice and equity should be considered in the context of design. Sasha Costanza-Chock, a former associate professor of civic media and steering committee member of the Design Justice Network, and the Design Justice Network provided the design justice scholarship underlying the current MIT project.
At the 2022 summit, more than 50 attendees brainstormed ideas and shared strategies to bring the principles of design justice into their own classrooms and workplaces. Ostrowski, Das, and Saadi hope that the workshop this past August will inspire the broader engineering design community to consider and adopt design justice principles.
"We saw that [the 2022 summit] gave people a lot of ideas about strategies to bring into the classroom, in ways that aren't disrupting the whole curriculum," says Ostrowski "I think that was important, to have people ask 'What is one thing I can do now?,' making it really manageable."
"It can be really easy to start to feel hopeless because you want to make big institutional changes," agrees Das. "But this was about having the agency as an individual — What can I do, even [if] it's not the blue-sky solutions that we'd like to see long term."
The Design Justice Project at MIT includes professor of media arts and sciences and MIT Dean for Digital Learning Cynthia Breazeal; assistant professor of urban science and planning Catherine D'Ignazio, and professor of mechanical engineering Maria Yang. Some of the project's research has been funded through the d'Arbeloff Fund for Excellence in Education.
Missing pieces
Before convening the summit and workshop, the researchers analyzed the design research and education space to learn more about how design classes approach equity, ethics, and justice. Their literature review of three leading engineering design journals and conference proceedings for the past four decades, for instance, found that these terms are rare in the literature, although their prevalence has increased over time. In most cases, they occur in discussions of sustainability and training the next generation of designers, the researchers found.
In their 2020 syllabus audit of courses across MIT, including those in architecture, urban studies and planning, media arts and design, and engineering, the research team found non-engineering design courses were more likely to be engaged with design justice than engineering courses.
It can be difficult to convince colleagues in an engineering department that these are essential aspects of design. "But if you're an engineer, the things that you're working on — or you're a designer, the things that you're working on — it all has to do with people, at some stage of the process, and you cannot remove them from the equation and then be surprised when things don't go well," Das says.
"Engineering has enormous potential to address the grand challenges that are facing the world today, and it's so important that engineering students are prepared to think about these problems in a way that carefully considers their social impact on a range of people," agrees Yang.
Finding community
The 2022 summit, funded by the d'Arbeloff Fund, included undergraduates, graduate students, professors at all levels, and industry professionals "who were thinking about training for their employees and how to bring design justice into the culture of their companies," said Ostrowski.
Speakers discussed the challenges and opportunities to bring ethics, equity, and justice into design education and the workplace, even "when you are not in charge," as a few sessions were labeled. While it can be daunting to integrate material about equity into technical courses, a number of sessions tried to break it down into manageable steps, like the workshop led by D'Ignazio that illustrated small tweaks in readings, pacing, and problem sets.
A gallery wall where participants could write down the first steps they were planning to take at their institutions provided inspiration and a safe environment to get feedback on ideas, the organizers say.
"A lot of common [ideas] were looking at the reading list of a course, and who is represented, who are the authors and what backgrounds do they come from, and how are we missing pieces of knowledge and different writers," says Ostrowski. "Reflective learnings were another common idea, of going through a project and putting in places to consider who you are designing for, who are you designing with, their backgrounds, and how that might impact your design."
"The Design Justice Pedagogy Summit is a great example of how a community can gather to support one another in curriculum innovation," says Breazeal.
Several attendees were interested in joining the Design Justice Network for more discussion and resources, the organizers found in their post-summit interviews.
"This really reinforced the idea that people are looking for that community to share with and gain ideas from and to talk to other people in a meaningful and respectful way," says Das. "We'd love to encourage folks to run their own design justice summits in their communities."
"Engineering disciplines, at their best, are service professions that aim to identify and find solutions to some of the most pressing challenges of our time — combating climate change, securing access to clean energy and water, protecting the environment…" adds Aditi Verma, a nuclear science and engineering PhD and postdoc at the Harvard Kennedy School and a member of the Design Justice Project. "It's vital, then, for engineers of the future to understand the societal and environmental implications of their work and wherever possible, work ethically and equitably, and towards more just outcomes."
« Back to News